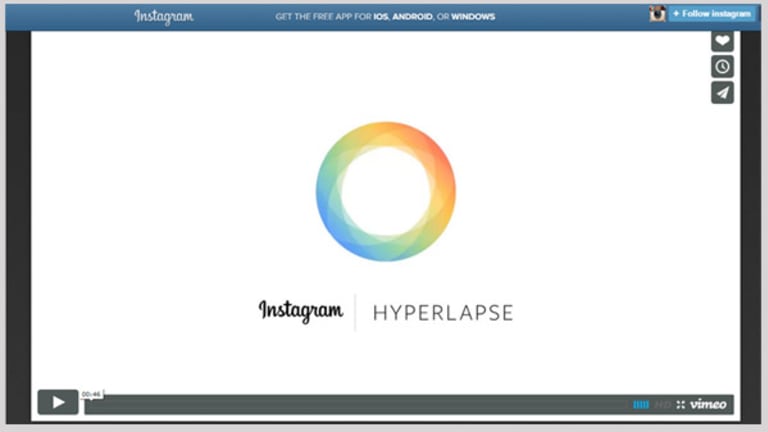 Publish date:
Crippled by Apple, Instagram's Hyperlapse Forgettable as Standalone App
A little more than two months old, Hyperlapse has already found its way to the island of misfit Facebook apps despite its impressive video stabilization technology.
A little more than two months old, Hyperlapse has already found its way to the island of misfit Facebook apps despite its impressive video stabilization technology.
Updated from 8:15 a.m. to include additional information about other Facebook apps in the sixth paragraph.
SAN DIEGO, CALIF. (TheStreet) -- Like most of the standalone apps Facebook (FB) - Get Facebook, Inc. Class A Report has released this year, Hyperlapse, a time lapse video assistant for iPhone, is a dud. Whether a victim of Apple (AAPL) - Get Apple Inc. (AAPL) Report or its own limitations, the app now holds a forgettable 644th position on the U.S. iPhone app download chart, according to data from app tracking firm App Annie.
Launched at the end of August, the video recording app, designed by the Instagram team, was at first a novel addition to the videographer's smartphone. Its simple design and constrained functionality allows the user to shoot stabilized video, set a frame rate, and save or share the final film.
Upon release, Hyperlapse spent almost two weeks as a top downloaded app on the App Store. Then, in mid September, Apple unleashed camera-enhanced iPhones and an improved mobile operating system with time-lapse video mode, making the extra app, even with its fancy secret settings, largely irrelevant to hobby photographers.
Instagram declined to comment for this story.
Though it maintains a 4-star rating, Hyperlapse is on zero top 100 App Store lists around the world, and only makes the top 200 cut in 5 countries, per data from App Store ranking app Appstatics.
By contrast, Facebook's core applications, which includes the main app, Messenger, WhatsApp, and Instagram, were the top 4 most downloaded apps across the App Store and Google Play in September, according to the App Annie Index.
Today, despite being namechecked by Facebook Chief Mark Zuckerberg during the company's third-quarter earnings conference call, Hyperlapse finds itself relegated to the island of misfit Facebook apps, a place Poke, Paper, Slingshot, and soon Rooms -- though just released, Rooms ranks in 61st place among social networking apps in the U.S. and 833 overall by App Annie's count -- call home.
Hyperlapse's hyper collapse may have been accelerated by Apple, but its intentionally minimal feature set could have doomed it from the get go.
"Right in the beginning, Hyperlaspe got a lot of attention because it was so different and it came from Facebook," Gartner analyst Brian Blau told TheStreet. "But then, like a lot of other apps from Facebook, Hyperlapse just didn't do that well because it doesn't resonate with users long term."
Not for lack of its sophisticated video stabilization technology, he said, but instead because of its inability to foster a community. Unlike Instagram, Hyperlapse is devoid of a social glue. It exists primarily as a tool to boost video shares to Facebook's primary platforms -- in essence, there is no network effect.
Facebook, which nets 1 billion video views every day, does not need Hyperlapse to succeed to accomplish its video or engagement agenda -- or to make money. Facebook just finished its first $3 billion revenue quarter, and even excluding Instagram, the social network has an engaged audience of 864 million daily users. Plus, as Zuckerberg noted on the conference call on Tuesday, people on Instagram now spend, on average, 21 minutes per day with the application.
On the one hand, you could argue that Hyperlapse signifies a pace of, and approach to, innovation that is superior to the belabored and high-profile launch of heavier software releases like Facebook Home, which failed in a fireworks show for all to see. If Hyperlapse never climbs its way back up the charts, the affect on Facebook is immaterial. And, for now, it's still too early to put Hyperlapse in the loser column, if only because the app's video stabilization technology could find its way inside Facebook's core applications.
As a whole, Facebook's standalone app strategy, however, needs to ultimately bear fruit beyond the paid-for networks of Instagram and WhatsApp should Zuckerberg want to win long-term confidence and approbation from Wall Street. Following the third-quarter report, the social network's stock has lost around $10 billion value with investors on edge about increased costs for 2015 and lack of revenue from new businesses.
As Blau put it, if Facebook keeps releasing apps that fail, that is bad for the company. "They've got to have some winners."
--Written by Jennifer van Grove in San Diego, Calif.
>Contact by Email.