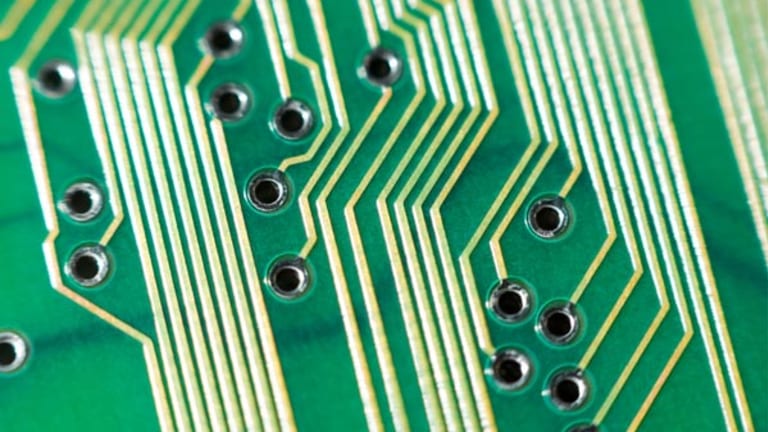 Cree Tumbles on Earnings Miss
LED sector bellwether Cree misses on both the top and bottom line and shares go into freefall.
(Cree earnings story updated for analyst commentary)
NEW YORK (
) -- LED sector bellwether
Cree
(CREE) - Get Cree, Inc. Report
missed on both the top and bottom line in its after-market earnings on Tuesday, sending shares falling by more than 13% after the closing bell.
Cree reported revenue of $256 million and earnings per share of 55 cents, below the Street consensus revenue figure or $276 million, and consensus call for 58 cents per share earnings.
Cree missed its own revenue target of $270 million to $280 million, and it's not the first time in recent memory that Cree has failed to live up to its own expectations. Cree also referred to "the ongoing inventory correction" in Asia as a reason for its miss. Worse yet, Cree referred to its core market of LED component sales being weaker than expected.
For the coming quarter, Cree is guiding to lower revenue of $245 million to $265 million and gross margin of 46%, below this quarter's 47% gross margin.
The gross margin difference on flat revenue guidance could be explained by inventory that didn't move as expected in the most recent quarter needing to be moved at lower pricing.
Bill Ong, analyst at Merriman Curhan Ford, said while Cree had disappointed in the last two quarters, coming in at the low-end of guidance in one quarter and then slightly missing the Street consensus, these results are the most disconcerting because it's a big miss of even the low-end of the company's guidance. "The real downtrend is taking place" the analyst said, and Cree will have to effectively answer the question of when that downturn ends. "Investors won't be patient with Cree shares if the demand that's not happening right now isn't going to occur any time soon," Ong said.
"I don't think it's good for the LED stocks no matter how you slice it when the end market for all of these guys looks weaker than one of the main players would have expected," said Avian Securities analyst Andrew Abrams. "This is potentially much worse than what SemiLEDs said about pricing pressure in a niche market," the analyst added.
With the recent rally in the LED stocks, investors were looking for any sign of weakness to trigger another round of selling in LED stocks, including CREE,
Veeco Instruments
(VECO) - Get Veeco Instruments Inc. Report
, and
Aixtron
(AIXG)
. While Veeco and Aixtron are true competitors in the LED equipment market, all three of the stocks tend to trade as a basket based on the demand outlook in the LED sector.
In the past few months, the demand outlook improved in the LED space and that meant big gains for all three LED stocks after what had been a big fall 2010 selloff. Over the past three months, Cree shares are up 15%, Veeco shares are up 25% and Aixtron shares are up 35%. In the past six weeks, Cree shares gained 30%.
Couple the recent rally in the LED sector with a weak earnings report last week from the newest player in the sector,
SemiLEDs
(LEDS) - Get SemiLEDs Corporation Report
, and there was probably a heightened level of trading sensitivity going into the Cree report.
Last week, SemiLEDs provided an outlook for lower than expected revenue and gross margins, and cited pricing pressure in the LED sector. Some LED analysts maintain that the SemiLEDs story was an example of an overheated initial public offering that ran into its first convenient investor exit point when it provided a weaker outlook. Yet Cree has now given more fuel to that fire with its weak earnings.
>>SemiLEDs Results Weigh on LED Stocks
Selling off after disappointing earnings has been the recent pattern for Cree. As Kaufman Brothers analyst Jeff Bencik noted in a Cree earning preview, for the past three quarters Cree shares have traded up headed into earnings and then sold off once Cree reported. The Kaufman Brothers analyst wrote headed into the Cree earnings that given the recent rally and Cree's premium, further upside doesn't seem apparent in shares of the LED company.
Cree took a hit in recent quarterly earnings because of weakness in the backlighting market for flat panel displays and a shortfall in chip demand. Yet the backlighting market has become a materially smaller part of Cree's revenue profile and the chip market is not a major driver of Cree earnings either. While Cree doesn't break out the revenue profile, Kaufman Brothers and other analysts estimate that the portion of Cree's revenue derived from backlighting has decreased from 10% to 5%.
This means that the Cree outlook becomes more closely tied to its ability to grow the general illumination market, which is it's long-term bullish thesis anyway, but remains a market for which an adoption rate is hard to model.
Avian Securities analyst Abrams said the Cree earnings suggested that the rebound in the Chinese street lighting market, which many LED market watchers thought was slowly taking place, hadn't actually occurred. If Cree provides details on its earnings call suggesting that the street lighting market in China is indeed behind the earnings miss, it's going to be a surprise to many in the LED space.
Merriman Curhan Ford analyst Ong said that all of the recent upgrade activity on Cree left him scratching his head, since the fact that the Chinese are going to support new street lamp specifications doesn't mean that the Chinese were doling out dollars by Thanksgiving weekend, as some reports suggested was the case. "It's troublesome for these stocks that China isn't the steep demand curve that was anticipated," the analyst added.
As a result, Cree has to provide investors comfort in regards to moving inventory and in regards to the Chinese street lamp market demand picking up in earnest.
Cree shares have also faced pressure based on the classic debate in technology about the onslaught of low-cost Asian supply forcing Cree into a world of diminished premium pricing for its brand and eroding margins.
Ultimately, the outlook for Cree depends on its ability to lower costs to offset price declines and maintain its healthy margin profile.
With lower than expected revenue and an outlook for weaker gross margins, Cree will again face questions about the "inventory correction in Asia" being evidence of a slowdown in Cree's core lighting component market, and not just a one-time miss based on niche sector or chip weakness.
"Management has previously indicated that it was bidding aggressively on new contracts," noted Kaufman Brothers analyst Jeff Bencik in his Cree earnings preview. "We have already built price declines into our forecasts as CREE indicated it was negotiating lower pricing before cost reductions can be achieved."
For the Kaufman Brothers analyst, this dynamic coupled with the recent pricing pressure cited by SemiLEDs may result in stalled margins for Cree. Historically, Cree has been able to reduced costs faster than price declines, resulting in gross margin expansion. However, Bencik believes current pricing pressure means Cree will only be able to maintain, as opposed to grow, its margins.
In the just-announced results, it seemed that pricing pressure was less of an issue than a buildup of inventory and less demand than expected from Cree's core clients. In the last quarter, the chip business margins were worse than expected based on an short-term inventory build, but that was a much less significant piece of the Cree revenue story.
The cost reduction roadmap continues to be an important factor for investors and topic for its earnings call. "CREE is betting that its move to 150 mm wafers will significantly reduce costs with production slated to start in the first calendar quarter of 2011 and ramping throughout the year. We will be looking for further details on this progress during the quarterly call...we do believe the company is moving in the right direction on pricing as the reductions should increase adoption rates going forward. The question in our mind is whether cost reductions will be made at a similar pace," Bencik wrote.
Raymond James analyst Hans Mosesmann, who has been bearish on Cree for a long time, said that the Cree bulls amplified the case for the Chinese street lighting rebound, but his view remains that even when spending returns in China or elsewhere, there is a massive oversupply of LEDs from global and Asian players.
"The Chinese government will favor local players all things being equal and in most cases their quality is good enough. If it's not good enough today in some applications they will in the next several quarters," the Raymond James analyst said.
However, the immediate concern will be a much weaker end marker for LED component than expected after the rally in Cree shares since the last bottoming out n September.
In any event, Cree shares are likely headed back to the $50 mark they hit during the last shift of sentiment in the LED sector in September, when Cree shares bottomed out at $49. Cree shares were down from $62 to $54 after its 13% decline on Tuesday after the closing bell.
Veeco hit $32 during that same LED sector tailspin and Aixtron hit $24.
Today Veeco trades at $49 and Aixtron at $42, and even if they don't fall as severely as Cree, the Cree earnings will exact a heavy toll on shares of the LED equipment players. Both stocks were down 6% in the after-hours session on Tuesday.
-- Written by Eric Rosenbaum from New York.
RELATED STORIES:
>>SemiLEDs Results Weigh on LED Stocks
>>LED Stocks: Digging a Hole to China
>>LED Stocks Rise on M&A Rumors
>To contact the writer of this article, click here:
Eric Rosenbaum
.
>To follow the writer on Twitter, go to
.
>To submit a news tip, send an email to:
.