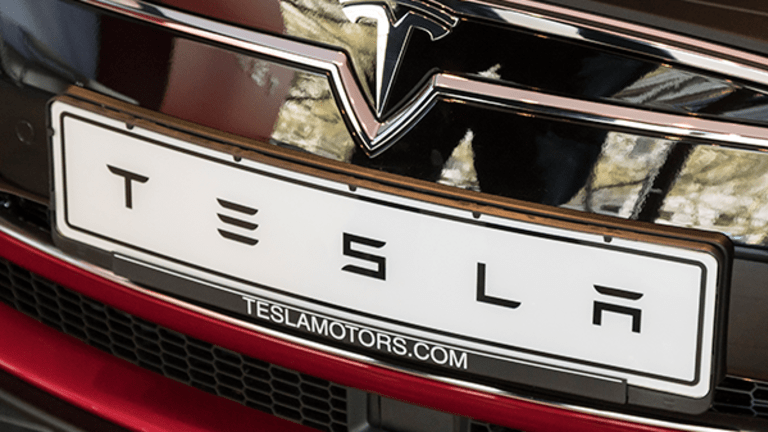 Could Tesla Be Fully Autonomous This Year? -- Tech Roundup
CEO Elon Musk is pretty optimistic about his company's self-driving car capabilities.
Regardless of whether the observer is a tech fan, auto buff or stock market junkie, the assumed timeframe for fully autonomous driving was still years away. Despite the giant leaps in self-driving car technology, it simply wouldn't be enough to safely deploy such features for several more years, at a minimum. 
That is, unless you're asking Tesla (TSLA) - Get Tesla Inc Report CEO Elon Musk. In a reply to another user's question regarding how long it would take for Tesla's fully self-driving features to "noticeably depart" from the company's Enhanced Autopilot, Musk responded by saying, "3 months maybe, 6 months definitely." 
Although Tesla is a clearly a leader in both autonomous driving as well as electric vehicle development, achieving full-blown level 5 autonomy seems questionable. Currently, self-driving car technology is measured on a scale of level 0 to level 5, with level 5 representing fully-autonomous, no-human-needed navigating. 
We've seen some of the amazing offerings from Tesla's current lineup and I don't mean to be skeptical of the company, although admittedly Musk didn't reference a level of autonomous driving capabilities. But some speculate the company could get close to level 4, which is almost full-time autonomous capabilities. 
Should Tesla achieve level 4, or close to it, it could be a big catalyst for consumers to jump into a new Model 3 unit, which the automaker is gearing up to begin producing. 
That being said, Tesla has been known to over-promise and under-deliver - at least in regards to timing. The good news? The promise usually ends up being fulfilled even if it is late. 
Shares of Tesla closed at $254.61 Tuesday, up 2.3%.
Hopefully you've never had to be awakened by the high-pitched screaming coming from somewhere down the hallway and located on the ceiling. Yes, we're talking about the smoke alarm, which blasts a wretched screech through the house in the event of a fire - or too much smoke from our glamorous cooking.
In any regard, we're all likely familiar with the unpleasant sound it emits. 
But did you know that the high-pitched frequency doesn't have the same impact on children and the elderly? That's right. The pitch of the sound from many smoke and carbon monoxide alarms doesn't register in the same manner as it does for many adults. 
According to Alphabet (GOOGL) - Get Alphabet Inc. Class A Report , the company says it doesn't have the same awakening effects for kids and the elderly. Instead, they react better to low-frequency alarms, according to a patent granted to the tech giant.
Despite some technical hurdles, the company says it would be able to power its device with standard batteries and one would imagine that this would be a project for its Nest business. 
Shares of Alphabet closed at $849.53 Tuesday, up 0.6%.
Alphabet and Facebook (see next item) are holdings in Jim Cramer's Action Alerts PLUS Charitable Trust Portfolio. Want to be alerted before Cramer buys or sells GOOGL or FB? Learn more now.
It's no secret that accessing services like Facebook (FB) - Get Meta Platforms Inc. Class A Report or Google in China isn't allowed. Referred to as the "Great Firewall," the country has a list of banned sites and platforms within its borders. 
Of course, for an e-commerce centric economy like China containing more than one billion people, it's like an untapped goldmine for companies if they can ever find a way in. 
But unless China relaxes its policies, it doesn't seem likely any time soon. The country's latest move makes it seem even more certain, as China has "begun a crackdown on the use of virtual private networks, or VPNs, making it harder for internet users to circumvent the Great Firewall," according to The Guardian.
Reportedly, roughly 171 of the world's top 1,000 websites are blocked in China. While the crackdown on VPNs doesn't change much, it does insure that it will be even harder for its citizens to access these platforms. 
It's a hard concept to fathom here in the U.S., imaging that a technology-focused nation with a population roughly four times our size could be censored without continuous rioting or opposition. 
And while it hasn't always been smooth sailing for China in this regard, it's much more smooth than if the U.S. were to institute such a ban. 
Shares of Facebook closed at $129.37 Tuesday, up 0.3%. 
This article is commentary by an independent contributor. At the time of publication, the author held TK positions in the stocks mentioned.