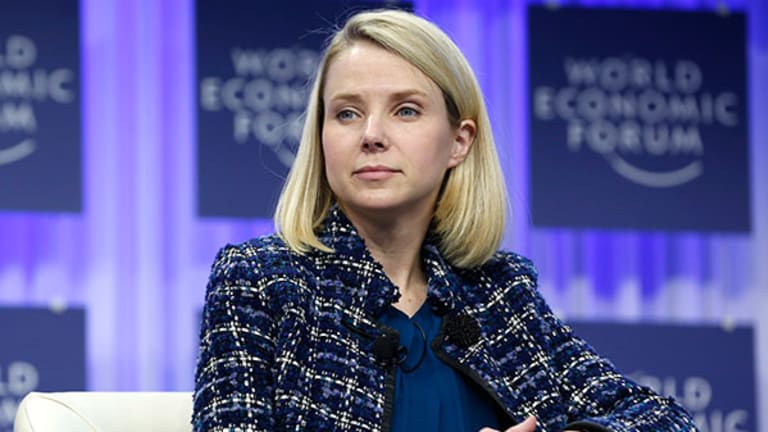 Could Marissa Mayer Be on Her Way Out at Yahoo!?
After three years of stagnant revenue growth, missed opportunities, ill-timed acquisitions and more at Yahoo!, one analyst thinks Marissa Mayer should leave the company.
After three years of stagnant revenue growth, missed opportunities, ill-timed acquisitions and more at Yahoo! (YHOO) , one analyst thinks Marissa Mayer should leave the company but not be removed entirely.
In a note to clients, SunTrust analyst Bob Peck suggested that Yahoo!'s board could have Mayer run the company's spinoff of its Alibaba (BABA) - Get Alibaba Group Holding Limited American Depositary Shares each representing eight Report stake, Aabaco Holdings, and let someone else run the core business. "With the core struggling to turn around one option for the board is to ask Marissa Mayer to run the more valuable Aabaco spin unit, while a different executive could run the struggling core," Peck wrote to clients.
Peck rated Yahoo! shares buy with a $40 price target.
This isn't the first time someone has suggested that Mayer, who was brought in from Alphabet'sGoogle (GOOG) - Get Alphabet Inc. Report (GOOGL) - Get Alphabet Inc. Report nearly three years ago to turn around the struggling Internet company, be replaced.
Yahoo! declined to comment for this story.
Ader Investment Management Managing Director and TheStreet contributor Eric Jackson has been exorbitantly public in his cries to get rid of Mayer. "I'm obviously not a fan of hers," Jackson said via email. Jackson, like many investors who own Yahoo! stock, has been adamant there needs to be change at the company, which has seen its share price drop 29.9% in 2015, compared to a 7.3% rise in the Nasdaq.
Jackson has written and spoke about the need to replace Mayer at the top, in addition to Yahoo!'s need to cut thousands of jobs in an effort to increase the company's earnings power. After years of having a headcount of more than 10,000 employees, it seems as if Yahoo! is listening.
In prepared remarks discussing third-quarter results, Chief Financial Officer Ken Goldman said, "This quarter we've reduced spending in areas such as workforce, facilities and discretionary expenses, and in our ongoing efforts to control expenses, we'll continue to focus our headcount on growth initiatives."
Yahoo!'s two core businesses -- search and display advertising -- have been under extreme pressure as more people continue to search for items on mobile devices, an area where Yahoo! lags badly. In the company's most recent quarter, search revenue, excluding traffic acquisitions costs, fell 13% year over year, while display ad traffic rose just 2% from a year earlier when accounting for the costs.
Since taking over the embattled Internet company, Mayer has put much of her focus on apps and mobility, code-naming the group MaVeNS -- mobile, video, native and search -- to try and drive growth. The collective group saw a 43% year-over-year rise in revenue, but it accounted for less than half of total revenue, at $422 million. By comparison, Facebook (FB) - Get Meta Platforms Inc. Report generated 76% of its advertising revenue from mobile in its most recent quarter.
Even if Mayer does wind up running Aabaco, it's not clear what she would be left with.
Yahoo! is going ahead with spinning off the stake to shareholders tax-free, despite not having the blessing of the IRS. If the IRS concludes Aabaco is liable for paying taxes, Peck estimated it could be on the hook for a $12 billion payment for indemnification. There's also the possibility China taxes the spin, leaving Aabaco with an additional $3 billion tax burden. There also could be a possibility the indemnity itself is taxable to the tune of $4 billion. All totaled, Peck estimated that Aabaco may be on the hook for $19 billion in taxes.
On top of this, the spinoff may happen later than Yahoo! has repeatedly said it would, potentially happening in January 2016. Mayer and her team cited the Securities and Exchange Commission process, the final approval of both boards, compliance with the notice requirements under the convertible note indenture, and taking into consideration holiday market closures at the end of the quarter. Previously, the company said it would happen in the fourth quarter of 2015.
All of this, plus a slowing and declining business, constant pressure from shareholders and the unusual action of seemingly taking a shot at executives that have left the company in recent months (most recently Jackie Reses who helped with the Aabaco spin) have left Mayer and the company's board in a bind.