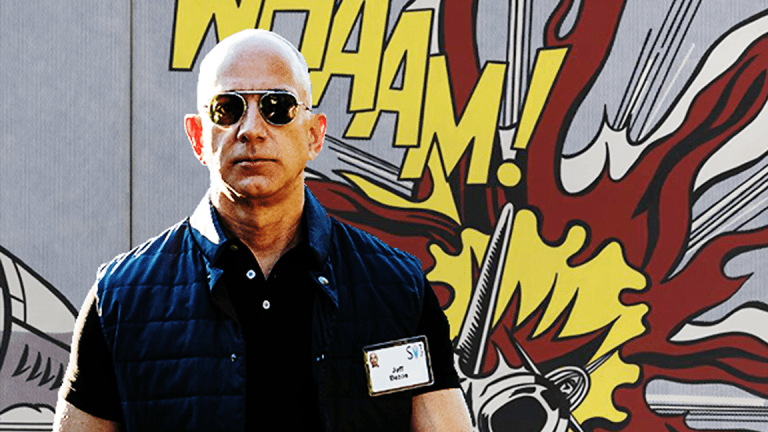 Could Jeff Bezos' Divorce Impact Amazon Shares?
Could a split between Amazon CEO Jeff Bezos and wife MacKenzie affect shares of the world's most valuable company? Wynn Resorts is one example of a messy divorce colliding with corporate ownership.
Could a split between Amazon CEO Jeff Bezos and wife MacKenzie affect shares of the world's most valuable company? Wynn Resorts is one example of a messy divorce colliding with corporate ownership.
It's not every day that the world's richest person gets divorced.
Amazon (AMZN) - Get Report investors didn't seem too perturbed by news that Amazon CEO Jeff Bezos and wife Mackenzie Bezos plan to split, which was announced via tweet on Wednesday. Despite widespread coverage of the news and speculation about what it might mean for Amazon, Amazon shares have not moved significantly since the announcement.
But could a rocky split eventually affect Amazon shares or ownership of the e-commerce and cloud giant -- which happens to be the most valuable public company in the world right now? Such a circumstance has happened before, in the case of Wynn Resorts (WYNN) - Get Report .
Wynn Resorts founder Steve Wynn split from his then-wife Elaine in 2010 (for the second time) in what is reportedly one of the costliest divorce settlements ever. It also sparked legal battles that dragged on for years, concerning not just the settlement itself, but subsequent fights and shareholder headaches over how the Wynns' shares were dealt with.  
Thousands of Wynn shares -- and hundreds of millions of dollars-- were caught up in the Nevada settlement, and effectively locked up for years amid fights over control of the shares. Ms. Wynn was granted 11,076,709 shares of Wynn stock in the divorce settlement, equivalent to half of the shares the couple owned jointly while married and worth about $740 million at the time. The settlement sharply reduced Mr. Wynn's individual ownership stake in the company, to approximately 8.03% of shares.
By shareholder agreement, however, it was determined that the couple would continue to vote their shares as a group together with the other largest shareholder, Aruze USA Inc. The Wynns were also restricted in selling their respective stakes, with Ms. Wynn prohibited from selling shares without her ex-husband's permission. 
Eventually, Elaine Wynn was kicked off the board of Wynn Resorts by shareholders who determined that the nasty divorce presented an untenable conflict of interest with regards to her influence over the company. A May 2015 proxy filing summarized shareholder views on how the high-stakes divorce collided with Wynn's corporate governance:
"The independent directors' view is that since Ms. Wynn was last nominated in 2012, Ms. Wynn's personal goals in her litigation and a number of other incidents have presented actual and potential conflicts of interest in which, in the independent directors' view, Ms. Wynn has placed her own interests ahead of those of other stockholders," the filing read.
Although the divorce and subsequent legal battles were just one of many factors influencing investor views of Wynn at the time, it's worth noting that Wynn shares more than tripled in value from 2010 through early 2014, before declining sharply and bottoming out at about $57 in early 2016. 
Ms. Wynn sued her ex-husband in 2016 to win back full control over her shares, accusing him of engineering her board ouster. But it wasn't until February 2018 that Steve Wynn formally dropped his battle to retain voting rights to his ex-wife shares. Shortly beforehand, Mr. Wynn had stepped down as CEO in the wake of sexual harassment allegations by an employee. 
Mr. Wynn cashed out his shares in Wynn Resorts in May 2018, and Ms. Wynn still owns 8.77% of Wynn shares, according to FactSet.  
In the case of Bezos and Amazon, there's potentially much more at stake. Bezos owns approximately 16% of Amazon shares, and between those shares and other assets, he has an estimated net worth of around $137 billion. Reportedly the couple had no prenuptial agreement, which in Washington State could hypothetically entitle Mrs. Bezos tohalf of the marital fortune. 
Scott Altman, a professor of law at USC Gould School of Law who specializes in family law, said that in the majority of such divorces involving stock holdings, shares are generally transferred to one party with no tax consequence. That was the case in the Wynn divorce, which split the couple's stock holdings down the middle. 
"If they're not restricted shares, I don't think there's anything to prevent a court from saying that shares need to be transferred," Altman said. 
For now, the Bezos are maintaining a unified front -- to the public, and to shareholders. In the tweet announcing the split, Bezos said that he and MacKenzie remain "cherished friends."  
Amazon is a holding in Jim Cramer's Action Alerts PLUS member club. Want to be alerted before Jim Cramer buys or sells AMZN? Learn more now.