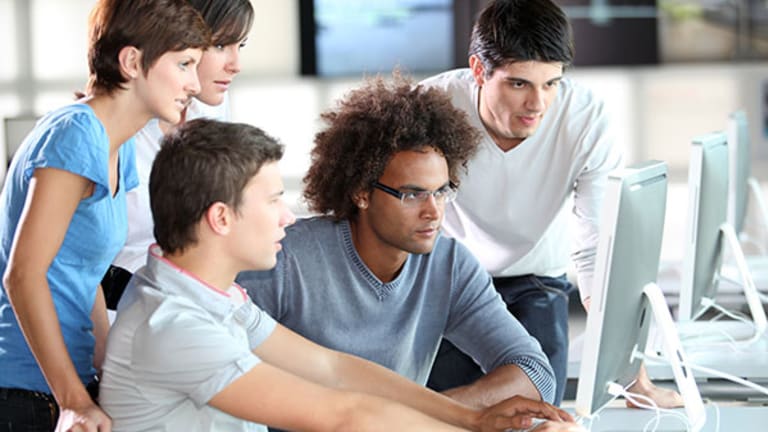 Corporate America Looks to Custom Software for IT Upgrades: Survey
Off-the-shelf software is no longer capable of handling today's corporate technology demands. Instead, IT decision makers are leaning toward custom-built software.
NEW YORK (TheStreet) -- A major shift is taking place in enterprise-level software development as companies are looking toward using custom software instead of the prepackaged variety, according to a recent survey.
A Nielsen/Harris Interactive Information Technology Decision Makers omnibus survey of 306 IT decision makers in December 2014 found that 52% of the respondents are more likely to lean toward custom-developed software when looking to update their company's IT infrastructure.
Additionally, going with a mobile-first approach was shown to be very important among these individuals, with 70% of those surveyed saying their company is likely to invest in cloud-based application development programs, while 66% said they would go with custom software solutions sometime during the next five years.
About $335 billion will be spent in 2015 on IT spending, with $107 billion of that figure being expended on application development and support, according to Gartner's IT Worldwide IT Spending Forecast.
The top reasons cited for leaning toward custom software were: the efficiency of that type of software, 53%; it is designed to serve a unique need, 51%; and the ability of the company to make enhancements, 46%.
"The industry for custom software development must change," said Matt Calkins, CEO and president of Appian. "Seventy-two percent of IT professionals acknowledge that traditional solutions are too slow, and this prevents them from infusing their companies with digital business innovation."
Appian is a developer of custom business process management and case management software.

Those surveyed said the industries that will most benefit by using custom-developed software are financial services, manufacturing, telecommunications and the health care/pharmaceutical sector.
Nielsen/Harris also found corporate IT departments overwhelmingly believe a new market is emerging for modern cloud-based application platforms because they reduce the time and cost required to build, deploy, and maintain custom software solutions. Forty-six percent of the IT decision makers in the survey said their companies are in the process of moving to a cloud-based application development platform with 26% saying their company had already made the move and another 15% saying the transition would take place at some point within the next five years.
"With more of today's enterprise IT decisions motivated by business growth, we are seeing widespread adoption of a mobile-first approach for everyday, core business processes in order to boost performance," said Calkins.
Just over half of IT decision makers surveyed, regardless of the size of their companies, said they are more likely to use custom software over prepackaged software, while 34% opted to use the traditional prepackaged variety. Thirteen percent did not favor one variety over the other.
When it comes to prepackaged BPM software being able to keep up with the times, 72% of decision makers said these were unlikely to keep up with the pace of operational change. Two-thirds believe corporate America is wasting billions annually on prepackaged BPM software.
However, enterprise-level IT buyers do have some reservations when it comes to custom-developed software. Almost all cited difficulties they have had to deal with when previously building, implementing and maintaining custom software solutions from legacy technology providers. Cost and security compliance were the top challenges named.
This article is commentary by an independent contributor. At the time of publication, the author held no positions in the stocks mentioned.