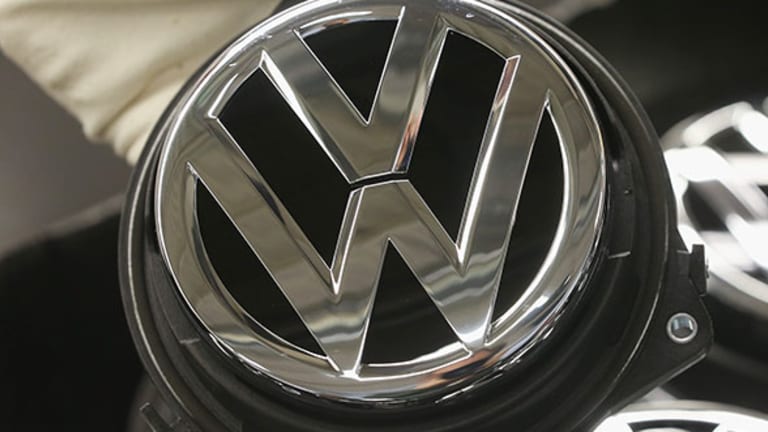 Continental, Infineon Among Top Gainers in Frankfurt as VW Unveils New Mobility Company
Volkswagen's plans to launch an Uber challenger lifts parts supplier shares in Frankfurt.
Volkswagen (VLKAY) suppliers Continental (CTTAY) and Infineon Technologies (IFNNY) were among the top gainers in Frankfurt Monday after the world's biggest automaker launched a new mobility service that would challenge the likes of Uber in the ride-hailing business.
Continental, a supplier of tires and interior electronics, rose 2.55% Monday to change hands at €170 each in Frankfurt. Infineon, the world's second-biggest auto semiconductor maker, was also among the biggest gainers on the DAX performance index, rising 1.6% to €15.56. 
Both companies are suppliers to Volkswagen, the owner of the Audi, Bentley, Porsche brands, which announced Monday morning the launch of Moia, an electric shuttle services company working in cities.
Infineon has been working with Volkswagen since 2011 to supply its sensor chips in electric power steering systems for vehicles for various model ranges and the Neubiberg-based company also supplies to Continental.
Ole Harms, the executive director and head of VW's new business & mobility services, spoke at an event held in London by Tech Crunch, a media focusing on technology-related news.
"We need to provide access to new forms of transportation," Harms said. "That's why, we at Volkswagen, are today proud to announce the launch of a totally new company, the company that will live alongside our other iconic brands, a totally independent company."
Harms added that Moia, which derives from a Hindu word "magic", will be headquartered in Berlin and will aspire to develop its business on a global scale. The service will focus on complementing the public transport system in cities, and will strive to partner with innovative cities in the world, he said.
As an initial step, Moia will partner with Gett, an Israeli start-up that helps customers connect with taxi drivers through its smartphone app, and offer on-demand ride-sharing services with a first focus on Europe. Volkswagen invest $300 million in Gett in May 2016. Gett has presence in over 60 cities worldwide.
Going forward, Moia will also aim to develop its own unique services, including "an on-demand shuttle that are a complement to public transport system and in a way far more democratic than a traditional ride-hailing service," Harms said, with the service involving a fleet of electric vehicles.
In the medium-term, the company will strive to face end-customers directly regarding this service, including what kind of cars they want to use. This would involve making use of Volkswagen's technology, including autonomous cars, Harms added.
Harms said that while Moia will have the backing of Volkswagen's abundant funding and resources, it will operate "nimbly" like a start-up.
Volkswagen, which has been weighed down by its emissions data tampering scandal, has said it wants to achieve growth through new areas such as electric vehicles, fuel cells and autonomous driving. Under its "Strategy 2025", the Volkswagen Group will aim to launch over 30 fully electric new vehicles across the group by that year. It has also expressed intentions to develop its mobility solutions business.