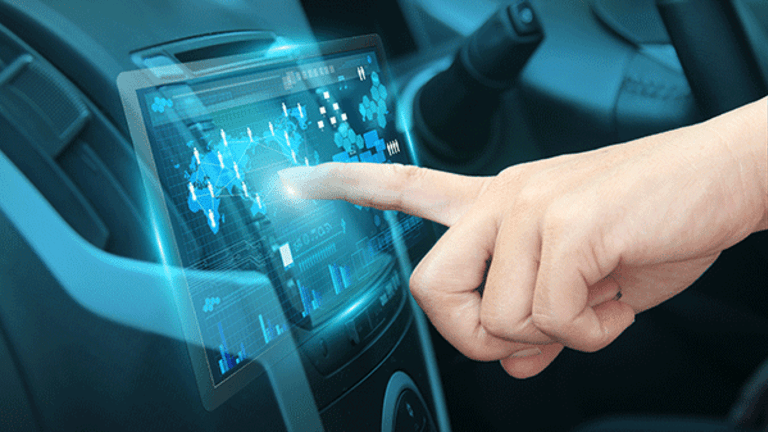 Publish date:
Connected Car Deal Talk Turns to Visteon
Shares of the cockpit electronics and smart-car technology developer have risen as Harman and Mobileye sold.
Shares of the cockpit electronics and smart-car technology developer have risen as Harman and Mobileye sold.
Recent connected car acquisitions have drawn focus to Visteon (VC) - Get Report , a former unit of Ford that has divested units in recent years to focus on electronics and instruments for car cockpits and to develop smart car technology.
The stock has gotten a bump since Mobileye   (MBLY) announced it's $15.3 billion sale to Intel (INTC) - Get Report on March 13, although Samsung Electronics' $8 billion purchase of infotainment, telematics and other connected car systems developer Harman International may be a more accurate comparison.
Visteon shares are up 7.4% since Mobileye announced its sale on Monday, March 13, and are up 44% since Harman and Samsung disclosed their tie-up on Nov. 14. The Harman sale closed on March 11.
Spun off by Ford in 2000, Visteon tangled with Alden Capital Management about half a decade ago. The activist won board seats, and in recent years Visteon has focused its business through divestitures and investment in smart car technology. Barclays analyst Brian Johnson described Visteon, which has a roughly $3.3 billion market cap, as "an interesting consolidation candidate given it is an easily digestible connected car target," in a note following the Mobileye sale.
Visteon declined to comment but CEO Sachin Lawande addressed the question of whether the company could be a target came up in the fourth quarter earnings call in February, after the Harman deal but before the sale of Mobileye. "Who knows, right?" Lawande said, suggesting that the company could also be a buyer.
Visteon is a "pure play in cockpit electronics—one of the fastest growing and most coveted areas in automotive that will likely see further consolidation, which puts [it] on a list by many investors as a potential takeout target," BMO Capital Markets analyst Richard Carlson wrote in a report after the February call.
Visteon has a center in Silicon Valley to develop artificial intelligence for autonomous vehicles. In January the company added Daimler AG executive Matthias Schulze to lead its advanced driver assistance systems, or ADAS, which is a strength of Mobileye.
In addition to Harman, Visteon's competitors include Alpine Electronics of America Inc., Continental AG, Delphi Automotive PLC (DLPH) - Get Report ,  Pioneer Corp., and Robert Bosch GmbH.
Former parent Ford is the largest customer with 29% of sales in 2016. The next largest were Mazda, with 18% of sales; partners  Nissan Motor Co. and Renault SA, with 15%; General Motors Inc. (GM) - Get Report , accounting for 9%; Honda Motor Co., with 4%; and BMW AG, 3%.
Visteon has slimmed down and generally taken a shareholder-friendly approach in recent years. Investors include Mario Gabelli's Gamco Asset Management Inc., which owns less than 1% according to FactSet.
The company divested its global auto interiors business through a series of transactions in 2014 and 2015, and sold its stake in a climate control business to Hahn & Co. Auto Holdings Co. Ltd. and Hankook Tire Co. Ltd. for $3.4 billion
In January, Visteon announced new authorization to repurchase $400 million shares.
When Alden clashed with Visteon years ago, the activist succeeded in placing restructuring advisers Kevin Dowd and Harry Wilson on the company's board. Dowd stepped down in 2012. Wilson, a turnaround adviser who was on former President Obama's Automotive Task Force in 2009 and was a principal at Blackstone Group (BX) - Get Report and Goldman, Sachs Group Inc. (GS) - Get Report investment banker, remains on the board.
The board has boosted its exposure to broadband and technology in the last few years.
Visteon added Lockheed Martin Corp. (LMT) - Get Report veteran Joanne Maguire and cable modem pioneer Rouzbeh Yassini-Fard as directors in 2015.
Broadband veteran Nomi Bergman, one of the top executives at Bright House Networks prior to its merger with Charter Communications Inc. (CHTR) - Get Report as part of the Time Warner Cable acquisition, and former PayPal Holdings Inc. (PYPL) - Get Report chief technology officer James Barrese joined the board in 2016.