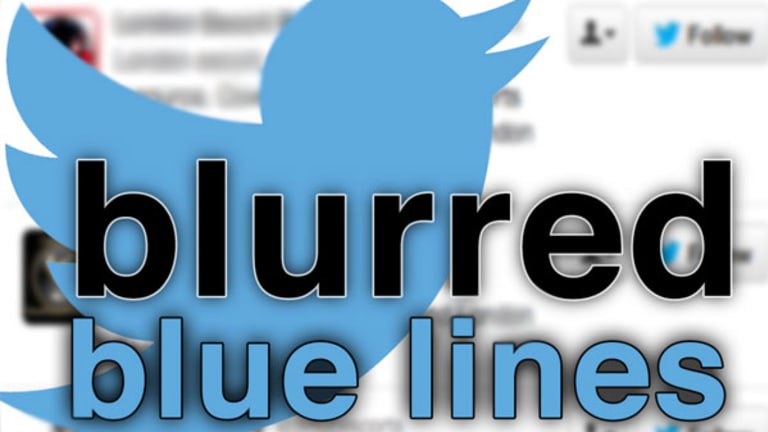 [video] Congress to Launch Probe Into Escort and Prostitution Services on Twitter
After TheStreet revealed that more than 1,000 escorts, some of them working as prostitutes, that advertise services via Twitter, lawmakers are preparing to summon the social network's executives to Capitol Hill.
After TheStreet revealed that more than 1,000 escorts, some of them working as prostitutes, that advertise services via Twitter, lawmakers are preparing to summon the social network's executives to Capitol Hill.
WASHINGTON (TheStreet) -- Twitter (TWTR) - Get Report , the favorite social media powerhouse, has become a tool of escorts and prostitutes, a months-long investigation by TheStreet reveals.
WATCH: How Prostitutes and Escorts are Advertising on Twitter
More than a thousand individual Twitter profiles advertising everything from private escorts to dominatrix services were identified, many of which appear to violate the San Francisco-based company's terms of service. Twitter's terms dictate that the message system -- limited to 140 characters per message or tweet -- not be employed for "any unlawful purposes or in furtherance of illegal activities." Further, the company's rules prohibit pornographic images from appearing in "header photos or user background." How these rules would be enforced was not spelled out.
TheStreet discovered that at least two international networks of escorts rely on the Twitter platform to promote and execute their services.
The reach of marketing pitches made by escort services on Twitter surprised even those plying the trade.
Read: Why iTunes Libraries Look Like CD Collections
Cassie, a woman in her 20s who works as an escort in the Midwest and said she doubles as a prostitute, said she was unprepared for the international calls she received.
"It is definitely a concern to me that my information was broadcast there," said Cassie, who asked that her real name not be used, after TheStreet notified her that the international escort service, ErosGuide, repeatedly tweeted out her profile offering services.
Notified by TheStreet of its investigation that revealed that escort services were using Twitter, Rep. Chris Smith (R., N.J.) urged that Congress investigate. Smith sits on the subcommittee investigating human trafficking, which held hearings Monday on prostitution at sporting events, including this week's Super Bowl in New Jersey.
Addressing Ambassador-at-Large Luis CdeBaca of the U.S. State Department's office to monitor and combat human trafficking, Smith asked at the subcommittee hearing that he speak to U.S. Attorney General Eric Holder to initiate a crackdown on Twitter, Backpage, Craigslist and other social media "that are the conduit for this terrible exploitation of women."
"I'll certainly relay that, sir, and I would love to hear more about the information on Twitter," CdeBaca said.
Smith's comments during the hearing followed an interview with the TheStreet in which we provided the congressman evidence of dozens of escorts and prostitutes in the New York City area listed on Twitter in advance of this year's Super Bowl in New Jersey.
Following that meeting, Smith, who serves as chair of the House Foreign Affairs Subcommittee on Africa, Global Health, Global Human Rights and International Organizations, said he plans to convene a House of Representatives subcommittee hearing later this year, and intends to ask Twitter executives to testify on Capitol Hill to address the issue.
"I'm going to look at putting together a hearing to focus on Twitter," Smith said. "We'll look to do a hearing very soon."
This isn't the first time Twitter has been brought into a national debate. Shortly before the company's November 2013 initial public offering, CEO Dick Costolo publicly defended the company against criticisms that the board of directors lacked women members.
Now, some of Costolo's detractors say the escorts who violate Twitter's terms of service, and the company's response, represent a bigger problem in Silicon Valley and the technology community.
When asked why Twitter didn't remove these accounts, similar to the one pictured above, a Twitter representative who spoke on background provided no comment other than to cite the company's policies, terms of service and guidelines for law enforcement.
"When you're a public company you're held to a higher standard than you are when you're a private company", said Vivek Wadhwa, a prominent Silicon Valley academic and regular blogger on tech, including subjects like Twitter. "They can't just sit back and say, 'not our problem'."
Twitter's guidelines on postings relating to pornography and escorts appear to be more lax than rules cited by Facebook (FB) - Get Report and LinkedIn  (LNKD) .
Facebook operates software and employs individuals to remove offensive content or material that violates the social network's terms of service. To be certain, the system has committed some serious blunders. Arguably, Facebook has acted to correct problems, which sometimes succeeded and other times have been met with criticism.
Read: Google: Why We Bought Nest
In 2013, LinkedIn changed its terms of service so that users could not "create profiles or provide content that promotes escort services." The company last year also reduced the minimum age of participation to 13-years-old.
While Twitter doesn't force escorts off its network, beer brands, for instance, require Twitter users to go through a multi-step process before becoming an approved follower of a brewer.
To follow Budweiser's main account, a user must go to the @Budweiser Twitter page and click follow. But that's just the first step. The Budweiser account then sends the user a direct message that states:
"We know it's a pain, but you can't follow @Budweiser unless you go to age.twitter.com/verify/age/?so... within 24 hours to confirm you're 21+. Thanks!"
After clicking through the link, the user is presented another screen that asks to select a date of birth and to check a box to verify that the user has read and agreed to the privacy policy.
An external company, Salesforce Buddy Media, administers this verification process, but it's not mandatory.
"It's called 'age screening,' and it's a complimentary feature offered to brands to prevent these underage Twitter users from following accounts with what we call 'age restricted content'," a representative for Salesforce Buddy Media confirmed. "The alcohol brands actually requested it; they requested it, [saying], 'Hey, can you guys put something together?' to protect them."
The Twitter escort accounts reviewed by TheStreet didn't require the age screening process. Users can quickly find escort services in their region simply by entering into the Twitter search bar 'escorts' and the name of the city. 
Investors should take note that social media is in its infancy, said Paul Levinson, a professor of communications and media studies at Fordham University.
"All these media are caterpillars, they're not yet butterflies. They're going through growing pains," Levinson said. "I think the worst thing that Twitter could do is follow an example [of] another toddling new social media like Facebook."
Whether Twitter intends to address the growing number of illegal accounts remains unclear. Interviews with numerous women who admitted to working as prostitutes, revealed that they increased clientele via a Twitter account.
Melinda, a dominatrix in the Northeast who said she also works as a prostitute, said that she annually pays thousands of dollars for her ErosGuide profile. The Web site uses its clout on Twitter to broadcast advertisements daily for an international stable of escorts, and regularly violates the terms of service -- the ErosGuide Twitter handle re-posts links to several of its Twitter accounts connected to escorts' profiles. Altogether, it has thousands of followers.
ErosGuide did not respond to an inquiry for comment on the matter. The Web site appears to operate at least 20 international Twitter handles -- a violation of Twitter's terms of service -- mainly in Europe.
Read: 6 Things Apple Needs to Learn From Facebook, Amazon, Google, Tesla & Disney
While Twitter has policies pertaining to posting pornographic content, it has made numerous other product alterations prior to its IPO, tailoring and re-crafting the user experience.
"It really behooves a Web site operator to revisit their terms and conditions and revisit what they're going to allow on their platform," Washington, D.C.-based social media lawyer Bradley Shear, said in an interview. "Because the last thing they would want is to be known as a safe haven for illegal or illicit activity."
Additionally, Scott Kessler, an Internet equity analyst at S&P Capital IQ, said in an interview that monitoring and regulating by social media companies of their platforms is about more than public perception, it's also about maintaining how the platforms are used and what content is made available.
"Whether you're talking about a parent and a small child looking at content where you could see pictures of things that just aren't appropriate for children, or you might be at work and a video might pop up there are a lot of questions that come up in this context."
Twitter would not cite which organizations it works with to track and disrupt prostitution rings, but the company representative speaking on background pointed to its company policy to combat child sexual exploitation. Twitter is a member of Thorn's Technology Task Force.
-- Written by Jonathan Marino in Washington and Joe Deaux in New York.
>Contact by Email.