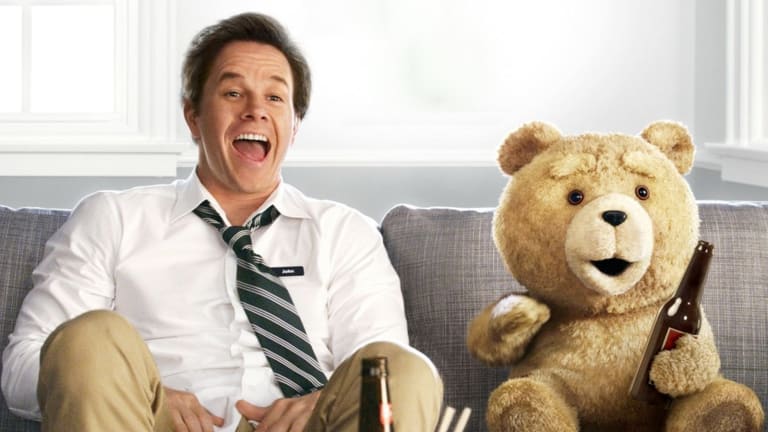 Comcast's Universal Pictures Finds Silver Lining Behind 'Ted 2'
In a year of big hits, Ted 2 couldn't crack the top of the box office over the weekend. But the lesson learned is an expanding movie market this summer.
LOS ANGELES (TheStreet) -- In a record year at the box office for Comcast's (CMCSA) - Get Comcast Corporation Class A Report Universal Pictures, the film studio may have finally found a disappointment with Ted 2.
Seth MacFarlane's follow up to 2012's hit comedy about a foulmouthed teddy bear grossed $32.9 million at the domestic box office over the weekend, according to studio estimates, falling well below the $54.5 million estimates some analysts had forecast for the R-rated film.
But there's still a silver lining for Universal, and good news for Philadelphia-based Comcast: Not only did the studio's Jurassic World continue to lead the North American box office for the third consecutive week with $54.2 million, but the overall strength of this weekend's figures demonstrates how even in the age of Netflix (NFLX) - Get Netflix, Inc. Report, the thirst for big-screen entertainment appears to be transcendent, said Rentrak Senior Media Analyst Paul Dergarabedian.
"You have more people in movie theaters right now than at any time all year ... that just means more people in theaters being exposed to in-theater marketing and trailers," Dergarabedian said. "That can only help the upcoming films."
Disney's  (DIS) - Get Walt Disney Company Report Pixar's animated kids' movie Inside Out grossed $52.1 million in its second week, and all three of the top movies were not in direct competition, Dergarabedian added.
"They're in different ecosystems," Dergarabedian said. "There is going to be some overlap because everyone is going to see Jurassic World, but we have seen over the past few weeks that the marketplace has been expanding to accommodate these movies."
The weekend's box office was up 3% compared to the same weekend last year, which had the premiere of Paramount Pictures' Transformers: Age of Extinction, opening with $100 million in ticket sales. If Ted 2 would have hit its mark, it would have been the first time three films grossed more than $50 million in a single weekend.
Universal also has its next big blockbuster lined up in the Despicable Me animated franchise, Minions, which is set to premiere domestically July 10. The first two iterations of the series grossed a combined $620 million in North America, and Minions has been tracking at around $85 million in ticket sales for its opening weekend. The film has already opened internationally in 10 markets and grossed $51.7 million, the studio said.
Shares of Comcast recently fell 0.5% to $60.72, up 4.7% on the year to date.
Minions, of course, will not have to directly compete against other would-be blockbusters like Viacom-owned (VIAB) - Get Viacom Inc. Class B Report Paramount's Terminator: Genisys or Warner Bros.' (TWX) R-rated comedy sequel Magic Mike XXL, both set to debut on Wednesday as well as Disney's Marvel superhero film Ant-Man, which premieres July 17.
Although off from expectations, Ted 2, and its reported $85 million budget, for its part did not open like a flop -- and it shouldn't put a damper on Universal's big year.
The studio has so far grossed $3.99 billion at the global box office, already topping its 2013 annual record. It owns a quarter of all domestic ticket sales at nearly $1.4 billion, according to Boxofficemojo.com. That will surely boost Comcast's NBC/Universal unit, which has had to overcome slowing TV ad revenue because of poor ratings.
The bigger problem is for MacFarlane and perhaps R-rated comedy sequels in general.
Ted, at an estimated budget of $50 million, was a surprise summer hit of 2012, grossing $54.4 million in its opening weekend and $218.8 million overall domestically as the teddy bear played well with blue humor.
But the shock value and originality of Ted has typically put sequels at a built-in disadvantage, Dergarabedian said.
"If you look at some of the biggest R-rated comedies of all time, they've been originals with no sequels," Dergarabedian said. "The originality of the first one really boosted its box office and made it a phenomenon. You can only shock once."
Still, Universal may get its Ted-sized R-rated comedy of the summer in Trainwreck, directed by gross-out humor king Judd Apatow and starring the film's screenwriter, comedian Amy Schumer, the current doyenne of bawdy TV humor. Although Trainwreck opens alongside Ant-Man, if this year of big box office has shown a lesson it's that summer movies have yet to eat too much into each others' audiences.
This article is commentary by an independent contributor. At the time of publication, the author held no positions in the stocks mentioned.