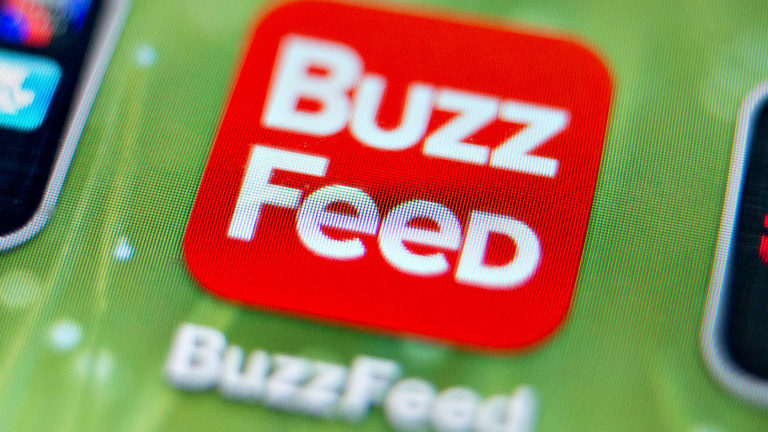 Publish date:
Comcast's Big Bet on BuzzFeed Is About Native Advertising
BuzzFeed's original sponsored video content and 200 million monthly unique visitors are a big part of the reason Comcast is looking to bankroll it to the tune of $250 million.
BuzzFeed's original sponsored video content and 200 million monthly unique visitors are a big part of the reason Comcast is looking to bankroll it to the tune of $250 million.
NEW YORK (TheStreet) -- Comcast's (CMCSA) - Get Comcast Corporation Class A Report NBCUniversal is mining for viral gold.
According to a report from Re/Code, the country's largest broadband provider is poised to pump $250 million into BuzzFeed, the news and entertainment website that won fame publishing cat listicles and a $1.5 billion valuation making "native advertising" that marketers love.
BuzzFeed's knack for making native advertisements -- videos that feature a product or service but look more like a YouTube clip than a typical commercial -- prompted NBCUniversal CEO Steve Burke to pursue an investment, "people familiar with the proposed deal," told Re/Code. Revenue at New York-based BuzzFeed is projected to reach $250 million this year owing to the success of its video unit, Los Angeles-based BuzzFeed Motion Pictures, to creates "native ads" such as clip for Toyota that generated over 3 million views on Google's (GOOG) - Get Alphabet Inc. Class C Report YouTube.
"What BuzzFeed does is they actually look at data on which things are trending and then they create content based on what's popular," Shahid Khan, digital media industry consultant and co-founder of MediaMorph, said in a phone interview in New York. "When you target millennials, they don't care about ads as much. But if the ads are coming across as content, they'll pay attention to them."
Just as important, BuzzFeed also offers marketers data to show how their ads are playing before target audiences, Khan said.
"If I'm an advertiser, I'm getting a much better ROI [return-on-investment] on it," said Khan. "It's a much better proposition."
BuzzFeed's "Are You A Visual Thinker?" ad for General Electric (GE) - Get General Electric Company (GE) Report attracted over four million views on YouTube, a number dwarfed by the nearly 23 million it netted for the original "Dear Kitten" commercial filmed for Nestle's (NSRGY) - Get NSRGY Report Friskies. NBCUniversal is also said to be considering an investment in Vox Media, which owns The Verge as well as Re/Code, the web site said.
"The access to video could be huge and could make BuzzFeed more valuable to NBC than to somebody else," Mike Vorhaus, president of Magid Advisors, a media industry consulting firm. "These guys need to build their digital advertising revenue. [BuzzFeed and Vox] are really good assets that fit NBC really well."
A Buzzfeed spokesperson declined to comment. NBCUniversal and Comcast representatives couldn't be immediately reached for comment.
It's easy to see why Comcast is interested in BuzzFeed and Vox Media. Traditional ad revenue from Comcast's cable-TV and broadcast networks is declining. The Philadelphia-based company reported a 1.1% drop in second quarter revenue at its cable-TV networks. Advertising sales at its cable-TV unit dropped 3% compared to the same period a year ago.
Meanwhile, BuzzFeed Motion Pictures says it has over 16 million subscribers and more than 9.6 billion views. 
"BuzzFeed is a really savvy, important online media company, because they're really good at garnering social virality with their audience, especially millennial audiences," said Eunice Shin, a director and consultant at Manatt Digital Media, a division of the law firm Manatt, Phelps & Phillips, in a phone interview. "Traditional media and entertainment companies, in the nature of what they're doing, never had a relationship with the end consumer."
Television advertising overall continues to decline. Spending on TV ads fell 5% in the second quarter, according to data from Standard Media Index, which reports on 80% of U.S. ad agency spending. The media buying firm Magna Global is forecasting broadcast TV ad sales to fall by 5.9% this year.
BuzzFeed's more than 200 million monthly unique visitors, as well as an in-house sponsored content team, are in high demand given that digital ad spending is expected to grow by double digits this year. More Internet traffic could provide Comcast more ways to sell its native advertising.