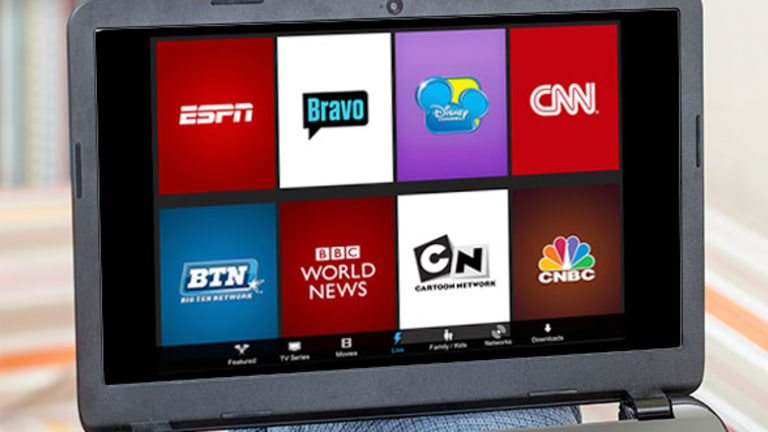 Comcast May Expand Stream TV Service to Win Online Subscribers
Comcast may add more channels to make its Stream TV service more applicable TV, a move aimed at subscribers frustrated with the cost and unwieldy format of pay-TV bundles.
Comcast (CMCSA) - Get Comcast Corporation Class A Report, which is rolling out a $15 a month video package for its Internet customers, may add more channels to make its Stream TV service more applicable to television screens, a move aimed at subscribers frustrated with the cost and unwieldy format of pay-TV packages.
The country's largest broadband provider, Comcast last week said it would offer its Stream TV to customers in its Chicago service area after rolling it out in Boston this summer. It plans to offer the service throughout its service area of 54 million homes and businesses by early 2015, the company said in a press release.
Stream TV will only be accessible on phones, tablets and laptops in subscribers' homes. There they'll get live feeds from broadcast channels, including the six largest English and Spanish language networks, and Time Warner's (TWX) premium channel HBO. They'll also have the ability to stream thousands of movies and TV shows and to record any shows on a cloud-based DVR.
Within months, Comcast could increase its offerings to take on online streaming rivals. The company is studying whether to create Apps for Apple TV, Roku and other devices that make it easier to stream its programming to a TV, according to a person with knowledge of those discussions.
Comcast is also contemplating adding more channels to the offering, including a package of kids channels and a package tailored to sports fans. Any added packages would likely carry a separate fee for every one chosen. The cable operator may also add other premium cable channels besides HBO.
The changes, if implemented, would give Comcast the beginnings of a skinny package that may keep its data customers from wandering to other video packages, figures Blair Westlake, a former Universal TV and Microsoft top executive who negotiated with content companies for Microsoft's (MSFT) - Get Microsoft Corporation Report Xbox gaming and video service.
"It's a significant step for Comcast to take, offering the proverbial skinny bundle to a group of consumers who already happen to be Comcast broadband customers," Westlake said in an interview. "Comcast undoubtedly realizes that whatever margin they may make on Stream TV is money that they are not otherwise making from the broadband customer."
Over the past year Comcast lost 118,000 of the nearly 22.4 million video subscribers it had in 2014, according to its most recent filing with the Securities & Exchange Commission. During the same period, it added nearly 1.3 million high speed data subscribers. It now has nearly 22.9 million internet subscribers and 22.3 million video subscribers.
To really make a significant impact, however, Comcast needs to add more channels to the package, said Westlake. "It's too skinny right now," he says. "If they can get 20 or more channels, and keep the price under $30 they may have a winner."
This article is commentary by an independent contributor. At the time of publication, the author held positions in Comcast and Microsoft