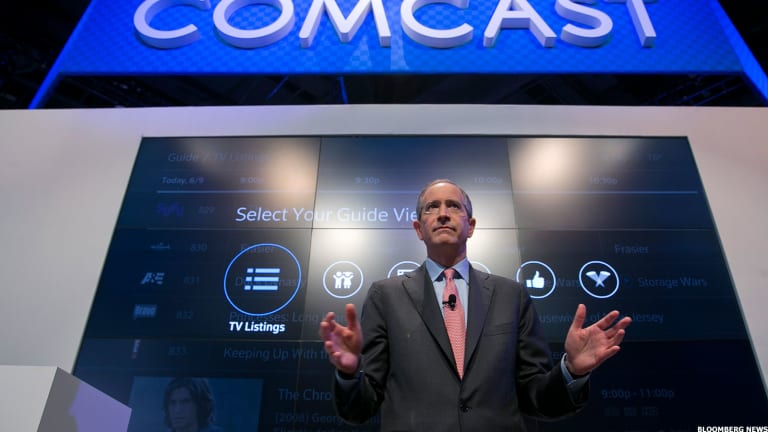 Publish date:
Comcast Isn't Getting Killed by Cord-Cutting -- Here's Why
Comcast poured water on the notion that cable-TV operators will suffer as video viewing moves online and away from pay-TV.
Comcast poured water on the notion that cable-TV operators will suffer as video viewing moves online and away from pay-TV.
More Americans are dropping cable TV, but that's not hurting Comcast's (CMCSA) - Get Report bottom line as much as some had expected.
The owner of the country's largest broadband network lost 48,000 video (i.e. cable-TV) subscribers in the third quarter, part of an industry-wide trend of subscribers leaving pay-TV for Internet-based streaming services. But even as some customers cut the cord, Comcast added 320,000 Internet subscribers to help compensate for the loss.
All told, revenue across the company jumped 11% to a $18.7 billion, and most importantly, operating cash flow climbed 8.4% to $6.2 million -- and rose 17% at its NBCUniversal unit.
Higher programming costs, though, generated profits that missed Wall street projections as net income for the quarter totaled $1.996 billion compared to the $2.016 billion forecast according to a Bloomberg Business survey of 19 Wall Street analysts.
Like most media companies, Comcast took a hit at its cable-TV networks, where operating cash flow fell 3.9% even as advertising grew 2%. Increased expenditures for items such as sports contracts and new programming were to blame. Comcast shares fell 1.2% on the report on Tuesday, to $61.40.
Comcast's biggest hurdles in recent years has been of its own making: spotty customer service and a cable-TV box that failed to impress. The Philadelphia-based company contends that's changed.
During Tuesday's investor conference call, CEO Brian Roberts pointed to the hiring since May of roughly 5,500 customer service workers at three different call centers. Evidence of this improvement, he said, is demonstrated in part by lower-than-expected cable-TV losses as well as an increase in the all-important metric of revenue per customer, which rose to $143 per month, a 4.3% increase.
More cash per customer is due in part to Comcast's cloud-based X1 set-top box which allows for stopping live programming and changing the channel with a voice remote. Comcast has been transitioning 40,000 subscribers a day over to its X1 console.
As might be expected, X1 users are more likely to opt for video-on-demand viewing as well as use its DVR features, Roberts said.
The upshot is that cable-TV providers, led by Comcast, are taking market share from telecom-based broadband operators such as Verizon (VZ) - Get Report and AT&T (T) - Get Report as well as satellite TV, said Craig Moffett, a media analyst at MoffettNathanson.
"Cable is now unmistakably taking share from satellite, and TelCo TV is fading fast," Moffett said in an investor note. "Cable's two-way architecture, and Comcast's best-in-class user interface and [voice-on-demand] libraries, are emerging as genuine sources of competitive advantage."
A new free online-video service, Watchable, marks the beginnings of Comcast's own Internet-based offerings, this one aimed largely at Millennials and featuring content courtesy of its recent investments in Vox Media and Buzzfeed. Watchable also includes work from Vice Media, AwesomenessTV and Garage Monkey.
Rather than a money-maker, Watchable at its inception is really an experiment, along the lines of Disney launching its own online streaming service in the U.S. or allowing the Dish Network (DISH) - Get Report to include ESPN on its standalone Internet service Sling TV. All media companies are trying to figure out a balance between the traditional pay-TV bundle and standalone streaming services that don't require a user contract.
It's interesting to realize that although ratings at Comcast's NBCUniversal's cable-TV networks have fallen an average of 12% over the past year, according to Bloomberg Intelligence, that doesn't necessarily have a negative impact on revenue. That's because of so-called carriage fees paid by its own and rival pay-TV providers, as well as video-on-demand partners such as Hulu, of which Comcast holds a one-third stake, and third-party platforms, led by Netflix (NFLX) - Get Report .
The drop-off in cable-TV subscribers was actually not as bad as analysts had projected: 48,000 compared to an average forecast to lose 66,000 subscribers, according to Bloomberg.
As for Internet subscribers, Roberts said that more customers are opting for higher Internet speeds that are more expensive, leading to a 10.2% jump in high-speed Internet revenue -- to $3.1 billion.
And in this year of sluggish box-office results, Comcast's Universal Studios has kicked into high gear. With Minions, Jurassic World and Furious 7, Comcast has three films that have already exceeded $1 billion in sales in the same year, a first for a movie studio. By August, Universal had already surpassed its best box-office year ever, and the highest annual take for any studio.
For the quarter, Universal revenue leaped 64% to $1.95 billion. The big jump was the result of the blockbuster strategy, whereby the large studios produce multi-million dollar film events. Some fail spectacularly and others do spectacularly well. A year ago, Universal was riding on Lucy, starring Scarlett Johansson, and theJames Brown biopic Get On Up, neither of which did particularly well at the box office.
The costs to carry rival cable-TV channels and sports programming such as Sunday Night Football led to a total programming expenditure increase of 6.4%, prompting Marci Ryvicker, a Wells Fargo media analyst, to warn that Comcast would have to take action to prevent quarterly programming costs from increasing above 8%.
With its stock, Comcast is moving to eliminate its dual class structure. It is folding equity into one class of stock to eliminate confusion on the part of potential shareholders and to create more liquidity, said Finance Chief Michael Cavanagh. The change is expected to be made at a shareholder meeting to occur before the end of the year.