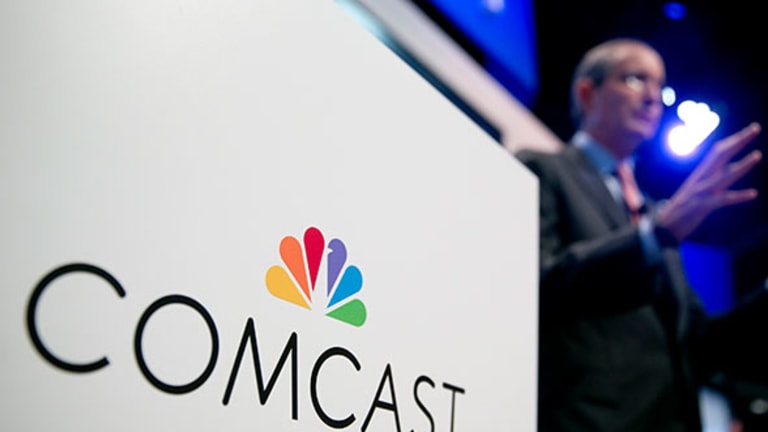 Comcast and Cablevision Rise on Time Warner Merger Deal -- Telecom Winners & Losers
Time Warner lands a deal with Charter Communictations, but Comcast and Cablevision also end up winners as well as investors push their stocks higher.
NEW YORK (TheStreet) -- Time Warner Cable (TWC) and Charter Communications (CHTR) - Get Free Report weren't the only winners in the mega-telecom merger announcement Tuesday. Comcast (CMCSA) - Get Free Report and Cablevision (CVC) also climbed higher on a day when the markets took a beating.
Comcast rose 1.2% to close at $58.59.
Investors cheered the company on after its former buyout target Time Warner Cable struck a deal with Charter. In April, Comcast stepped away from its $45.2 billion buyout offer for Time Warner, after it appeared that the deal would never pass muster with federal anti-trust regulators.
Comcast had tried for a year to get the deal done, but ultimately failed. No worries.
"This deal makes all the sense in the world. I would like to congratulate all the parties," said Comcast CEO Brian Roberts said in a statement.
Cablevision soared 3.5% to finish the day at $25.86.
The cable company's investors apparently feel there is still a chance for their portfolio company to be snapped up. And a report by R.W. Baird, as noted in Barron's, added fuel to the fire.
"Although CVC wasn't part of today's announcement, a combination could still make sense at a later time, enabling CHTR to consolidate the greater NYC market. We believe CVC makes more sense with TWC, and would view a separate Altice transaction as less likely," the research firm is quoted in a Barron'sreport.
Time Warner Cable spiked 7.3% to close at $183.60, while Charter Communications jumped 2.5% to close at $179.78.
Investors applauded the deal valued at $78.7 billion in cash and stock in which Charter is paying a 14% premium over Time Warner Cable's closing price on Friday.
The question still remains whether Charter will face the same challenges as Comcast in synching the deal, or whether it will prevail with regulators.
This article is commentary by an independent contributor. At the time of publication, the author held no positions in the stocks mentioned.