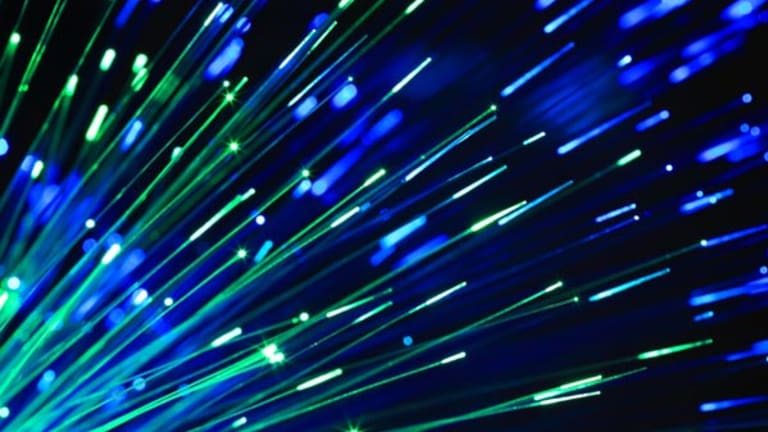 Colleges Incubate Smartphone App Invasion
The rise of mobile internet, and the growing market for 'apps,' displays the innovation of universities.
BOSTON (TheStreet) -- MIT mainstreamed the Internet. Harvard was the breeding ground for Facebook. And Sergei and Brin launched Google (GOOG) - Get Alphabet Inc. Class C Report from the confines of Stanford University.
Now college campuses are pioneering the latest revolution -- mobile Internet -- as they look to serve up specialized apps for students, faculty and alumni.
At first, these seem hardly revolutionary: With a click of an on-screen icon, you can call up class schedules, check homework assignments and survey a map of the campus. But these apps are increasingly sophisticated and unique, including GPS-created updates on shuttle bus schedules that tell students how far away their ride is and a University of Iowa app that lets students check available washing machines, allowing them to reserve one and be spared the hassle of dragging a laundry bag across campus in vain.
College campuses are an important breeding ground for innovation and a perfect ecosystem for mobile technology. Within their ivy-covered walls is a generation raised with the Internet and glued to their smartphones. How they use this burgeoning technology, and the products developed for them, will likely influence how businesses everywhere position themselves for the future.
Market-share dominance
Illustrating the popularity of mobile devices, and the market share enjoyed by
Apple
(AAPL) - Get Apple Inc. (AAPL) Report
, is recent research by the financial analysts at
.
It found that Apple's iPhone, launched in June 2007, is worth $209 billion of the estimated $391 billion value for Apple, which would make the iPhone one of the largest standalone companies in the world, bigger than
Coca-Cola
(KO) - Get Coca-Cola Company Report
($138 billion),
Unilever
(UL) - Get Unilever PLC Sponsored ADR Report
($84 billion) and
Philip Morris
(PM) - Get Philip Morris International Inc. Report
($105 billion).
The iPhone is also bigger, by Trefis' accounting, than some of the largest tech companies, including:
Oracle
(ORCL) - Get Oracle Corporation Report
($181 billion),
Hewlett-Packard
(HPQ) - Get HP Inc. (HPQ) Report
($130B) and even Google ($204 billion). Only
Microsoft
(MSFT) - Get Microsoft Corporation (MSFT) Report
($262 billion),
IBM
(IBM) - Get International Business Machines (IBM) Report
($234 billion) and Apple itself are bigger than the iPhone as a standalone business.
At the Web. 2.0 Summit last week in San Francisco,
Morgan Stanley
(MS) - Get Morgan Stanley (MS) Report
researchers Mary Meeker, Scott Devitt and Liang Wu further expounded on the importance of mobile technology.
Globally, 3G providers have 670 million subscribers, 14% market penetration and 37% year-over-year growth, they reported. The U.S. is the market leader, with 136 million 3G subscribers, 48% penetration and 31% year-over-year growth.
Illustrating the untapped market potential comes from comparing the U.S. with Japan and Korea. Both have fewer total subscribers, but maintain 96% and 80% market penetration, respectively.
Mixi
, Japan's leading social network, has a mere 16% of its monthly site visits coming from traditional desktop computers; 84% is from mobile page views.
MIT leads the way
is founder of Massachusetts-based
, a start-up born from his experiences guiding MIT's mobile strategy.
In launching numerous apps for that school in 2007, he and others crafted the MIT Mobile Framework, what would evolve into an open source, multiplatform approach.
A key challenge for app developers has long been the Tower of Babel that is smartphone operating systems. Major players include
Research in Motion's
( RIMM) BlackBerry,
Nokia's
(NOK) - Get Nokia Oyj Sponsored ADR Report
Symbian, Google's Android, Apple's iOS, the Hewlett-Packard acquired Palm OS and the new Windows offering.
"In spring of 2009, we made the source code open to the public," Yu says, and schools responded. Among the first using the MIT-produced code were the universities of North Carolina, West Virginia and Indiana. About 30 universities now use it, including schools in New Zealand, Australia and France.
The upside of an open-source approach is that it breaks down adoption barriers and speeds app development, Yu says.
"Instead of taking six months to develop code, they can take one month to get it done," he says. "We want to make that experience go from six months down to two months. Then we want to make it down to one day."
With Modo Labs, Yu and his team are looking to port the university development process to the private sector.
"The idea is to build something once, so you can basically leverage this framework to very quickly deploy Harvard- or MIT-caliber mobile applications by leveraging this open source code," he says. "What we wanted to do at MIT was build something that is future proof and acknowledge that it is not a trivial task to keep up with the fast-changing mobile space."
Modo Labs is "in discussions" with a number of financial services companies, Yu says.
"They are in a particular bind because, up until recently, they were all about BlackBerrys," he explains. "Now, they are facing exactly the same challenge we faced at MIT back in 2007: How do you support multiple platforms and provide the same level of service to employees and clients?
"I think with lowering the barrier to entry even further by providing this easier-to-use tool we will be able to go up to hundreds if not thousands -- and hopefully, down the road, tens of thousands -- of apps that have been built using this building block," Yu says. "That's our ultimate hope."
Harvard gets serious
Among the schools Modo Labs has worked with is Harvard University, which launched a mobile strategy earlier this year.
"Since about 1997, every year they have said 'This is the year for mobile,'" says Perry Hewitt, director of digital communications and communications services for Harvard University. "Gradually, from 2006 to now, those prognostications have finally come to fruition. I think we have hit a tipping point. We've started to understand that this is a mobile-first culture now. This may be the primary interface where visitors, alumni, students, faculty and staff seek out Harvard content and opportunities for engagement."
It was that realization that led Harvard to launch a smartphone strategy this year. "We thought it was important to have a strong first foray into the mobile space," Hewitt says.
Mobile devices connecting to Harvard websites ranges from 3% to 10% of traffic depending on the application and time of year, but Hewitt sees that share increasing exponentially in the months and years to come.
"We decided to build both a mobile app and a native iPhone app first, which might seem counter-intuitive in this growing Android market, but we learned that we are a heavily Apple shop and many people use the iPhone and iPod to access Harvard content," Hewitt says. Apple devices account for somewhere between 70% to 85% of all its mobile traffic.
Hewitt touts the benefits of a shift away from traditional desktops and laptops.
"It is always connected and always on," she says of the smartphone. "It is so behaviorally different than in 1995. Now, we've really gone to the Internet as dial tone. Mobile, unique from desktop Internet, provides you with the ability to deliver local, appropriate, area-based content."
Private companies enter the fray
Even though many schools have turned to open source efforts for apps, the popularity of smartphones has sparked the creation of private companies who craft proprietary products. One such company is
, located on the outskirts of Boston.
CEO Simon Dao says a product his company has developed allows for better tracking of college admissions. Smaller schools, especially, benefit from being able to give prospective students a quick response that can be delivered right to their phone. Streamlining the acceptance process to a mere week or two can help smaller schools be more competitive in recruiting students.
Other app technology the company has developed creates a microdonation platform for schools. Instead of hitting alumni up for large contributions, those who use their alma mater's apps can be approached frequently for smaller donations -- $25, for instance -- in targeted pitches.
"If the alum is an engineer, it could be looking for a donation to help support a robotics competition," Dao says.
-- Written by Joe Mont in Boston.
>To contact the writer of this article, click here:
Joe Mont
.
>To follow the writer on Twitter, go to
.
>To submit a news tip, send an email to:
.
RELATED STORIES:
>>Smartphone Payments Inch Toward U.S. Reality
Get more stock ideas and investing advice on our sister site,