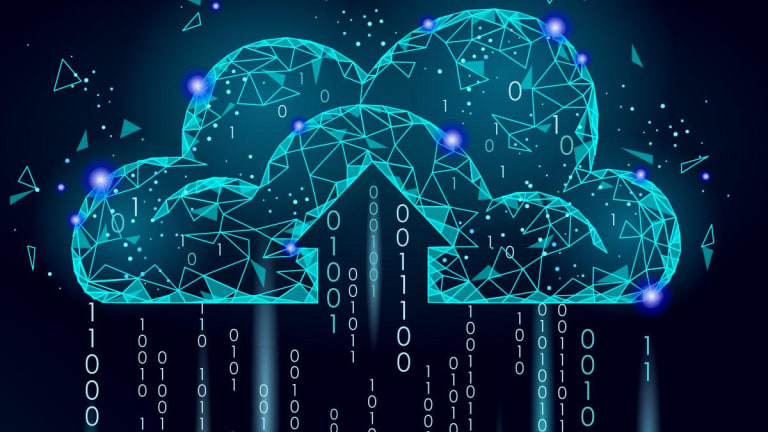 Cloud Titans Will Have All Your Data Someday - What Then?
Trends at Veeva and Talend, two young cloud companies, suggest enterprise has moved past its mistrust of cloud. That sets up Amazon and other cloud titans to have tremendous control of enterprise's most sensitive assets.
The discussion of mega-cap tech companies such as Facebook (FB) - Get Meta Platforms Inc. Report has revolved around issues of trust with the consumer, but tomorrow's discussion may be shaped more by how much these companies have their hooks into business.
Cloud computing, which is currently dominated by a handful of giant companies, promises to take some of the most important data out of the offices of enterprises and place it in the offices of the cloud operators themselves. This transition in the way business manages its own information, its own intellectual property, can have a lasting impact, the scope of which can only be imagined right now.
Amazon.com  (AMZN) - Get Amazon.com Inc. Report , Microsoft (MSFT) - Get Microsoft Corporation Report Alphabet (GOOGL) - Get Alphabet Inc. Report  , International Business Machines (IBM) - Get International Business Machines Corporation Report  and others will be custodians of vast amounts of corporate data thanks to the tools they develop in the cloud to analyze that data. Those tools are increasingly becoming an integral part of what can be done with businesses' data, hence, the cloud itself is becoming integral to business.
Think about how we got here. Because it is the low-hanging fruit, data from individual users of online services quickly became a point of controversy. From the Facebook Cambridge Analytica scandal to breaches at Target (TGT) - Get Target Corporation Report and Equifax (EFX) - Get Equifax Inc. Report and other consumer and retail outlets, the global population has woken up to how much personal information is vulnerable to misuse and outright theft. That has produced the wave of regulations, particularly in Europe, such as last year's GDPR rules.
For a long time, it was thought that corporations would never place their most sensitive information online in a similar manner. Cloud computing services such as Amazon's AWS were to be used for testing computer program development, but not for working with traditional repositories of high-value information such as customer records or production data.
There was even a period a couple of years ago when it seemed enterprise might shift focus, en masse, from cloud computing to something termed "hybrid cloud," in which cloud-like technologies would be deployed within an enterprise's facilities because of the need to keep software development close to a guarded, private repository of such data. 
While hybrid cloud was a real thing, trends among technology companies suggest companies are putting more and more sensitive data in the cloud for real. They are getting over their reluctance to trust the cloud. It's analogous to how in the 1990s everyone with an ounce of common sense was sure that people would never buy goods online because of the risk of exposing one's credit cards to fraud. That perfectly rational opinion proved wrong over time as people embraced online buying and Amazon with a vengeance. 
Now, the same kind of softening of concerns is happening with corporate data but on a much more elaborate scale that involves numerous processes by corporations and cloud computing vendors over many years. That movement may have gone unnoticed if you didn't know where to look.  
Take, for example, the case of Talend (TLND) - Get Talend SA Report , which provides tools that help organize corporate data so that it can be used in a variety of computing systems. It has seen cloud take off in its own business. 
Talend's chief executive, Mike Tuchen, noted that in the third quaretr of 2018 only 14% of the revenue the company made was from its tools running in public cloud facilities. In the fourth quarter, that number jumped to 25%, said Tuchen, and he expects it will be half of all of Talend's revenue by the fourth quarter of 2019. Companies, in other words, are choosing to use Talend's tools to organize their data at a greater rate in the cloud than in their own corporate computing facilities.
A similar story appears with cloud software maker Veeva Systems (VEEV) - Get Veeva Systems Inc. Class A Report , which sells a suite of tools to life science firms, such as large pharmaceutical operations. These tools help drug developers manage the critical data they gather about drug trials, for example, and all the documents that go along with them such as regulatory information. Veeva is on track to make a billion dollars this year selling such cloud-based tools, as more and more companies make the technology an integral part of how they run their most critical life sciences operations.
Both Talend and Veeva are younger cloud outfits that depend upon AWS and the other public cloud services to build such tools. In a sense, they are the increasingly important on-ramps to public cloud computing. Where they prosper, business data is migrating to the cloud.
And if business data is migrating to the cloud at a healthy clip, it will some day reside largely in the cloud. Amazon and the rest will be the new custodians of corporate data. That has profound implications for the safety of enterprise information, and for the staying power of the cloud titans. Unlike deleting a Facebook account in protest, it's not so easy for a corporation to suddenly pull up stakes after they've put data in the cloud. The day-to-day operations may rely so heavily on the cloud at that point that "churn," the ability to leave a given cloud provider, could become infeasible for the majority of companies.
For that reason, cloud may be the critical infrastructure that keeps companies hostage, in a sense, giving Amazon, Microsoft, Google and IBM and others enormous power over the Fortune 500, and enormous staying power as a consequence.
Facebook, Amazon, Microsoft and Alphabet are holdings in Jim Cramer's Action Alerts PLUS member club. Want to be alerted before Jim Cramer buys or sells the stocks? Learn more now.
Tiernan Ray neither owns nor trades any shares of the companies discussed in this article.