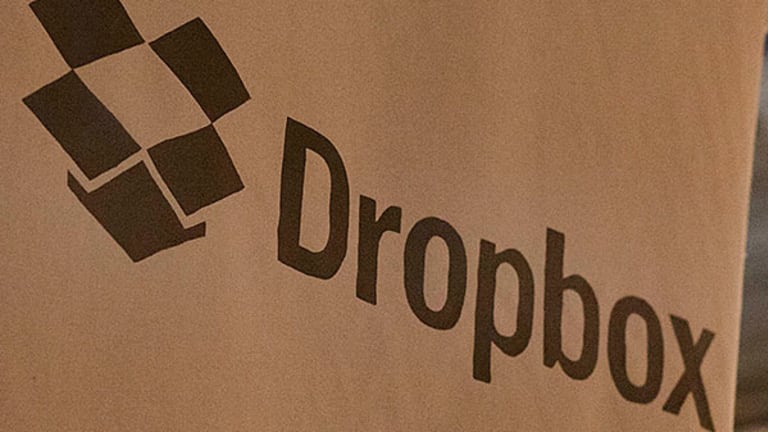 Cloud Pricing Wars: Google, Microsoft Have Nothing on Dropbox
Dropbox face stiff competition from Microsoft and Google, but remains poised to emerge the prevailing underdog.
Dropbox face stiff competition from Microsoft and Google, but remains poised to emerge the prevailing underdog.
NEW YORK (TheStreet) -- The cloud storage wars have begun, but online-storage startup and likely IPO candidate Dropbox may not need to join the fray.
Some of the biggest cloud storage vendors have been mercilessly undercutting each others' cloud storage prices. Microsoft (MSFT) - Get Report OneDrive and Google (GOOG) - Get Report Drive reduced their prices by upwards of 80% and Google recently cut its price down to just $9.99 a month per terabyte.
Instead of matching these steep price cuts, Dropbox has been concentrating on amassing an impressive technology suite. The hope is it can exude an attractive "stickiness," keeping churn levels at a minimum and guiding users from the free to the paid service model. The tools also serve to bring in lucrative enterprise deals. The growing tendency among cloud users toward file-size expansion will also benefit the company.
"These guys are certainly looking ahead to make sure that the value of their service is so high it's going to continue to attract customers," says Paul Hughes, program director of storage and data management services at IDC. "They're really looking at breadth of services and breadth of offerings."
Dropbox has been rather quietly building out value-added applications and functions, slick tool sets and smooth user interfaces, and increasingly better and better customer experiences since its inception in 2007, both internally and through a spate of acquisitions that have bulked up its portfolio to now include increased collaboration, e-commerce, mobile commerce and mobile advertising capabilities. At the same time, the company has seen its user base steadily march up to 200 million as of Nov. 2013.
Ten of the company's main deals include the acquisitions of Zulip, PiCloud, Sold, Endorse and Mailbox, which it paid $100 million for last year. Most recently, social reading eReader platform Readmill announced that it was acquired by Dropbox. Readmill will give the ability to read, comment, share and recommend books via Dropbox.
The idea behind all of this, for the consumer side of Dropbox's business, is to ensure that customer inertia stays on the company's side through a continuous effort to cater to the needs of the highly mobile, social and tech savvy users who may be willing to pay more to have the option of both addressing both business and day-to-day personal matters on a single storage system. The other longer-term goal is to snag the less price-sensitive and higher-revenue generating potential enterprise customer, especially those that require a lot of cross-organizational collaboration.
In order to continue building up its war chest of value-added services and offerings, Dropbox has been successfully accelerating its financial resources while keeping its cost structure low. In fact, compared to fellow IPO candidate Box Inc., the company has been able to maintain a relatively high profile without spending as much money as Box, which revealed in its S-1 filing last month that marketing costs were exceeding total revenue dollar amounts. Box has been much more of a "marketing machine" than Dropbox, Hughes notes.
With a reported $250 million raised in February from BlackRock and other investors, at a staggering $10 billion valuation, the company is believed to be on its way to going public as early as this year.
While Box has basically targeted every enterprise vertical there is, leaving Dropbox with almost no low-hanging fruit, it's expected that the additional funds Dropbox secures could go toward strategic acquisitions that could take market share away from Box. Those new properties must help Dropbox differentiate itself by demonstrating superior security and configurations capabilities and stronger integration of existing IT applications. The area where such differentiated, high-value-added capabilities may not help is IT departments, whose tendency to be more insular pushes them away from cloud-based systems and toward storage hardware experts such as EMC (EMC) .
The window of opportunity for Dropbox to take enterprise market share from Box may actually look relatively large when considering that the volumes of data currently sitting in storage across the board, whether it's data from individual consumers or enterprises, is overall still relatively small. "So it's not so difficult to leave to another provider just yet," Hughes explains. Furthermore, although Box has clearly been the rising star in enterprise cloud storage, the company has "not become the de facto standard yet for these organizations," on average selling around 1,500 seats per customer, and "Dropbox is bigger from a scale perspective than Box," said Hughes.
Generally, on the individual consumer end of the cloud storage business, technology will stay on the side of paid subscription services because the way that technology is going right now encourages the consumption and subsequent storage of increasingly large files. One particularly relatable example of this is with each mobile phone upgrade these days comes greater and greater megapixels of photos, pushing the consumer to purchase ever-larger storage capacity. Data expansion and file-size growth is becoming inevitable, as customers accumulate more and more photos and videos and overall volumes. Customers will easily find themselves being tipped into the paying model from for instance, Dropbox's initial 5 gigabyte to 10 gigabyte freemium model.
"The improvements and the increasing file size is benefiting these companies like Dropbox to ensure that these customers do eventually have to start paying," Hughes points out.
According to IDC, the cloud-based storage market is experiencing guaranteed growth. Surging demand from from the full range of mobile and electronic devices will likely double the market over the next three to four years to more than $45 billion in revenue, from $20 billion. Although not everyone will get a fair share of the pie in this increasingly competitive environment, Dropbox so far has been able to garner investor confidence that its long-term vision will be seeing to the company's rise above the fray to focus singularly on quality.
-- Written by Andrea Tse in New York
Follow @atwtse
>Contact by Email