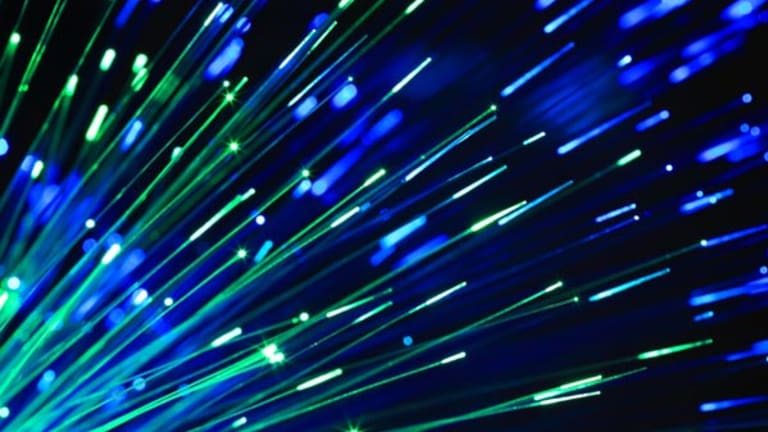 Cloud Computing Still Pie in Sky
Users still need some convincing before they send precious data for storage via the Internet, and what the technology means for investors is still up in the air.
Barely a week seems to go by without a tech company waxing lyrical about
. Whether it is
Microsoft
(MSFT) - Get Microsoft Corporation Report
, which added more flesh to the bones of its
,
Dell
(DELL) - Get Dell Technologies Inc Class C Report
,
IBM
(IBM) - Get International Business Machines Corporation Report
or
Hewlett-Packard
, everyone seems to be
banging
the cloud drum.
There has certainly been plenty of hype, but what about the reality?
, which offer compute power and storage via the Internet, are apparently the next big thing, but just how far along is this technology?
"It's definitely an evolution in progress," Katy Huberty, an analyst at Morgan Stanley, told
TheStreet.com
, explaining that no single tech company is holding all the cards. "From an end-to-end business solution
perspective I don't think that anybody leads."
With the technology still in its adolescence, it is hard to say precisely when cloud technology will provide significant upside to investors. It is useful, however, to first make a distinction between the different types of clouds that are available -- basically "private" vs. "public."
Bulls in the Clouds
var config = new Array(); config<BRACKET>"videoId"</BRACKET> = 30143881001; config<BRACKET>"playerTag"</BRACKET> = "TSCM Embedded Video Player"; config<BRACKET>"autoStart"</BRACKET> = false; config<BRACKET>"preloadBackColor"</BRACKET> = "#FFFFFF"; config<BRACKET>"useOverlayMenu"</BRACKET> = "false"; config<BRACKET>"width"</BRACKET> = 265; config<BRACKET>"height"</BRACKET> = 255; config<BRACKET>"playerId"</BRACKET> = 1243645856; createExperience(config, 8);
A private cloud could be used, for example, by a company looking to access IT resources across its own data centers, most likely through virtualized servers. A public cloud, on the other hand, would mean using the Internet to access applications and data hosted on someone else's gear.
A number of technology companies are touting the hardware and software to build both types of cloud. Notable among these are
Cisco
(CSCO) - Get Cisco Systems, Inc. Report
, with its UCS device, H-P, with its Matrix offering, and
, which recently
a slew of new cloud products.
Service providers such as
AT&T
, on the other hand, are more focused on public clouds, delivered both via the Internet and their own networks, although IBM also has a foot in this camp.
Despite a flurry of recent announcements from the likes of IBM, Microsoft and
, the best-known player in this space remains Amazon, which has been offering public clouds for the last few years. Morgan's Huberty, however, says that
Amazon
(AMZN) - Get Amazon.com, Inc. Report
is geared more towards the low-end of the market.
"We will first see significant investment in private clouds," she added, explaining that this spending will likely happen in the next two to three years.
With security and loss of data control often cited as the biggest cloud issues, this is hardly surprising. The brouhaha that surrounded Amazon's cloud storage outage last year, for example, highlights the degree of concern about this issue.
A recent survey by the IT Industry Council (ITIC) found that 85% of companies will not implement either a public or private cloud in 2009 because of fears that service providers may not be able to adequately secure sensitive data.
"Corporations prefer terra firm to the cloud - for now," explained Laura DiDio, principal analyst at the ITIC. "IT managers, especially those
at companies with fewer than 1,000 end users, will keep their corporate data and applications firmly behind the corporate firewall until they have ironclad assurances regarding the security of their data and their ability to access it."
Against this backdrop, it could be quite some time before we see large numbers of enterprises deploy public clouds.
"There are some baby steps today, but the big inflection point is further out - three to five years," said Huberty. "The first companies to move to that will be SMBs, for example, I can go and rent capacity from somebody that has massive scale."
Other hurdles in the path of cloud computing include lack of standards for the technology, which has already prompted some bitchy vendor
and general wariness of new concepts.
Microsoft's recent decision to provide Office as an online service should nonetheless give a boost to the cloud model.
"I think it will set some light on
cloud computing and bring it into greater visibility," says Roger Kay, president of analyst firm Endpoint Technologies Associates.
As far as tech investors are concerned, however, it could be some time before businesses really spend big and put their heads in the cloud.