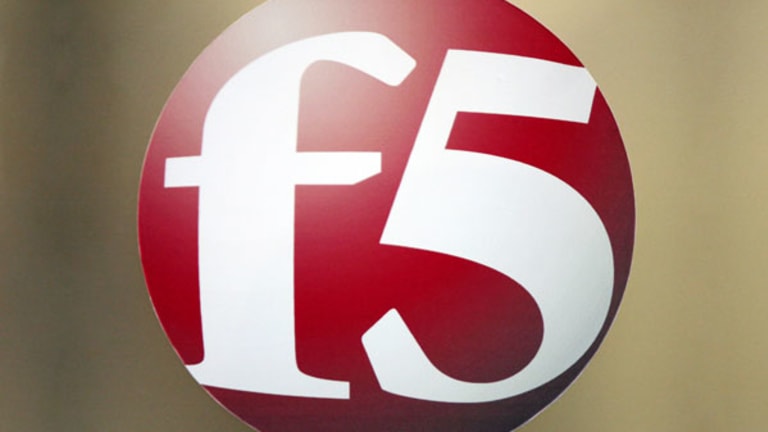 Citrix Systems, F5 Networks Take Leap in Cloud Evolution
The next stage of the cloud evolutionary process has already begun, and there's more to it than just the Googles and Amazons of the world.
NEW YORK (TheStreet) -- The next stage of the cloud evolutionary process has already begun with a clear purpose being driven by a business landscape that's now putting as much emphasis on customized efficiencies as it is on low-cost enterprise software solutions.
Software-as-a-system (SaaS) providers are evolving with a ramp-up in API program development and tailored SaaS offerings, which allow for a much more customized approach than the broad, bundled SaaS offerings currently on the market.
APIs, or application program interfaces, are toolkits for building software.
"Programming, operations and development are converging, so what providers are saying to customers is 'tell us about your specific company and tell us about your specific clients and what they might like, and we're going to be able to change and adjust software offerings, so they're tailored very, very specifically to that,'" explained Chat Reynders, the chairman and CEO of Reynders, McVeigh Capital Management, which oversees $950 million in assets.
A Layer 7 Technologies survey of 140 enterprises last year showed over 43% of respondents said they have an API program in place, and 27% indicated they have plans to launch a program within the next year.
While it's the Google's (GOOG) - Get Alphabet Inc. Class C Report and Amazon's (AMZN) - Get Amazon.com, Inc. Report of the world that have been grabbing the headlines for disruptive innovation in the cloud, Reynders told TheStreet that the spotlight could eventually shift to smaller companies that have been working on tailored SaaS offerings and API development quietly behind the scenes. They include Citrix Systems (CTXS) - Get Citrix Systems, Inc. Report and F5 Networks (FFIV) - Get F5, Inc. Report.
Citrix Systems for instance has begun to offer tools and services that support a wider range of applications and devices, on top of its remote desktop software allowing IT departments to more easily manage Microsoft (MSFT) - Get Microsoft Corporation Report products and market leadership in defining the market for virtual desktop infrastructure.
F5 Networks comes from the other side of the field, providing application delivery networking technology that optimizes the delivery of information across servers and data storage devices, an area of expertise that could become indispensable as security concerns grow with the spread of API and tailored SaaS programs.
F5 prioritizes the data that's moving, in order to keep networks moving as well. More importantly, the security moves with the data and keeps it protected. So when data travels to servers, they comes across the latest F5 application delivery controller (ADC) which examines the transmission and decides if there are security threats, decrypts data, prioritizes different data streams, compresses incoming and outgoing data to reduce bandwidth by up to 80%, and distributes traffic to underutilized servers.
As security becomes prioritized across all of the different types of delivery platforms, F5 is likely to become an important supplier of virtual firewalls, ADCs, policy enforcement, and other virtual network services in emerging overlay environments, says Reynders. The company should benefit as digital traffic continues to explode.
"With Citrix, they're doing a nice job in financial services, and the stock price looks particularly attractive right now," Reynders underscored. "It's a good example of a company that's going to be replacing some of these bigger, old, clunky enterprise 1.0 networks."
"F5 is a little bit of a different matter," he said. "You start to see these changes in relationships where there are more and more specific relationships, with data moving from the cloud to particular organizations, a breaking apart of information where it's being spread to more, different places, and you get these APIs that create new areas of networks. Security now becomes very, very important."
As the SaaS cloud players evolve to add on increasingly open and flexible services, Reynders expects "bad things" for Oracle (ORC) - Get Orchid Island Capital, Inc. ReportL and SAP (SAP) - Get SAP SE Report because of their deep foundations in closed software systems. They're now challenged not only with a marketplace of vast SaaS alternatives, but are also now up against providers who have literally been coding directly for individual companies where the APIs are fast becoming a part of operations.
Microsoft is another tech giant that missed the move to SaaS and now appears to have little choice but to push into the commoditized hardware space to seek out new areas of potential leadership opportunities.
But while the competitive field has been building against Microsoft, Reynders says he'll keep an eye on the company with an interest in whether the its contrarian hardware bet pays off and if its strong capital position and software franchise platform will result in aggressive cloud development and a built-out of specialized API portfolios.
-- Written by Andrea Tse in New York
>Contact by Email