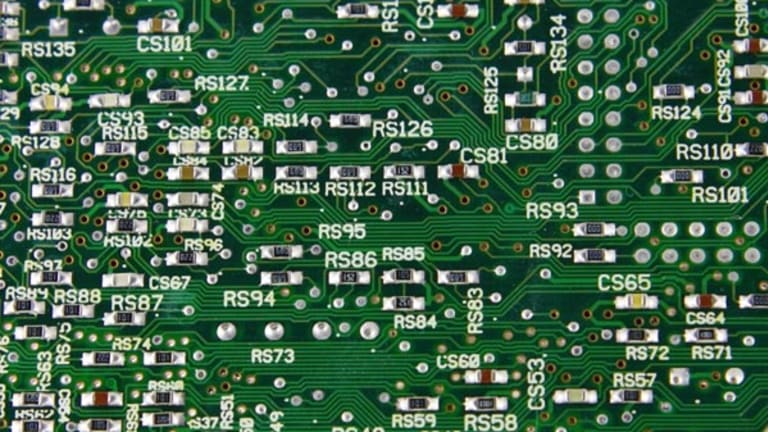 Cisco's Long-Term Outlook Worries Investors
Cisco's results have sent shockwaves through the tech sector, and raise questions about the company's long-term strategy.
Cisco share story updated with additional analyst comment.
SAN JOSE, Calif. (
) --
Cisco's
(CSCO) - Get Cisco Systems, Inc. Report
first-quarter results, released after market close on Wednesday, sent tech stocks plunging and have raised questions about the company's long-term growth potential.
The networking giant
beat Wall Street's first-quarter earnings estimate
, and edged analysts' revenue forecast, but weak guidance hammered the company's shares in after-hours trading.
Cisco's stock plummeted more than 13% shortly after its results came out, hitting $21.15, and fell even further to $20.50 at market open. The plunge was the company's worst post-earnings drop since 1994, according to Birinyi Associates, and left some analysts questioning the firm's long-term strategy.
"Our view remains that Cisco's growth drivers at this point in its life cycle are more cyclical than secular, and with the cyclical refresh in networking now largely behind us it is difficult for the company to grow," noted Simona Jankowski, an analyst at Goldman Sachs, in a note released on Thursday.
Jankowski, who lowered her 12-month Cisco price target from $25 to $23, believes that the push towards cloud computing also presents a big challenge to the networking firm. "CIOs' preference for best-of-breed vendors in the move to cloud is putting competitive pressure on integrated IT vendors such as Cisco," she explained, adding that this could be highly disruptive for Cisco's core switching business.
In addition to the tepid guidance, comments from Cisco CEO John Chambers clearly spooked investors, particularly given the company's status as a tech bellwether. For the
second straight quarter
, the networking giant gave a cautious economic outlook as Cisco noted that first-quarter orders were $500 million below forecast.
Despite
prior to earnings, Cisco felt the impact of public sector weakness, both in the U.S. and overseas. Speaking during a conference call after market close, Chambers cited a "dramatic" slowdown in U.S. state government spending, as well as softness in parts of Europe and Japan.
"We hit some air pockets this quarter," explained the Cisco chief. "We think that some of the challenges in public sector spending will be with us for a couple of quarters."
Service providers were also problematic, with U.S. orders declining 2% during the quarter. Cisco's North American cable business, in particular, is feeling the effects of tight consumer spending and the slowdown in home building, according to Chambers.
Chambers, however, still put a positive spin on the company's numbers, pointing to strength in areas such as switching, routing and the UCS server business, which grew 550% year-over-year. "We think that this is not an elbow towards a downturn, we think this is a bump in 2 or 3 areas of our business," he explained, adding that Cisco still has aspirations of long-term growth between 12% and 17%.
Laura DiDio, principal with research firm ITIC, said that Chambers' comments are in line with what's being seen with the broader economic recovery. "Cisco is a very healthy, robust company. All Chambers is saying is more modest growth -- that's reflective of the fact that it's going to take the economy longer than expected to turn around," she said. "I wouldn't get panicked over this one. We'll want to see what they're going to issue for Q3 and Q4, though -- it's when there's three things in a row that you start to get nervous."
Cisco's gross margin of 64.3% was also slightly up on the firm's guidance of 64%, and its enterprise business was healthy, with orders up 16% year-over-year.
"We think it's a couple of quarter phenomenon, we're going to power right through it," Chambers told
CNBC
in a televised interview before market open on Thursday. "What we're asking investors to do is to have confidence in what Cisco has traditionally done -- our track record at getting market transitions right has been very good."
The company's stock, however, has been relatively listless for the last three months, and any hopes of a post-earnings boost are now fading.
"We don't expect much from the stock near term as guidance implies a back-end loaded fiscal 2011," noted Jayson Noland, an analyst at Robert W. Baird in a note released on Thursday. Noland added that Cisco's plunging share price may offer good entry point into the company's stock, but said that he is removing Cisco as a "best idea" for investors due to increased uncertainty surrounding the company.
Cisco shares were trading down about 15.68% shortly after market open Thursday, at $20.65.
--Written by James Rogers in New York.
>To follow the writer on Twitter, go to
http://twitter.com/jamesjrogers
.
>To submit a news tip, send an email to:
RELATED STORIES:
Cisco: Analysts' Upgrades, Downgrades >>
Cisco Trips Over Two Troubling Trends >>