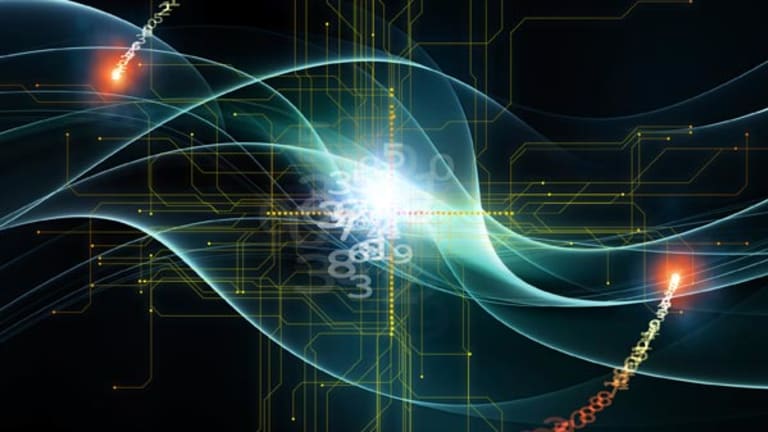 Cisco's Doldrums: Weekly Tech Recap
Cisco's outlook dragged down tech stocks this week. Here's a roundup of <I>TheStreet's</I> top tech stories.
NEW YORK (TheStreet) -- The tech sector fell 4% this week, thanks in large part to Cisco (CSCO) , who, despite beating first-quarter earnings and sales estimates, gave a dour outlook Wednesday after the bell.
to 42 cents a share from 36 cents a share last year, above analysts' estimates of 40 cents. First-quarter revenue soared 19% from last year to $10.75 billion, slightly edging analysts' expectations of $10.74 billion.
But it was
and comments about down sales that saw
more than 13% shortly after
in after-hours trading, hitting $21.15 before dropping to $20.50 at market open Thursday. The plunge was the company's worst post-earnings drop since 1994.
Cisco projects fiscal second-quarter revenue of between $10.1 billion and $10.3 billion; analysts expect revenue of $11.08 billion.
Calderoni, speaking to
TheStreet
via live video feed, said
Cisco isn't worried,
but reiterated the two areas where sales were low: government business and the firm's U.S. cable business.
Cisco shares, down 16.77% for the week, closed down 37 cents, or 1.80%, at $20.15 on Friday.
Although not as high profile as Cisco, managed hosting specialist
Rackspace
(RAX)
was also on deck this week, putting out
on Monday.
One of
TheStreet's
, Rackspace brought in revenue of $199.7 million, up 23% from the same period last year, and comfortably above analysts' forecast of $197.56 million. Excluding items, Rackspace earned 9 cents a share, up from 6 cents a share in the prior year's quarter, and in line with Wall Street's estimate.
Rackspace, which competes with
AT&T
(T)
, also
bolstered its customer list
, which grew from 108,023 at the end of the second quarter to 118,732. Despite strong results, the company's stock closed down 76 cents, or 2.65%, to close at $27.89 on Friday.
Chipmaker
Intel
(INTC)
also had a big week, announcing plans to
hike its quarterly dividend on Friday
. Citing strong demand for its products, Intel plans to raise its quarterly dividend by 15% to 18 cents. Investors responded positively to the news, despite the broader selloff in tech stocks, and Intel's shares closed up 32 cents, or 1.51%, at $21.53 on Friday.
Video game publisher
Activision Blizzard
(ATVI)
saw its latest title,
Call of Duty: Black Ops
this week. 5.6 million copies -- or $360 million worth -- were sold on the day of the game's launch, besting the record set by the game's predecessor the year before.
(By the way, that sales number beat out the movies, too -- the most successful movie launch was
Harry Potter and the Half-Blood Prince
, which earned $394 million its opening weekend.)
Activision shares, down 1% for the week, closed down 39 cents at $11.50.
All eyes were on the U.S. District Court in Oakland, Calif. this week as
Oracle
(ORCL)
continued its quest to wring significant software-theft related damages out of
SAP
(SAP)
Oracle CEO Larry Ellison made a star appearance on Monday
when he took the witness stand
and valued
SAP's software theft at $4 billion.
SAP, however, claims that the damages are closer to $40 million, according to media reports.
Ellison, who got a notable mention in
TheStreet's list of top tech tirades
this week, was followed onto the witness stand by Oracle CFO Safra Catz on Monday. However, former SAP CEO Leo Apotheker, now in charge at HP, has not made an appearance in court, despite Oracle's
attempts to force him to appear.
Oracle shares closed down 25 cents, or 0.88%, at $28.32 on Friday. SAP's stock was down 41 cents, or 0.81%, at $50.29 at close of play.
Politics and technology both made the headlines this week as a result of President Obama's trip to Asia. Speaking in Mumbai on Monday, the president announced that the U.S. will be lifting controls on high-tech exports to India, a move which could potentially boost Silicon Valley.
Tech experts were also digesting the recent midterm election results this week and looking forward to 2011, with
net neutrality, China and alternative trade all looming large on the horizon.
Tech's Week Ahead
Tech earnings season is wrapping, but there are still a few heavyweights left to report. Tune into
TheStreet
Thursday, when
Dell
(DELL)
will (hopefully) announce how sales of its first smartphones are faring. Small business bellwether and financial software provider
Intuit
(INTU)
also reports.
--Written by James Rogers in New York.
>To follow the writer on Twitter, go to
http://twitter.com/jamesjrogers
.
>To submit a news tip, send an email to:
.