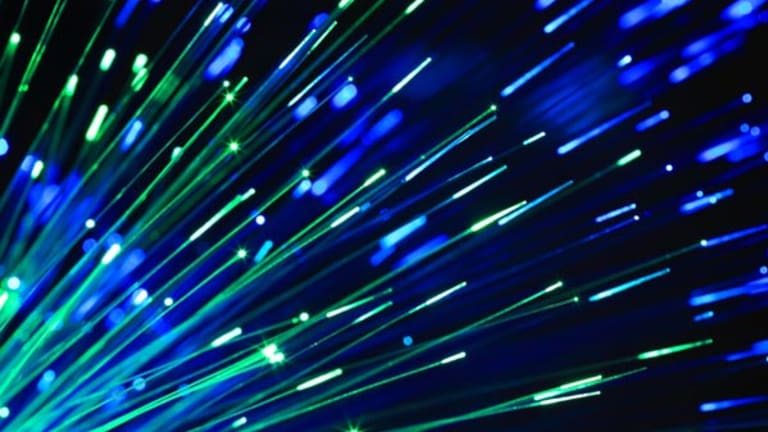 Cisco Weaves Its SaaS Web
Networking specialist Cisco rolls out more of its Software-as-a-Service strategy
Networking specialist Cisco rolls out more of its Software-as-a-Service strategy
Tech bellwether
Cisco
(CSCO) - Get Report
has been beating the Internet services drum at its CiscoLive! event in San Francisco, outlining more of its plans for Web conferencing, voice and video.
The networking giant, keen to open new revenue streams, recently invoked the wrath of partner
Hewlett-Packard
(HPQ) - Get Report
when it entered the server market. The blade-based
Unified Computing System (UCS)
is the firm's latest attempt to bring in revenue outside of routers and switches. Cisco has also had a significant Web conferencing presence since acquiring WebEx for $3.2 billion in 2007, and is now pushing this as part of its broader Software-as-a-Service (SaaS) strategy.
"There's lots of really good things we're working on in terms of this market," said Doug Dennerline, senior vice president of Cisco's collaboration software group, during a video conference with journalists and analysts Tuesday.
The executive explained that Cisco is about to launch a new version of its WebEx Connect software, which companies use as a virtual meeting place. The networking giant is bolstering WebEx's instant messaging and video capabilities to compete with other Web conferencing applications, he explained.
Last year, Cisco bought Denver, Colo.-based messaging specialist
Jabber
to boost WebEx's ability to handle IMs from different systems.
In recent years, the company has also thrown its weight behind telepresence technology, a souped-up version of video conferencing, and Dennerline wants to tie this closer to WebEx.
"It's a little bit hard to join a telepresence meeting via WebEx today -- very quickly we will be adding this capability," he said.
Technology analyst firm
IDC
estimates that the global collaboration market is worth $34 billion a year, although Cisco faces stiff competition from the likes of
Citrix
(CTXS) - Get Report
,
Microsoft
(MSFT) - Get Report
and even
LogMeIn
.
In an era when
YouTube
is accounting for more and more of the world's Internet content, Dennerline promised that video will also feature prominently in future versions of WebEx.
Video has become something of a Cisco fixation in recent years, as evidenced by the firm's recent
about the collision of Internet and traditional TV. The tech bellwether, which is keen to expand its presence amongst consumers, even flashed its cash to
Pure Digital
, maker of the Flip video camera, earlier this year.
"There's a lot of neat things down the road -- we have even worked on some technologies that will do deep packet tagging that will let us search video," said Dennerline, adding that this could be used on any user-generated application.
These sentiments were echoed by Cisco's chief technology officer, Padmasree Warrior, who also took part in the video conference.
"We think that video is going to be key in driving the next wave of collaborations," she said. "We're looking at all aspects of video, Internet video, desktop video, user-generated video."
The networking giant also faced a slew of questions during the meeting, and said that it has no plans to offer Customers Relationship Management (CRM) as a Internet service. "We do work with Salesforce.com and other CRM vendors like Oracle," said Dennerline.
The company also has no plans to challenge
Amazon
(AMZN) - Get Report
by offering compute services via the Internet. "We have no plans to be an 'IT as a service' provider," said Warrior. "Cisco's strategy is to play in software-as-a-service
where we will enable service providers."