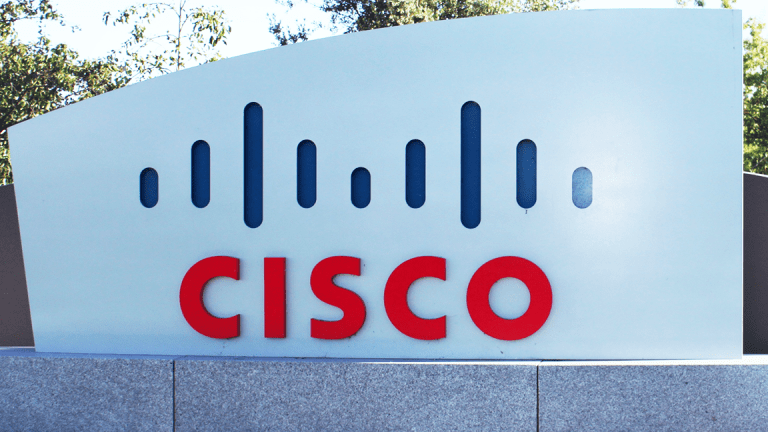 Cisco Slumps on Soft Guidance: 6 Key Takeaways
While the networking giant beat quarterly estimates, it issues light guidance amid declining orders from carriers and Chinese firms.
A light outlook and weakening enterprise and carrier order trends are pressuring Cisco Systems' (CSCO) - Get Cisco Systems Inc. Report shares post-earnings.
After the bell on Wednesday, Cisco reported July quarter (fiscal fourth quarter) revenue of $13.43 billion (up 5% annually) and non-GAAP EPS of $0.83 (up 19%), slightly beating consensus analyst estimates of $13.39 billion and $0.81. However, for its October quarter revenue, Cisco guided for revenue to be flat to up 2% annually, and for EPS to be in a range of $0.80 to $0.82. That's a little below a consensus for revenue to be up 3% to $13.39 billion, and for EPS to come in at $0.83.
Cisco shares fell 7.6% in after-hours trading to $46.75, after having fallen 4% in regular trading amid a broad market selloff. Here are some notable takeaways from Cisco's earnings report and call.
1. Enterprise and Service Provider Order Growth Weakened
After rising 4% during its April quarter, Cisco's closely-watched product orders were flat during its July quarter. Driving this deceleration: Enterprise orders went from growing 9% to dropping 2%, and service provider orders went from dropping 13% to dropping 21%
On the earnings call, CEO Chuck Robbins noted that while Cisco's European service provider orders rose, Asian orders weakened and the order pressures that the company saw in the Americas during its April quarter continued. China (more on it shortly) and India were singled out as weak spots in Asia. Routing archrival Juniper Networks (JNPR) - Get Juniper Networks Inc. Report  has also been reporting soft carrier demand.
Regarding enterprise demand, Robbins suggested deal activity in July wasn't as strong as Cisco would have liked, and that his company saw "some slight early indications of some macro shifts" during the month. He also noted enterprise orders faced tough annual comparisons due to a pair of large software deals being inked in the year-ago quarter, when enterprise orders grew 9%. The remarks come two weeks after enterprise storage provider NetApp (NTAP) - Get NetApp Inc. Reportissued a major sales warning that it blamed in large part on macro and trade uncertainty (as an aside, NetApp is rebounding a little after reporting on Wednesday afternoon).
On the bright side, Cisco's product orders from public sector firms and "commercial" (i.e., small and mid-sized businesses) respectively rose 13% and 7%. That's improved from April quarter growth rates of 10% and 5%.

Cisco's fiscal Q4 product order growth. Source: Cisco.
2. Chinese Demand Fell Sharply
Amid heightened trade tensions and the arrival of U.S. export restrictions aimed at Cisco rival Huawei, CFO Kelly Kramer said that Cisco's Chinese product orders fell over 25%. Robbins mentioned that sales to major Chinese carriers, which had already been declining, fell "more rapidly" last quarter, and (notably) that the company is being "uninvited to bid" on Chinese enterprise deals.
Robbins did also note that China accounts for less than 3% of Cisco's revenue. "It's a small part of our business, but obviously when it falls very dramatically, it can have some impact, because it's greater than zero," he said.
3. Hardware Sales Were Healthy Outside of Routing
Cisco's Infrastructure Platforms segment, which (among other things) covers sales of switches, routers, servers and Wi-Fi systems plus related software, saw revenue grow 6% to $7.88 billion, slightly beating a $7.84 billion consensus.
On the call, Kramer mentioned all of the segment's businesses saw revenue growth outside of routing, which gets a lot of its sales from service providers. She added Cisco's switching business (its biggest hardware business) saw double-digit growth on the back of strong demand for both its Catalyst 9000 campus (office) switches and Nexus 9000 data center switches.
Robbins mentioned that Cisco added a record number of customers for the Catalyst 9000 line, which originally launched in mid-2017 and is accompanied by a slew of subscription software offerings, and suggested the company is still "in the second inning" of its Catalyst 9000 transition. He also argued (amid Cisco's optical M&A spree) that the arrival of 400-gig optics support next year will help drive data center switch upgrades, and that the company's efforts to provide software that can extend network policies beyond the data center and into campus, branch and cloud environments will act as a differentiator.
Cisco Systems is a holding in Jim Cramer's Action Alerts PLUS member club. Want to be alerted before Jim Cramer buys or sells CSCO? Learn more now.
4. Software Had a Good Quarter
Cisco's Applications segment, which includes many (though not all) of its software businesses, saw revenue grow 11% to $1.49 billion, roughly in-line with estimates and a little better than the April quarter's 9% growth. Growth would have been stronger still if not for Cisco's ongoing shift towards subscription sales relative to traditional software licenses: 70% of the quarter's software revenue (in Applications or elsewhere) came from subscriptions, up from 65% in the April quarter and 58% in the year-ago quarter.
Within Applications, Cisco's AppDynamics application performance monitoring (APM) software unit saw double-digit growth, as did its collaboration and IoT software businesses. The collaboration business has been facing intense competition from fast-growing Zoom Video Communications (ZM) - Get Zoom Video Communications Inc. Report .

Cisco's fiscal Q4 sales by reporting segment. Source: Cisco.
5. Security Grew Double-Digits, But Missed Estimates
Cisco's Security product segment, which is benefiting from both organic growth and last year's purchase of authentication software/services firm Duo Security, posted revenue of $714 million. That represents 14% growth, but is below a $740 million consensus and represents a slowdown from the April quarter's 21% growth.
Nonetheless, management struck an upbeat tone about the security business on the call. Kramer indicated sales were strong across several product lines, and Robbins argued Cisco's ability to provide an end-to-end network security architecture that spans local and cloud environments is a competitive strength.
6. A Lot of Stock Was Once More Repurchased
After spending $6 billion on stock buybacks during its April quarter at an average price of $52.14, Cisco spent $4.5 billion during its July quarter to repurchase 82 million shares at an average price of $54.99. The disclosure comes six months after Cisco added $15 billion to its buyback authorization.
Kramer indicated on the call that -- following six quarters of aggressive buybacks in the wake of tax reform -- Cisco will slow its buyback pace a bit, albeit while continuing to direct at least 50% of its free cash flow towards dividends and stock repurchases. "We're going to get back down to our normal strategy, which is being very opportunistic when our stock is down like on days like today and buying," she said.
Cisco is a holding in Jim Cramer's Action Alerts PLUS member club. Want to be alerted before Jim Cramer buys or sells CSCO? Learn more now.