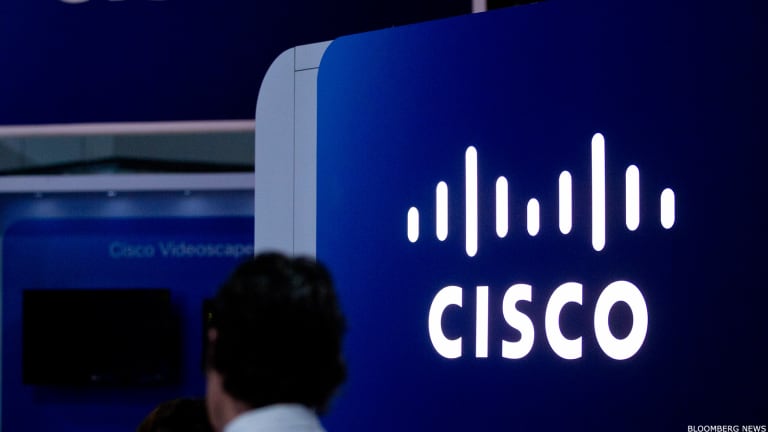 Cisco's $3.7 Billion Deal for AppDynamics Halts IPO Effort
The tech giant agrees to purchase the application performance management company just hours before it reportedly was to price what would have been the first tech offering of 2017.
Cisco Systems (CSCO) - Get Free Report has agreed to purchase privately held AppDynamics for $3.7 billion in cash and assumed equity, just shy of the software company's planned initial public offering this week. 
The networking giant said on Tuesday it expected to close the deal in the third quarter of fiscal 2017, which ends in April. Representatives from Cisco and AppDynamics were not immediately available for comment. 
Shares of Cisco were up 0.7% to $30.82 on Wednesday morning.
AppDynamics would have been the first tech IPO this year -- and second overall -- had it gone through with its reported plans to price Wednesday night. The company applied last month to trade on Nasdaq under the ticker symbol APPD, according to Securities and Exchange Commission filings. The IPO would have valued AppDynamics' equity at roughly $1.7 billion, based on the upper end of its $12 to $14 estimated range in an amended Form S-1 filed Tuesday morning.
The San Francisco company develops software that helps companies monitor their apps and websites for bugs by providing real-time data. AppDynamics, founded in 2008, has seen rapid revenue growth over the past few years: Revenue for the fiscal years ended Jan. 31, 2015, and 2016 was $81.9 million and $150.6 million, respectively, which represents a year-over-year increase of 84%. AppDynamics, however, posted a $95 million net loss on $158.4 million in revenue for the nine months ended Oct. 31, versus $92.4 million on $102.7 million in revenue in the same period the year before.
"From a high level, the transaction is aimed at accelerating the transformation on which Cisco has embarked over the past several years. This makeover, which intends to shift the focus of the business to higher-growth software and security businesses and away from slower growth/lower margin legacy hardware business, has been the focal point of our investment thesis on Cisco from the beginning," Jim Cramer said in a research note Wednesday. "We believe the company's strategic focus on next-gen security, cloud infrastructure, automation software, internet of things and broader collaboration provides multiple long-term tailwinds."
Cramer is TheStreet's founder and manager of Action Alerts PLUS, our club for investors, which holds Cisco shares.
Click here for a free 14-day AAP trial and to read the entire analysis of the AAP team.
Cisco said it will roll AppDynamics into the San Jose, Calif., company's internet of things and applications unit, where AppDynamics CEO David Wadhwani will continue to lead the company. 
Cisco anticipated the deal will boost its enterprise IT business, which the company has been turning to as a means of kick-starting revenue growth with more subscription and recurring revenue. Cisco also has faced increased competition from companies that offer cheaper hardware and software offerings than their legacy computer networking products. 
"AppDynamics is a natural fit for Cisco's portfolio, in our view, given its ability to monitor legacy applications and infrastructure and its growing presence in next-generation application deployments," Pacific Crest Securities analyst Alex Kurtz said in a Wednesday note. "AppDynamics' software stack now allows Cisco's product portfolio to extend its insight across the network, security and application layers."
Kurtz added that the application performance management market has become increasingly crowded in recent years, with companies such as New Relic (NEWR) - Get Free Report , which went public in 2014, and Hewlett Packard Enterprise (HPE) - Get Free Report offering similar services to those of AppDynamics. 
Cramer noted the deal comes at 10 to 12 times next-12-month sales, somewhat pricey compared with the typical 9 times for software deals. Acquiring New Relic thus might have been cheaper for Cisco, they said, but "the additional regulatory red tape likely was a dissuader. Either way, with Cisco's cash optionality, we believe it likely got the deal it preferred. ... Cisco's massive cash balance -- $71 billion total -- is not doing any good for investors by just sitting around."
For Cisco, the deal should generate more competitive overlap with rivals including IBM (IBM) - Get Free Report and Microsoft (MSFT) - Get Free Report , JMP Securities analyst Erik Suppiger noted. 
"Eventually, the competitive overlap may open partnering opportunities for best-of-breed vendors, most notably Arista Networks (ANET) - Get Free Report , as is the case with HPE," Suppiger said.