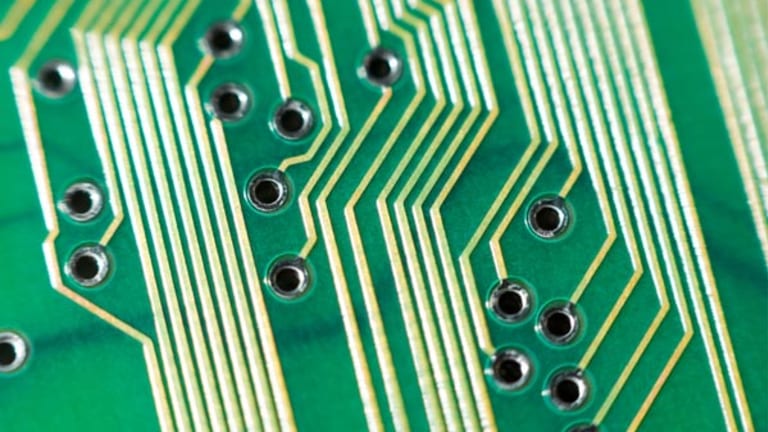 Cisco Is Still a $24 Stock
Major trends such as the proliferation of digital content and the shift to cloud computing benefit Cisco.
NEW YORK (
) -- Following
Cisco's
(CSCO)
earnings release, traders lopped 16% off of its share price as a result of lower revenue guidance going into next year. Cisco competes with
Juniper
(JNPR)
,
Alcatel-Lucent
(ALU)
and
Tellabs
(TLAB)
in the routing and switching businesses.
The plunge led to fears that the tech sector is stalling, which we feel is unjustified at this point though we acknowledge the slowdown in public spending is concerning.
However, we feel that major trends benefit Cisco such as the proliferation of digital content and the shift to cloud computing. We maintain our optimistic view on Cisco's medium to long-term prospects and keep
, which is around 25% ahead of current market levels.
Public Spending Concerns
Cisco's drop sent off alarm bells. This was the biggest drop in Cisco's stock since 1994, and was primarily triggered by concerns surrounding a slowdown in public spending.
Facing budget deficits, the U.S., Japan and some Central European countries have reduced their IT spending more than expected. As the economic recovery continues to be sluggish and governments are burdened with debt, Cisco will face short-term challenges in terms of its share in switches and router market.
If its market share drops from our current estimates of 72% through the forecast period to 66%, this reduces our estimate by 2.5%.
Explosion in Consumer Digital Content
The company estimates that Internet traffic will increase more than fourfold by 2014, amounting to 64 exabytes per month. This will inevitably require better networks including routers and switches that can handle a high amount of data. These structural tailwinds support Cisco's core switches and routers businesses which account for 27% and 15% of our price estimate, respectively.
This growth is also fueled by increasing affordability of devices like computers as well as the proliferation of smartphones and tablets that promote data usage. According to Internet World Stats, the number of global Internet users grew by 13% in 2009 amounting to 1.7 billion.
Double-digit growth at a global scale implies the addition of close to 220 million Internet users annually. Cisco estimates that global IP traffic increased by 45% in 2009 amounting to 15 exabytes per month. Moreover, the number of online videos viewed in 2009 increased by a whopping 120% amounting to 300 billion.
Growth of Cloud Computing
Cloud service models provide users or enterprises with computing infrastructure and eliminate the need for locally managed software and computing resources, such as physical storage. Some of the major cloud service providers include
Amazon
(AMZN)
,
SalesForce
(CRM)
and
Google
(GOOG)
.
We expect this area to grow rapidly. According to IDC, the IT cloud services market is expected to grow from an estimated $17 billion in 2009 to $44 billion in 2013. As more computing shifts to the cloud, Cisco will benefit from requirements of handling additional IP data and security services for the cloud.
You can see the complete $24.04 Trefis price estimate for Cisco's stock
.
This commentary comes from an independent investor or market observer as part of TheStreet guest contributor program. The views expressed are those of the author and do not necessarily represent the views of TheStreet or its management.