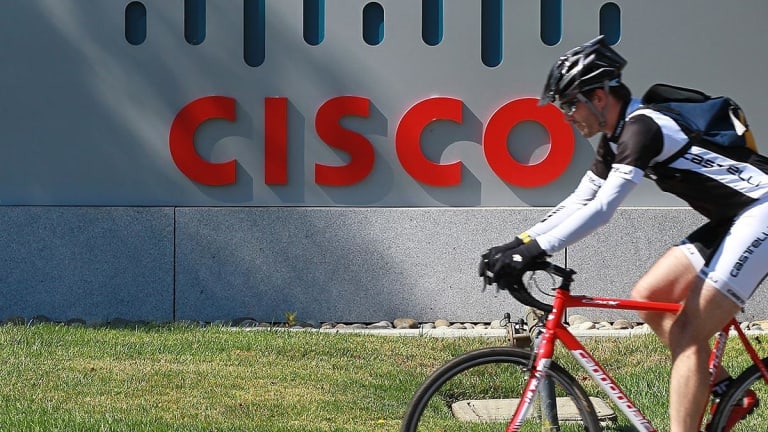 Cisco Gains on Solid Results and Guidance: 6 Key Takeaways
The networking giant topped estimates with the help of healthy demand for its switching, security and Wi-Fi offerings.
A healthy IT spending environment and good demand for newer hardware and software offerings helped Cisco Systems (CSCO) once more top Wall Street's expectations.
After the bell on Wednesday, Cisco reported April quarter (fiscal third quarter) revenue of $12.96 billion and non-GAAP EPS of $0.78, topping consensus analyst estimates of $12.89 billion and $0.77. Revenue officially rose 4% annually, and was up 6% excluding year-ago revenue from Cisco's service provider (SP) video software business, which was sold last October. EPS, which is benefiting from large stock buybacks, rose 18%.
For the July quarter, Cisco is guiding for 4.5% to 6.5% revenue growth excluding year-ago SP video revenue (but including revenue from recent acquisitions), and for EPS of $0.80 to $0.82. That compares with a consensus estimates for 3.4% official revenue growth, 5.1% growth excluding the SP video sale and EPS of $0.81.
Cisco's shares rose in after-hours trading on Wednesday and were up 5% to $55.10 in early trading on Thursday; shares are now up 27% on the year. Here are some notable takeaways from its earnings report and call.
1. Hardware Sales Were Better Than Expected
Cisco's Infrastructure Platforms revenue -- it covers the company's mainstay switching and routing product lines, as well as products such as servers and Wi-Fi systems -- rose 5% annually to $7.55 billion, beating a consensus of $7.46 billion.
On the earnings call, CFO Kelly Kramer mentioned that switching sales were strong, as Cisco's Catalyst 9000 line drives a healthy upgrade cycle for its campus (office) switch business. She added Cisco's wireless (Wi-Fi hardware and software) business saw "solid growth," and that its routing and "data center" (server and storage) businesses grew.
Cisco Systems is a holding in Jim Cramer's Action Alerts PLUS member club. Want to be alerted before Jim Cramer buys or sells CSCO? Learn more now.
2. Corporate and Government Orders Remained Strong, While Carrier Orders Weakened
After rising 8% annually during its October and January quarters, Cisco's product orders grew 4% in the January quarter. Enterprise and public sector orders respectively grew 9% and 10%, and "commercial" orders (they involve small and mid-sized businesses) grew 5%. However, service provider orders fell 13%, after having dropped by just 1% in the January quarter.
When asked about the service provider weakness on the call, CEO Chuck Robbins noted service providers orders are historically very lumpy and tied to a limited number of big customers, and that weak capital spending among carriers in the Americas weighed on demand. Later, when asked about 5G's impact on Cisco, he mentioned that carriers are for now focusing on "building out the macro radio portion of their networks," and that core network investments (where Cisco stands to benefit) will happen later as 5G traffic grows.

Cisco's April quarter product order trends. Source: Cisco.
Routing archrival Juniper Networks  (JNPR) is also seeing weak carrier demand. Juniper's service provider revenue, which depends heavily on sales to U.S. telcos, fell 9% in Q1, and the company forecast service provider sales would remain soft in Q2.
3. Security Sales Were Strong Again
Cisco's security product revenue rose 21% to $707 million, topping a $676 million consensus. Last summer's acquisition of authentication software and services provider Duo Security helped, but it looks as if organic growth was also healthy.
On the call, Kramer called the quarter's security strength "very broad-based," covering Cisco's network security, advanced threat protection and cloud security offerings. Many IT security peers have also been reporting good numbers.
4. 'Applications' Revenue Continued Growing, Albeit at a More Subdued Pace
Cisco's Applications segment posted revenue of $1.43 billion, up 9% but below a $1.5 billion consensus. Thanks in part to the passing of the 1-year anniversary of Cisco's $1.9 billion acquisition of cloud communications software provider BroadSoft, growth slowed from the January quarter's 24%.
Kramer noted 65% of Cisco's software revenue -- whether from the Applications segment or elsewhere -- now comes from subscriptions, up from 56% a year earlier. Robbins mentioned that Cisco's AppDynamics application performance monitoring software unit (acquired in 2017) had another quarter of strong growth, and -- when asked about how the business is doing in the face of competition from fast-growing Zoom Video Communications (ZM) -- insisted the Webex conferencing software unit "continues to grow very solidly."
5. Cisco Sees 'Very Minimal Impact' from the Recent Tariff Hikes
In response to a question about the impact of the Trump Administration's recent decision to raise the tariffs on $200 billion worth of Chinese imports to 25% from 10%, Robbins said Cisco has already been working to adjust its supply chain to deal with the impact of tariffs, and that the recent hike is baked into its guidance. He added the company sees "very minimal impact at this point" from tariffs.
6. Cisco Continues Aggressively Buying Back Stock
Three months after adding $15 billion to its stock buyback authorization, Cisco disclosed it repurchased $6 billion worth of shares at an average price of $52.14. This follows the repurchase of $5 billion worth of shares in the January quarter at an average price of $45.09.
With Cisco still possessing about $11 billion in net cash (cash minus debt) and expected to produce over $15 billion in free cash flow in its next fiscal year, the company can keep buying back shares at a rapid clip if it wishes.
Cisco was recently profiled by Real Money's in-house technical analyst Bruce Kamich. To find out more about how you can profit from this and other stocks Bruce has recently analyzed, please click here.