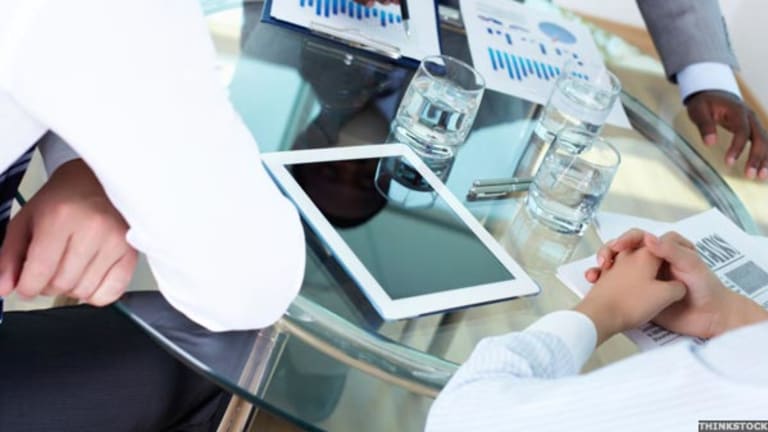 Cisco Delivers Message of Hope, in Measured Tones
Cisco CEO John Chambers isn't getting carried away with talk of a rebound, but there are signs of recovery.
Cisco CEO John Chambers isn't getting carried away with talk of a rebound, but there are signs of recovery.
Despite taking a profit hit, there were still positives in
Cisco's
(CSCO) - Get Report
, released after market close Wednesday, potentially offering upside to investors.
With the tech sector eagerly awaiting good news about an IT turnaround, Cisco CEO John Chambers struck a cautious tone during a conference call late Wednesday, refusing to call a recovery.
Cisco's revenue and earnings beat, as well as a marked improvement in sequential order trends, however, impressed at least one analyst.
"Cisco sounded more optimistic regarding the potential upturn," wrote William Choi, an analyst at Jefferies & Company, in a note released Wednesday. "We also expect Cisco to benefit from several new product cycles."
The networking giant, which competes with
Hewlett-Packard
(HPQ) - Get Report
,
IBM
(IBM) - Get Report
and
Juniper
(JNPR) - Get Report
, has undertaken a major cost-cutting effort in recent months but is now switching gears.
"We're now moving the entire focus of the company to growth," said Chambers, hinting that the firm will branch out into new areas. "We will continue to move into additional market adjacencies, and we're currently at thirty."
A good example of Cisco's ongoing metamorphosis is its move into video through the recent acquisition of
Pure Digital
, maker of the Flip camera.
"Our consumer Flip momentum continues to be extremely positive," said the CEO during Wednesday's conference call. "We even have
started expanding into the enterprise marketplace, where we got our first million-dollar commitment for Flips from a single enterprise customer."
Chambers also reiterated Cisco's commitment to "Smart Grids," networking infrastructure aimed at the energy sector, and "Smart Connected Communities," a clear attempt to tap into government stimulus funds. Another target area is small- to medium-sized businesses, which are expected to spend $7 billion on networking gear in 2010, he added.
Cisco also unveiled its first-quarter guidance Wednesday, predicting sales between $8.57 billion and $8.78 billion, higher than typical seasonality and at the high end of Wall Street's $8.59 billion prediction.
"In our view, the strong guidance reflects the fact that sequential order trends have returned to normal patterns," wrote Jefferies & Company's Choi. Cisco's sequential orders were up 10%, although down an estimated 25% year-over-year, he added. "We believe the year-over-year order growth rate has bottomed and view it as an inflection point."
Another analyst also likes Cisco's numbers.
"The company saw strong sequential order patterns across the majority of the its revenue base in the quarter, with the bulk of the balance (service provider) expected to reaccelerate sometime in the back half of the calendar year," wrote Paul Mansky, an analyst at Canaccord Adams, in a note released Wednesday. "Rather than doing the equivalent of punting on first down, we recommend strategic investors capitalize on the expected time-out (stock consolidation) over the next several weeks and chip into positions."
Shares of Cisco dipped 17 cents, or 0.77%, to $22 in pre-market trading.