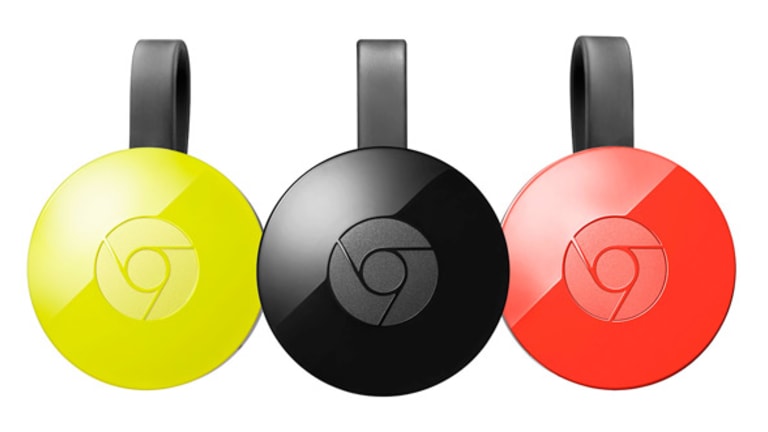 Chromecast vs. Fire TV Stick vs. Roku -- Which Streaming Device Is Right for You?
Which under-$50 HDTV streaming device is right for you?
Alphabet/Google's (GOOGL) - Get Alphabet Inc. Class A Report (GOOG) - Get Alphabet Inc. Class C ReportChromecast, Amazon's (AMZN) - Get Amazon.com, Inc. ReportFire TV Stick and Roku'sStreaming Stick: They're all inexpensive and let you stream high-definition video to your TV, but depending upon what you want, each one has pros and cons.
The second-generation $35 Chromecast (read our review) works by sending requests to have video stream directly to a TV over your home Wi-Fi network. The little device, which you can control from the Chromecast app on whatever device you're using, handles the video streaming and connection tasks from that point on. Think of your smartphone, tablet or computer as the Chromecast's remote control.
This device works best when video providers add a Chromecast button to their services. For instance, streaming from YouTube or Netflix (NFLX) - Get Netflix, Inc. Report really is as simple as pressing the little Chromecast icon. Chromecast can also stream and display just about anything from your Android device's screen, including Web pages and media streams.
The $39 Fire TV Stick (review) is one of Amazon's best-selling devices, and for good reason. It's the least expensive way to control Amazon's media marketplace on your TV. As you might expect, it features many of Amazon's online services as well as Netflix, HBO GO, Showtime Anytime, Sling TV, plus games, music, and other apps. And, of course, it offers online shopping.

Buy the Amazon Fire TV stick here.

Roku's little blue $49.99 HDMI streamer is similar in concept to the Amazon stick. That means there are Roku apps to link to Amazon videos as well many services featured on other devices. One difference is that Roku also lets you live-stream from Time Warner Cable and offers a huge selection of extra channels and features. Some of those extras require you to pay a fee or have a subscription to enjoy the content.
The Roku stick also comes with a nifty remote controller, or you can use an Roku's app for Android, Apple iOS or Microsoft Windows. There's no voice search feature on the Stick's remote, like on the more expensive Roku 3 or the new, $130, ultra high-definition Roku 4.
All three little devices deliver lots of value for your dollar and all provide great HD video and sound.
Your choice depends on what you want from the device. If you're heavily invested in the world of Amazon -- say you have a Prime membership -- or you shop on Amazon all the time, then the Fire TV stick, with or without the voice controller, is probably the smart choice.
If you want an even larger selection of online video services and don't necessarily need to have a big chunk of Amazon connected to your TV, then the Roku Streaming Stick could be the answer.
And, if you're a Google fan and you're into streaming its promised "200,000 TV shows and movies, 30 million songs, plus radio, sports, games, and more," then check out the new video Chromecast. It doesn't come with a remote (other than your phone). It's the least expensive of the three devices, but it still delivers an amazing amount entertainment value for the small price you pay.
This review originally ran on Oct. 26, 2015.
This article is commentary by an independent contributor. At the time of publication, the author held no positions in the stocks mentioned.