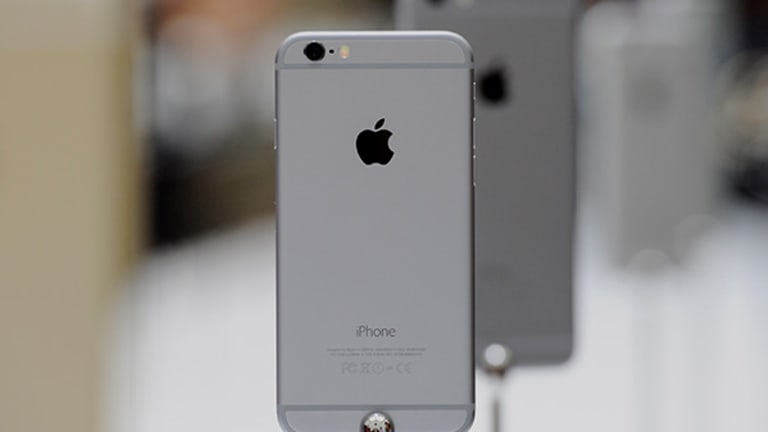 Chinese Newspaper Warns Apple's iPhone Sales Will Be Hurt If Trump Starts a Trade War
The state-run Global Times said Apple, Boeing and some top U.S. carmakers could 'suffer a setback' if the president-elect follows through on threats to impose tariffs on Chinese imports.
The state-run Global Times said Apple, Boeing and some top U.S. carmakers could 'suffer a setback' if the president-elect follows through on threats to impose tariffs on Chinese imports.
Sales at Apple (AAPL) - Get Report , Boeing (BA) - Get Report and top U.S. automakers could take a hit if President-elect Donald Trump carries out his promise to impose a 45% tariff on Chinese imports, China's state-backed newspaper Global Timeswarned in an editorial published on Sunday.
Trump repeatedly criticized China throughout his presidential campaign, saying he would label the government as a "currency manipulator" immediately upon entering the White House. The Global Times threatened that actions like that could trigger "countermeasures" by the Chinese government, causing a "number of U.S. industries" to be impaired. 
"A batch of Boeing orders will be replaced by Airbus. U.S. auto and iPhone sales in China will suffer a setback, and U.S. soybean and maize imports will be halted," the Global Times said in its editorial. "China can also limit the number of Chinese students studying in the U.S." 
Counter-measures could spell further trouble for Apple in the region. In its latest earnings report, sales in Greater China fell 30% year-over-year. The region made up about 19% of the Cupertino, CA-based company's revenue during the quarter. 
The slump is believed to be tied to increased demand for smartphones from local manufactures like Huaweiand Xiaomi, according to Barron's. Additionally, China in April shut down Apple's online book and movie services in the country. 
Apple shares were trading down 2.7% to $105.48 on Monday afternoon.  
Apple is a holding in Jim Cramer'sAction Alerts PLUS Charitable Trust Portfolio. Want to be alerted before Cramer buys or sells AAPL? Learn more now.
But Drexel Hamilton Analyst Brian White said tough year-over-year comparisons from the extremely popular iPhone 6 are more likely to be the cause of the sales slowdown. 
iPhone demand will probably remain slightly negative for fiscal 2016, but may return to positive in the fiscal 2017 second quarter, White noted. 
White said he's monitoring Trump's position on U.S.-China trade relations, but isn't concerned that he'll impose tariffs or force Apple to bring production back to U.S. shores -- another promise Trump made on the campaign trail. 
"Taking production back to the U.S. is not realistic. Starting a trade war isn't realistic," White said by phone. "...There will be saber-rattling, but I think at the end of the day this doesn't make sense."
The Global Times questioned the legality of levying a 45% tariff on imports from China, calling it "campaign rhetoric."
The newspaper said U.S. presidents can only impose tariffs of up to 15% for 150 days on all imported goods. It's a power meant only for times of war or national emergencies, according to the New York Times. 
Historically, imposing tariffs hasn'tworked out well for the U.S. or for China, the Global Times noted. The editorial points out that in 2009, President Obama announced a 35% import tariff on Chinese tires, which China responded to by imposing import tariffs on U.S. chicken and automotive products. 
"Both China and the U.S. suffered losses as a result," the newspaper said. "...Trump as a shrewd businessman will not be so naive."
The editorial came hours after Chinese President Xi Jinping and Trump spoke over the phone on Sunday.
"During the call, the leaders established a clear sense of mutual respect for one another, and President-elect Donald Trump stated that he believes the two leaders will have one of the strongest relationships for both countries moving forward," Trump's transition team said in a statement.