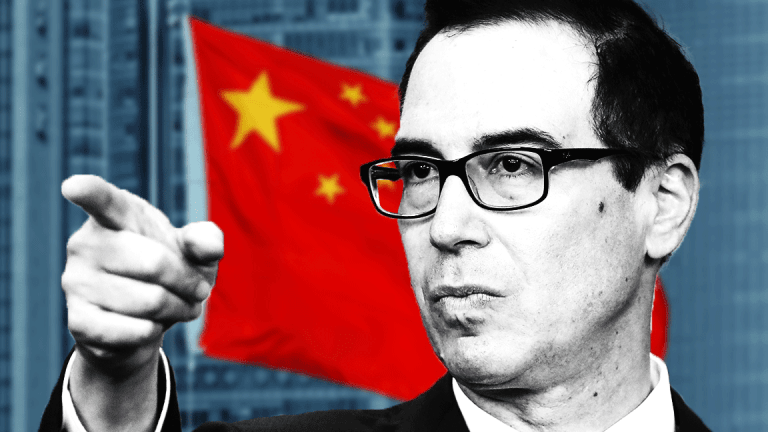 Chinese Investment Crackdown Could Stunt Growth at Alibaba, Tencent and Others
Trump's plan to curb U.S.-Chinese tech deals could stunt the growth of Chinese firms in the U.S., and damage U.S. tech companies with extensive business in China.
Trump's plan to curb U.S.-Chinese tech deals could stunt the growth of Chinese firms in the U.S., and damage U.S. tech companies with extensive business in China.
In the U.S.-China trade war, the Trump administration is pouring more gasoline on the fire. 
As reported by The Wall Street Journal, the administration may ratchet up existing tensions with a two-pronged initiative to restrict investment in U.S. tech firms by Chinese companies, and to block tech exports to China. 
The plan is being crafted by the U.S. Treasury, and would target Chinese investments in "industrially significant technology," the report said. It's intended to toss a wrench into China's 'Made in China 2025' initiative to raise its stature in the global tech sector, and to guard U.S. technology by curbing exports. 
But if the plan moves forward, the implications could be far more extensive for Chinese and U.S. companies alike. 
Alibaba (BABA) - Get Report , JD.com  (JD) - Get Report and Tencent Holdings Ltd (TCEHY) are the among the Chinese companies that have made significant investments in U.S. tech firms. "There are many, many Chinese companies that have invested in the U.S., but Alibaba is a very notable one: If they were not able to do so, that would really limit their ability to grow in the U.S. market," said DA Davidson analyst Gil Luria.
Shares of all three were down on Monday, with Alibaba sinking 5.3%, JD.com falling 4% and Tencent dropping 3.5%, compared to the Nasdaq's 2.1% decline as fears of a trade war continued to grow.  
Chinese investment in U.S. tech declined by 28% in 2017, owing to restrictions by Beijing on foreign investments, but it was still the second-highest year on record at $29.4 billion, according to data from the National Committee on U.S. China Relations.
Alibaba and Tencent, for example, have bought up substantial shares in fast-growing U.S. technology companies. Alibaba invested $200 million in Snap in 2015 and has also invested in ride-sharing company Lyft, virtual reality start-up Magic Leap and online sports merchandise retailer Fanatics. Tencent, meanwhile, owns more than 15% of Snap, according to FactSet.
"Any restrictions on investment will limit growth opportunities in the U.S.," Luria added. "It's not the primary area of focus right now for Alibaba or JD, but Alibaba has tried to keep a stable of investments in the U.S. for the time in the future when they try to grow in the U.S. That was part of their long-term plan."
For the U.S. tech industry, restrictions on inbound Chinese investment are likely to have a minimal impact according to a report from Moody's: "Despite recent fast growth, Chinese foreign direct investment (FDI) in the US remains relatively small and focused on existing companies, rather than on greenfield investments," the report said, noting that Chinese investment represents only 4% of direct foreign investment in the U.S.
On the other hand, limits on technology exports to China could have a greater damaging effect on industries with extensive business in China: Semiconductors, automotive, robotics, aircraft and other manufacturing, the report noted. Among semiconductor companies, limits on exports would affect companies that gain significant revenue from indigenous Chinese customers, including Applied Materials Inc (AMAT) - Get Report .
The action by the administration would disrupt an existing bill moving through Congress seeking to expand the resources of the Committee on Foreign Investment in the U.S. (CFIUS), including more oversight on overseas transactions. The bill is aimed at protecting national security interests, but isn't limited to China.
Escalating trade chaos could also complicate existing bids by U.S. companies for Chinese assets, such as a $44 billion bid by Qualcomm Inc. (QCOM) - Get Report for NXP Semiconductors NV (NXPI) - Get Report , which has long been awaiting Chinese regulatory approval. And it could add an extra dash of uncertainty for a range of tech companies that do business in China, including Hewlett Packard (HP) - Get Report , (IBM) - Get Report , Intel (INTC) - Get Report , Microsoft (MSFT) - Get Report and Apple (AAPL) - Get Report , the last of which which generates about 20% of its revenue from China in addition to critical relationships with Chinese manufacturers.
Terry Gou, the chairman of Apple assembler Foxconn, commented last week that "the biggest challenge we're facing is the U.S.-China trade war, (but) what they are fighting is not really a trade war, it's a tech war."
If the administration moves forward with the restrictions, we'll be likely to hear from specific companies who are affected. But the terms of the restrictions are still in dispute, added Derek Scissors, China experts at the American Enterprise Institute.
"As of Friday, there was still a battle being waged on how to approach the export controls," Scissors said. "I think we're going to have a public comment period, at which point we'll learn more about which companies are affected."
On Monday morning, U.S. Treasury Secretary Steven Mnuchin rebuffed the reported Chinese investment restrictions, tweeting that the restrictions would apply not just to China, "but to all countries that are trying to steal our technology."
For now, some trade groups are urging greater transparency on any actions that could hamper innovation and economic growth in the tech sector.
"We do not believe separate administration action is required," said Josh Kallmer, SVP of gobal policy at the Information Technology Industry Council. "We urge it to carefully consider the consequences and end goal, commit to transparency, an open comment period, and narrowly-tailored restrictions on genuine, concrete national security threats."
Apple and Microsoft are holdings in Jim Cramer's Action Alerts PLUS member club. Want to be alerted before Jim Cramer buys or sells these stocks? Learn more now.