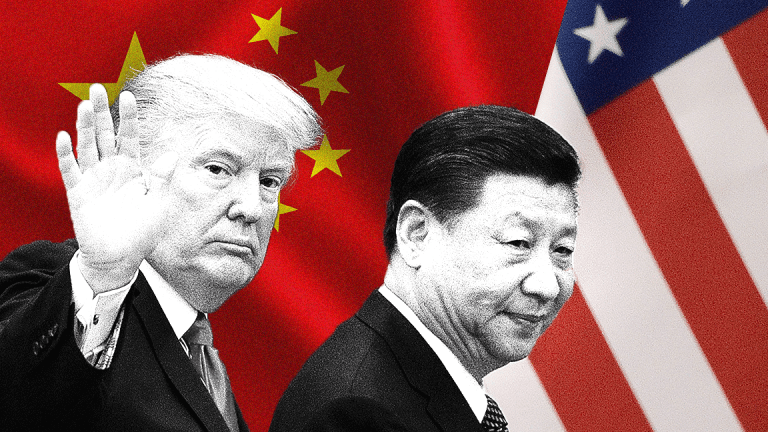 Chinese Tech Firms Are Increasingly Being Copied by U.S., Not Just Copying
China has a rap as the world's biggest copycat, but U.S. companies are now borrowing more tech ideas from China.
The tables are turning.
China has a reputation as a ripoff artist, shamelessly cloning U.S. tech firms and business models, as companies they were based on, such as  (GOOGL) - Get Alphabet Inc. Class A Report , Facebook  (FB) - Get Meta Platforms Inc. Class A Report and Netflix (NFLX) - Get Netflix, Inc. Report , wind up frozen out of the Chinese market. 
But some experts are saying that U.S. companies are now 'borrowing' from China more than ever before. A strategy known as 'Copy-to-China' -- cloning U.S. tech businesses for the Chinese market -- has been upended by a wave of American companies looking to China for inspiration. 
"The evolution from 'Copy to China' to 'Copy from China' happened mainly in the Internet-related fields," explained Alex He, a researcher at the Centre for International Governance Innovation. "China's Internet enterprises and their flagship products originally 'borrowed' from overseas, from the U.S. companies. For example: Microblog learned from Twitter (TWTR) - Get Twitter, Inc. Report , QQ was inspired from OICQ, Baidu  (BIDU) - Get Baidu Inc. Report is China's version of Google, and Meituan copied the model of Groupon."
But by this point, some of those Chinese companies -- for example, Alibaba (BABA) - Get Alibaba Group Holding Ltd. Report and Tencent (TCEHY) --- have resulted in multibillion-dollar exits, ushering in a tidal wave of Chinese investment as well as a new generation of Chinese tech firms. 
While Silicon Valley companies still grab the most capital of anyone in the world, Beijing and Shanghai are quickly closing in. According to a recent report from CB Insights, the two cities have attracted $72 billion and $23 billion, respectively, since 2012 as compared with Silicon Valley's $140 billion. 
Chinese cities are also increasingly dominating in mega-deals worth more than $100 million, as well as the multibillion-dollar IPO of companies like Aliaba (BABA) - Get Alibaba Group Holding Ltd. Report and (JD) - Get JD.com Inc. Report . And more are on the way: Of the 10 most valuable private companies in the world, five are now based in China, include ride-hailing giant Didi Chuxing, phone-maker Xiaomi and e-commerce site Meituan-Dianping, which filed for an IPO just this week. Meituan-Dianping is aiming to raise $4 billion at a $60 billion valuation, while Xiaomi recently filed to raise several billion dollars in an IPO in Hong Kong.
"Beijing and Shanghai are poised to be the tech hubs of the future," said the CB Insights report. "They lead among high-growth hubs for unicorns, mega-rounds, and large exits, while company creation is accelerating."
David Cheng of DCM Ventures, a VC firm that invests in firms in both the U.S. and Asia, ticked off a few categories where China, not the U.S., is now leading the way: transportation, e-commerce and mobile games. "Car ownership in China is only about 20%, while mobile penetration is very, very high," said Cheng. "That leads to the creation of a lot of mobile experiences."
One example is Mobike, a Chinese bike-sharing app built in 2015 that rapidly gained popularity in Beijing and Shanghai. Three years later, American lookalikes Bird, Lime and others are lighting up U.S. cities and drawing huge deals.
Underlying China's rise are a number of economic trends, including a growing, tech-obsessed middle class and a wave of U.S.-educated Chinese nationals returning home to work in China's tech industry. According to China's Ministry of Education, more than 432,000 overseas students returned to China in 2018 alone, representing 80% of all students. There are 753 million mobile phone users, many of whom access the internet only by phone. Widespread reliance on phones, combined with a lack of a credit infrastructure in China have led to an explosion of creativity in payments, as well as in 'social commerce' that mix social media with transactions at a level not seen elsewhere. 
"What China's Internet companies and other startups did very well is, they focus more on the optimization and marketing of the products and ideas they borrowed from Americans and made them even better by adding more value," said He. He added that "as a result, QQ did far better than [early U.S. chat service] ICO, Meituan better than Groupon. And especially China's giant app, [Tencent-owned] WeChat, which combines the function of Twitter and Facebook with a vast variety of functions such as online payments, making reservations, and instant video."
Cheng said that U.S. investors, including his own firm, are exploring which ideas will successfully 'Copy-to-America', and which won't: "Other trends we're seeing are content and short-form video, apps like Musical.ly mirrored from Chinese apps, and next-gen retail concepts like automated convenience stores and vending machines. Another is micro-lending; there are already publicly-traded micro-lenders in China." 
With trade war rumors swirling, should Silicon Valley be worried that China is catching up in tech?
"It's 110% positive; it's not a zero-sum game," Cheng said. "Some of the biggest tech companies in Asia actively invest in the U.S., and they do business development constantly. And all US companies have aspirations to do business abroad. So it's a net benefit for everyone."
Facebook and Alphabet are holdings in Jim Cramer's Action Alerts PLUS member club. Want to be alerted before Jim Cramer buys or sells these stocks? Learn more now.