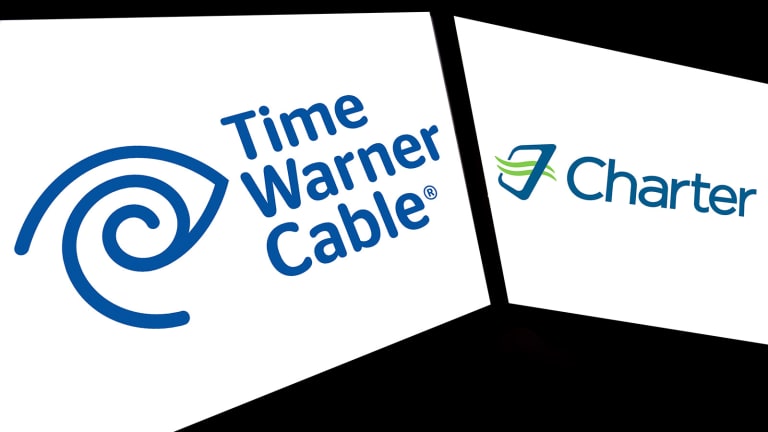 Charter-TWC Merger May Force TV Networks to Combine as Well
If Charter Communications acquires Time Warner Cable, mid-tier TV networks will have fewer options for distribution, giving them less leverage when negotiating fees to carry their channels.
NEW YORK (TheStreet) -- Life just got a lot more challenging for the cable and broadcast TV networks.
Charter Communication's (CHTR) - Get Free Report proposed $55 billion takeover of Time Warner Cable (TWC) would shrink the number of Internet and cable TV distributors in the U.S. to just four. With fewer outlets to sell their shows, TV and cable networks would have less leverage to demand high fees and inclusion of some of their niche channels. 
That would hurt revenue at content providers such as Discovery (DISCA) - Get Free Report, AMC Networks (AMCX) - Get Free Report, Scripps Networks Interactive (SNI) and even giant Viacom (VIAB) - Get Free Report, whose 2014 revenue totaled $13.9 billion.
The only solution may be for the networks to merge with one another -- or be taken over by the cable and Internet distributors themselves.
"It is logical to see some large-cap entertainment companies use consolidation to try to regain some leverage in the marketplace and attain cost efficiencies," Craig Huber, media analyst at Huber Research, said in a phone interview. "Right now, there is tremendous pressure on distributors and content companies. There's just no easy solution for either one."
If regulators approve the Charter-Time Warner Cable deal, there would be just three other major cable TV and Internet-service distributors: Verizon (VZ) - Get Free Report; Comcast (CMCSA) - Get Free Report and a possible merged AT&T (T) - Get Free Report-DirecTV (DTV) , whose $49 billion transaction must obtain regulatory approval. 
Cable-TV operators, meanwhile, are having to adjust their business models as customers increasingly buy subscriptions of Internet-based video services such as Dish Network's (DISH) - Get Free Report Sling TV, Sony'sundefined Vue or Time Warner's (TWX) HBO NOW. 
Loath to accelerate that migration, Charter and others are trying to keep their rates under control for fear that subscribers will drop their cable-TV contracts altogether. 
"It's very possible that the cable providers decide they've had enough paying rapidly escalating carriage fees to everyone and stop paying many of the second-tier and lower cable networks," Huber added. "It could get very tough out there for all these content providers because if you don't have distribution as a cable network, you're in tougher shape just relying on advertising."
Take Viacom, owner of Nickelodeon and MTV. 
In September, St. Louis-based Suddenlink Communications, the seventh largest U.S. cable-TV operator, decided to not renew its carriage agreement with Viacom. Suddenlink CEO Jerry Kent said Viacom's fees were too high, and that passing those costs on to subscribers might prompt some to drop the service.
For his part, Viacom CEO Philippe Dauman wasn't about to allow a small pay-TV provider with 1.1 million subscribers force him to lower his rates.
But earlier this week, Viacom appeared to soften its approach in securing a carriage agreement with Mediacom Communications, the eighth largest U.S. cable-TV provider with 500,000 customers. Under terms of that deal, Mediacom will have access to a "substantial increase in free video on demand and expanded TV Everywhere" offering using Viacom content. 
It's logical to assume that the new Charter could ask a Viacom or a similar content company for more favorable terms and greater flexibility in bundling channels. If so, the results could be devastating. Viacom shares have already fallen 22% in the past 12 months.
In the recent past, standoffs between TV networks and distributors have generally been won by the networks. CBS stared down Time Warner Cable in 2013, while Time Warner and CBS did the same with Dish Network (DISH) - Get Free Report last year. 
But times are changing. Distributors are consolidating, and Internet-based platform companies such as AOL (AOL) and Vice, Vevo or IAC Interactive's (IACI) Vimeo are demonstrating that they, too, can attract viewers and advertisers and at much lower price than traditional TV networks.
Distributors may have the upper hand. Yes it's true that an Amazon (AMZN) - Get Free Report, Facebook (FB) - Get Free Report or Apple (AAPL) - Get Free Report could get into the game, giving content creators new distribution platforms. But they're not there yet.
CBS (CBS) - Get Free Report CEO Leslie Moonves did tip his hand on Wednesday that his network will "probably" sign with Apple when it launches its own Internet-based video service. A television service from Apple could further alter the industry but that remains unclear. 
Right now, TV networks that long thrived on cable TV may be searching for a partner.