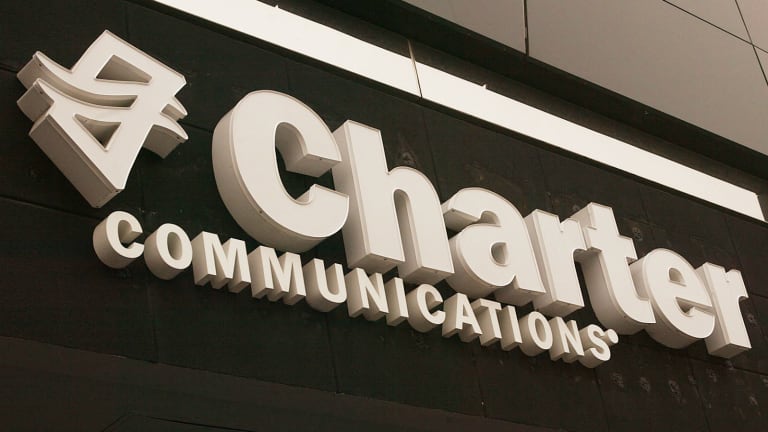 Charter Shareholders Are the Real Winners in Time Warner Cable Deal
Time Warner Cable shareholders likely feel like they've won the lottery with Tuesday's takeover offer from Charter Communications. But the real winners may be those holding Charter stock.
NEW YORK (TheStreet) -- Time Warner Cable (TWC) shareholders likely feel as though they won the lottery with Tuesday's takeover offer from Charter Communications (CHTR) - Get Free Report. But the real winners may be those holding Charter stock. 
Charter, the St. Louis-based provider of cable-TV services, announced on Tuesday that it will buy Time Warner Cable for roughly $196 a share in stock and cash, or $78.7 billion. That's a 14% premium to Time Warner Cable's closing stock price on Friday.
Charter will be paying far more for Time Warner Cable than the $158 a share, or $45.7 billion, that Comcast (CMCSA) - Get Free Report was hoping to pay before federal regulators struck down that deal. But Charter may actually be getting a bargain.
Time Warner Cable's growth in broadband subscribers over the past 18 months will give Charter the ability to compete on a national scale with Comcast and AT&T (T) - Get Free Report, which is expected to close its acquisition of DirecTV (DTV) later this year. It also better positions the company to negotiate with content providers led by Time Warner (TWX) and Disney (DIS) - Get Free Report eager for distribution through broadband and wireless connections to homes and business.
Charter is also acquiring cable-TV operatorBright House Communications in a separate deal, thereby increasing its subscriber base to 23.9 million, just a short of Comcast's 27 million.
Though Charter's stock was slipping 0.8% to $173.90, that may just be an initial reaction to a large acquisition. As expected, Time Warner Cable was climbing 4.6% to $179.
Charter, of course, owes its good fortunes to billionaire John Malone, whose financial heft and industry experience have put the company in a position to become a national broadband operator.
Malone's Liberty Mediaundefined paid $2.6 billion in March 2013 for a 27% stake in Charter, giving the cable-TV baron another foothold in an industry he helped create nearly 50 years ago. 
Longtime Charter shareholders have already reaped a big payoff. The stock has soared 377% in five years. More impressive may be the payout for those investors who stayed with Charter even after Comcast's announcement on Feb. 13, 2014 that it had plans to acquire Time Warner Cable. A day before that deal became public, Charter's shares were trading at $137.57.
Though investors were likely disappointed, those who held firm have enjoyed a 27% gain. Looking further into the future, Charter shares could rise as high as $250, says Matthew Harrigan, media analyst at Wunderlich Securities, as the company asserts itself on a national scale.
Contingent on regulatory approval, Charter is poised to become the country's third-largest pay-TV operator. Of course, regulators could always reject the deal, though that seems less likely given that both Comcast and AT&T will remain larger.
Charter is certain to argue that the combined company will provide more robust competition for Internet-based entertainment offerings. Furthermore, regulatory concern about Comcast buying time Warner Cable focused on the programming that Comcast already owned through NBC/Universal and its stake in Hulu.
The Charter deal has none of those complications.
For that reason, Charter was willing to include a $2 billion payment to Time Warner Cable in the event that this deal would be rejected by regulators. Approval is "highly probable," said Macquarie analyst Amy Yon in an investor note on Tuesday.
But as the regulatory debate over Comcast's thwarted acquisition of Time Warner Cable proved, consolidation in cable-TV is really about gaining sufficient size in broadband to negotiate Internet-based distribution deals with content providers. That's essential as companies put more emphasis on streaming video, like Time Warner's (TWX) HBO Now or CBS's (CBS) - Get Free Report All Access service and standalone Showtime. There's added competition from Dish's (DISH) - Get Free Report SlingTV, Amazon (AMZN) - Get Free Report Prime and whatever Apple (AAPL) - Get Free Report may be planning for its own Internet-based TV service, which is expected later this year.