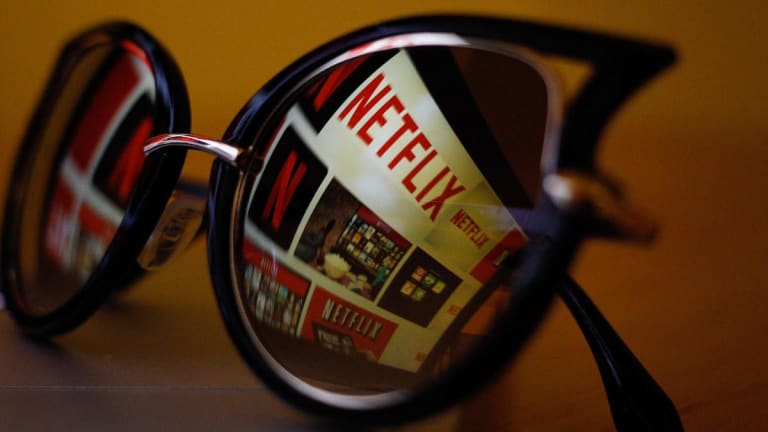 Netflix's 3 Biggest Challenges in 2019
Netflix may have fallen far in the back half of 2018, but some of the core challenges facing the business could only intensify next year.
Will 2019 bring a fresh slate or more uncertainty for Netflix (NFLX) - Get Report investors? 
This year, Netflix's stock is up roughly 40% despite a precipitous tumble since July, when a subscriber miss provoked a negative turn on the stock that has persisted for months. But some of the core challenges facing Netflix have the potential to intensify in 2019, even though its shares are trading at a level that some consider cheap (others, of course, are not so sanguine). 
Netflix bulls argue that its dominance in streaming, strong renewal rates and ability to jack up prices in the future could reap rewards for investors. Lab42, a market research firm, noted in a recent report that Netflix's renewal rates are the highest of any streaming service, at 93%.
"Netflix's competitors have an uphill battle to take market share from the current industry leader," concluded Jonathan Pirc, Lab42's founder. In addition to the prospect of price increases, Netflix is also tinkering with more diversified pricing in some markets, including mobile-only plans in Malaysia and "Ultra" subscriptions that allow HD streaming on up to four devices at once.
Still, for Netflix investors, there are a few key challenges that aren't likely to die down anytime soon. 
1. Maintaining new subscriber growth
New subscriber growth is still an obsessed-over data point for Netflix investors -- and it could remain vexing as Netflix continues its aggressive charge into international markets. Subscriber growth is a hard-to-forecast metric because of the number of relatively new Netflix markets, as well as its reliance (in part) on the viral success of its shows, as Moody's Neil Begley explained to TheStreet in an interview: "In many of these countries they launched only a year-and-a-half ago, and a lot of the success is in how aggressively they market, and word-of-mouth," he said.
That's reflected in an analysis published by S&P Global Market Intelligence this week, which found that demand for Netflix original series will outpace demand for licensed content by October 2019, even as the overall competitive landscape in video streaming grows even more crowded with the expected debut of Disney's (DIS) - Get Report 'Disneyflix' in 2019, along with other likely players such as Apple (AAPL) - Get Report .
"The future for the industry is likely to be even more crowded and the winners are still unknown," said Deana Myers a research director at S&P Global Market Intelligence.
2. Increasing competition
There are a few potential competitors on the horizon -- planned streaming services from AT&T's (T) - Get Report WarnerMedia and Apple, in addition to existing free services like Alphabet's (GOOGL) - Get Report YouTube. But among Netflix's many potential rivals, it's Disney that poses the greatest threat in the minds of many analysts. 
Disney's streaming service, officially dubbed Disney+, is arriving in late 2019 -- and its formidable content library could prove compelling for many streamers. It's expected to be the exclusive home for Disney films and shows, as well as content from Marvel, Pixar, Star Wars, and National Geographic. But it's not necessarily the content mix that poses the greatest direct threat to Netflix, according to Wedbush's Michael Pachter. 
"Disney presents a double-whammy, as it is not only launching a competing service, but is also pulling its (and Fox's) content from Netflix," Pachter explained. "Some estimate that Disney/Fox combine for 20% of all available content on Netflix, and likely higher if measured by viewers. At the same time, Warner Bros. is also contemplating a new standalone service, so they may begin to pull content by the end of 2019. My bias is that these companies generate 40% to 50% of all hours spent watching Netflix, so that is a serious blow."
3. Rising content costs
Another risk that could keep investors up at night in 2019? Rising content costs. 
The potential for higher content costs was demonstrated recently by the $100 million that Netflix reportedly paid to renew its licensing of 'Friends' through the end of 2019 -- up from the $30 million it had paid previously. But it's not just creating or acquiring content that requires major bucks to execute -- it's also making sure that content gets seen. As Netflix extends its international expansion next year, the costs of launching and marketing content could also rise.
As pointed out by Pivotal in a recent research note, Netflix has north of $19 billion in spending commitments on content -- and with Netflix still losing money, it has to demonstrate it can keep growing subscribers at a rate that's commensurate with the spending. 
"If their subscriber growth ever went materially negative (without a price increase) their results could be overwhelmed by their significant fixed costs," wrote Pivotal's Jeffrey Wlodarczak. 
Apple, Disney and Alphabet are holdings in Jim Cramer's Action Alerts PLUS member club. Want to be alerted before Jim Cramer buys or sells these stocks? Learn more now.