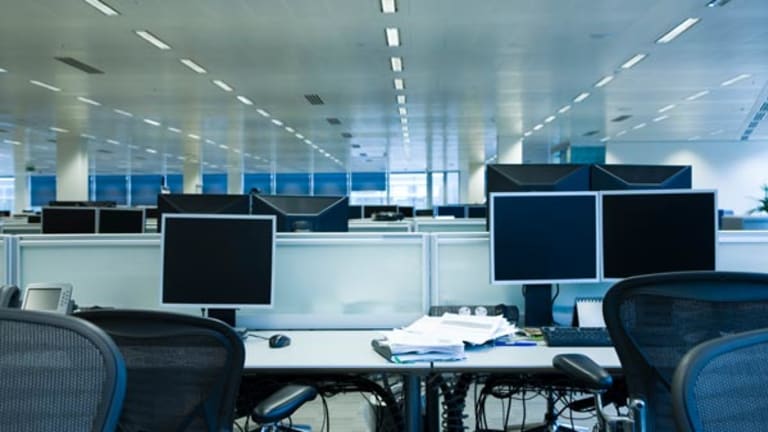 CES Editors' Picks
From the CES floor, our tech team brings you the most captivating finds.
LAS VEGAS (TheStreet) -- Today is Day Two of the Consumer Electronics Show, the 43 year-old trade event that serves as a high-profile launching pad for technology's biggest -- and smallest -- brand names.

Despite the recession hangover that sees much of this sector battered, more than 2,500 vendors have convened in Las Vegas to announce a battery of product and partnership agreements, all potentially stock-changing news.
While we're not likely to see any new, blockbuster tech categories emerge at this year's event, we've been busy testing the barrage of smartphones, tablet devices, and many other niche technologies that have become smarter and more web-savvy.
Each day, our tech team will bring you some of the day's most popular picks, straight from the showroom floor.
More on CES 2010
>>Photo Gallery: 2010 CES Show
3D TV
3D TV joins tablet devices as the big news story here at CES. Every TV we tried works, but the required glasses feature a slight flicker effect. When we watched "Monsters and Aliens" in a demo, the HD image was degraded by this refresh-rate flicker.
Sony
undefined
has made the biggest 3D bet, going all-in on the tech across its product lines. During our tour of their booths, executives at
Intel
(INTC) - Get Free Report
,
Marvell
(MRVL) - Get Free Report
,
Cisco
(CSCO) - Get Free Report
and
Broadcom
undefined
-- who each have a hand in 3D TV -- predict big things in 3D entertainment, but the real future may lie in technologies that deliver it without the glasses.
Google's Nexus One
We had to do it. If we're not holding
Google's
(GOOG) - Get Free Report
Nexus One, the guy next to us is. The device can't stand up to the hype, though -- nothing could. In the end, it's a very thin form running Android 1.5 with a screen larger than the one on
Apple's
(AAPL) - Get Free Report
iPhone. The
Qualcomm
(QCOM) - Get Free Report
chip inside it may be the real game changer, though. The phone has been superfast when on a good connection. As folks continue to speculate that the iPhone's speed issues might be due to its chip -- not its network -- the Qualcomm factor may be the
Nexus One's
biggest boon.
Palm's 3D Gaming
Palm's
(PALM)
got game. The company has added 3D games to its Pre phone, featuring apps from multiple developers including
Electronic Arts
undefined
. The initiative could be a lifeline for the market-lagging handset maker, as could the company's
with
Verizon
(VZ) - Get Free Report
. Verizon will start selling the revamped Pre and Pixi later this month. According to
TheStreet's
Gary Krakow, the Mi-Fi function in Palm's devices will also be a big selling point.
Palm Pre/Pixi Plus smartphones for Verizon
Spring Design's Alex eReader
The eReader wave at CES is also an Android invasion. The Alex, a dual screen from newcomer
Spring Design
, runs on Android and captures the initial
Amazon
(AMZN) - Get Free Report
Kindle experience, but adds what the forerunner lacks -- full internet browsing. Yesterday, Spring Design announced a retail partnership with
Borders Group
(BGP)
, a potential leg up on competitors in the battle for this suddenly-crowded space. As book and content publishers search for subscription revenue on formerly free content, they will now have to battle for dollars with carriers who deliver it, leaving both to fight over the pie.
Sprint's 4G Network
As you can imagine,
Sprint's
(S) - Get Free Report
4G network is much-talked about, and Vegas is 4G wired for the show. We received a unit to test, a mobile hotspot modem that can support up to five computers at once (or act as a single machine's super-fast tethered access). The time we devoted to testing was brief, but it featured amazing speeds. We took the picture above while downloading a host of videos. The connection hit 29.7 mbs, with a top-end speed of 34 mbs.
Skiff's eReader Design
The eReader market is officially packed. A handful of tablet concepts and electronic media readers have already been announced this week, joining market heavies Nook and Kindle, but
Skiff's
getting a lot of attention for its large, thin form and rumors of a flexible screen. Skiff, a subsidiary of print media giant
Hearst
, unveiled prototypes with two partners: Marvell, which will power the developer's kits, and Sprint, which will run Skiff's "newsstand."
Related Stories:
This article was written by a staff member of TheStreet.com.