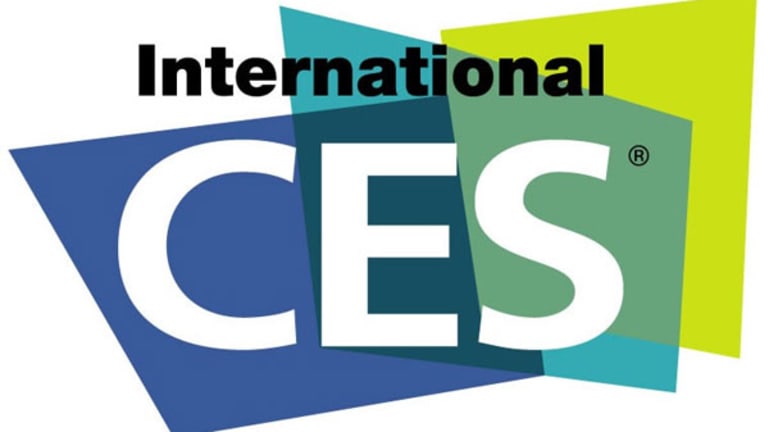 CES 2015 Day 1 Recap: The Biggest Surprises, Bores and Quirks
Here's a recap of some of the most important and most disappointing announcements from the first day of CES 2015.
LAS VEGAS (TheStreet) -- The glitz and glamour of Las Vegas is certainly an appropriate backdrop for the International Consumer Electronics Show, as companies demonstrate their best and brightest products for the world to see.
From televisions to wearables, to connected cars to the connected home, CES 2015 so far has been pretty much what you'd expect, with companies clamoring to show off their new wares. Judging by the amount of emails we journalists have gotten in the past month, you'd think every tech company around since the dawn of time was unveiling something new this week. Companies at CES are doing everything they can to woo consumers and journalists alike.
Most Important: Sling TV
Going into 2015, I've become more bullish on the intersection of media and technology than I am on just technology, and perhaps the biggest unveiling on Monday is the prime example of that.
Dish Network's (DISH) - Get DISH Network Corporation Class A Report subsidiary Sling unveiled perhaps the beginning of the end of cable TV as we know it, announcing a new over-the-top (OTT) service that has -- wait for it -- ESPN.
Live sports, and especially ESPN (owned by Walt Disney (DIS) - Get Walt Disney Company Report ), have been the glue holding together the current structure of pay TV, and by including ESPN and ESPN 2 in the package (along with TNT, TBS,Food Network, HGTV,Cartoon Network and Disney Channel), consumers get one step closer to being able to cut the cord.

Priced at $20 a month with no commitment or contract, consumers will get these channels on all their favorite devices (Amazon Fire TV, Amazon Fire TV Stick, Google's Nexus Player, Xbox One from Microsoft, Roku players, Roku TV models, select LG Smart TVs, select Samsung Smart TVs, iOS, Android Mac, PC) and can watch whatever they want where they have access to broadband.
Sling TV will be available to customers around the country in the first quarter of 2015.
With Time Warner's (TWX) October announcement that it's going to sell HBO directly to consumers without a cable subscription, and other services such as Netflix (NFLX) - Get Netflix, Inc. Report , Amazon (AMZN) - Get Amazon.com, Inc. Report Prime and WWE's (WWE) - Get World Wrestling Entertainment, Inc. Class A Report big unveil at last year's CES, consumers are getting closer than ever to getting rid of cable.
How Sling TV is received and how HBO fares going direct to customers, could well be the biggest tech stories of the year.
Most Boring: Samsung
Samsung's (SSNLF) press conference is the one event that nearly everyone tries to attend, but each year it increasingly becomes harder to justify attending the company's press conference.
South Korean-based Samsung on Monday took a much different approach than last year, when it attacked Apple (AAPL) - Get Apple Inc. Report at seemingly every opportunity. This year was decidedly more low-key. Perhaps the biggest announcement was the introduction of SUHD televisions, an updated version of UHD (ultra high fefinition).  
Other announcements, such as Milk VR, Milk Video and the chef collection-inspired tablet, make it seem like Samsung is trying to do what it can to reinvigorate growth and inspire its consumers but Samsung's actions feel forced.
    I kid you not. Samsung is launching a tablet dedicated towards the chef collection. Kill me #ces2015 pic.twitter.com/NkSElW03vB
    - Chris Ciaccia (@Chris_Ciaccia) January 5, 2015
There were some interesting, practical things announced, like a dual-door oven that lets you cook two different meals at once, a washing machine that has a sink for pre-soaking, and a robot vacuum cleaner. But these products aren't going to drive real revenue growth.

Most Quirky: 4Moms
Everything at CES is "smart-themed," meaning we're making the most mundane tasks easier as our lives get busier. 
Enter 4Moms, a private company that has built a smart stroller, as well as a smart rocking machine, for new mothers. The rocker automatically rocks itself, unlike the days of yesteryear when you had to push your child in the swing. There's an app you can install that just rocks it automatically, so busy moms can take a break from their newborn, if only just to catch a break.
-- Written by Chris Ciaccia in Las Vegas

>Contact by Email.