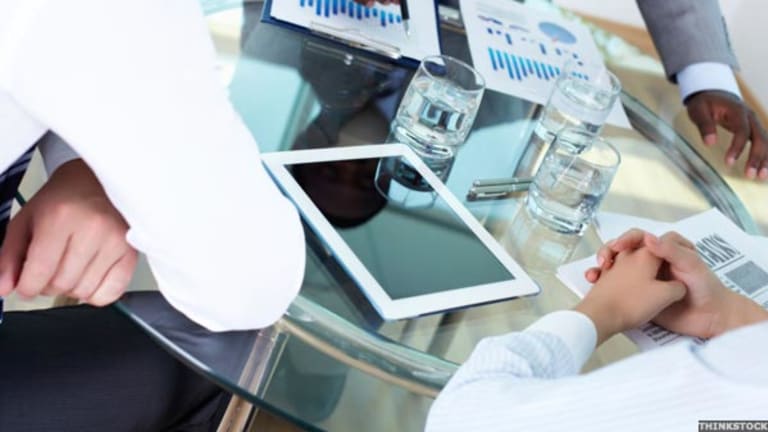 CES 2012 Editors' Picks: HP Spectre, Motorola Droids
From CES 2012 in Las Vegas, we bring you the latest gadgets and news.
LAS VEGAS (
) -- More than 140,000 tech industry professionals and enthusiasts have mobbed the Las Vegas Convention Center for one of the sector's most important gatherings: the 2012 Consumer Electronics Show.
The launchpad for many of tech's greatest gadgets, CES is again highlighting the latest in mobile computing and streaming Internet, including the
with
Intel
(INTC)
chips and gads of ultrabooks from the likes of
HP
(HPQ)
and
Toshiba
.
Stay tuned to
TheStreet
for full showroom coverage of CES.
Dell
Late Monday, Dell announced its intention to toe the crowded tablet market. While tech watchers and investors bemoan Dell's entrance as two years late -- its Streak tablet has all but disappeared -- the company's Chief Commercial Officer said that Dell has been standing back and watching, trying to learn from competitors that took on the market leader,
Apple's
(AAPL)
iPad.
Dell
(DELL)
, which said its consumer tablet will hit the market late this year, hasn't specified which operating system it will deploy, but cited both Windows 8 and
Google's
Android as options.
In other Dell news, the company unveiled its
skinny XPS 13
, just one of many ultrabooks launched at the conference. Priced from $999, it weighs less than three pounds and features a 13.3-inch screen, edge-to-edge glass and an aluminum and carbon fiber form.
Lenovo IdeaPad Yoga
Lenovo's
oddly shaped laptop sits in stark contrast to many of the sophisticated, business-like ultrabooks debuting at CES: it's fun (well, that's how the company characterizes it). Part tablet, part ultrabook, the Yoga features a 360-degree flip-and-fold design that allows users to switch back and forth between using a touchscreen and a keyboard, which doubles as a stand.
The devices features a 13.3-inch screen, runs on Windows 8 and allegedly gets eight hours of battery life. Prices and release dates weren't announced.
Lenovo also launched the 10-inch IdeaTab S2, another interesting blend of tablet and laptop. See the video below for our take on the machine, which runs Android 4.0:
Samsung's SmartTV
Ultrabooks aside, the other big category at CES is the connected -- or "smart" -- TV.
Marvell
(MRVL)
, Google,
LG
and Lenovo are just a few of the players showing off new platforms to wire the new-age living room.
Samsung's
vision is comprised of an entire ecosystem powering a "device that connects our family at the end of a long day," the company said at CES. Samsung's 2012 models implement new ways for consumers to interact with TVs, including allowing them to switch channels with voice or motion commands. Customers will also be able to log into their networks via facial recognition technology, so the TVs will display the preferences of each family member.
>>The Coolest Thing at CES This Year is ...
Samsung also announced a partnership with
DirecTV
, which will allow the satellite TV provider's customers to watch live and pre-recorded content on Samsung's Smart TV, eliminating the need for yet another set-top box.
HP Spectre
HP debuted its latest ultrabook
at CES late Monday, a sleek, super-skinny consumer laptop. The No. 1 PC maker calls its new model the Envy Spectre, a name intended to "evoke mystery," according to the company.
"Sleek, midnight black glass on the outside and stark contrast silver glass on the inside make Spectre extraordinary, defying conventional notebook design," explained Eric Keshin, senior vice president of strategy and marketing at HP's Personal Systems Group.
Aimed at the consumer market, the Envy Spectre comes with a 14.4-inch high-definition screen and Beats Audio technology, as well as built-in HP Wireless Audio. HP says that the Wireless Audio feature can "turn any home into a concert hall," letting users stream uncompressed audio to up to four external devices.
Powered by
Intel
(INTC)
Core processors, the Envy Spectre has up to 9 hours of battery life. The device will be available in the U.S. on Feb. 8, priced from $1,399.99.
Nokia Lumia 900
At long last, exciting stateside evidence emerges from the Nokia/Microsoft smartphone mashup: the
Lumia 900.
Surfacing Monday, the phone is Nokia's first Windows 4G LTE model. The 16GB device is equipped with a 4.3-inch AMOLED display and a 1.4-GHz processor, and will run on AT&T's network. The phone boasts the usual superphone specs including an 8-megapixel camera, Carl Zeiss lens, dual LED flash, and a front-facing 1-megapixel cam for video calling.
Stay tuned to
TheStreet
for a video demo of the phone.
More Motorola Droids
Motorola continues its Droid rollout with the RAZR Maxx and the Droid 4. The Droid 4 boasts a 4-inch screen and a slightly updated slide-out, back-lit QWERTY keyboard.
The Razr Maxx builds on Motorola's score with its recently re-introduced RAZR phone and adds a potentially huge feature: A giant battery. While the first Droid RAZR had a 1700mAh batter, the Maxx boasts a 3300mAh. Verizon says that the Maxx will offer around 21 hours of continuous talk time on one charge -- but only time (and testing) will tell.
Timing of when the two phones will hit stores was vague -- "in the coming weeks" -- and pricing, not available for the Droid 4, is $299 with a two-year contract for the RAZR.
Microsoft Kinect
Priced at double what the original Kinect for X-Box cost, Microsoft's latest iteration -- Kinect for PCs -- will sell for $249.99.
Announced late Monday
, Kinect will be available for Windows on Feb. 1 and is aimed squarely at corporations. "Kinect for Windows will also support gesture and voice on Windows Embedded-based devices and will enhance how data is captured and accessed within intelligent systems across manufacturing, retail and many more industries," said Microsoft at CES. "We are building the Kinect for Windows platform in a way that will allow other companies to integrate Kinect into their offerings and we have invested in an approach that allows them to develop in ways that are dependable and scalable."
It's available for pre-order now in the United States, Australia, Canada, France, Germany, Ireland, Italy, Japan, Mexico, New Zealand, Spain, and the U.K.
--
Written by TheStreet staff
>To submit a news tip, send an email to:
.
This article was written by a staff member of TheStreet.