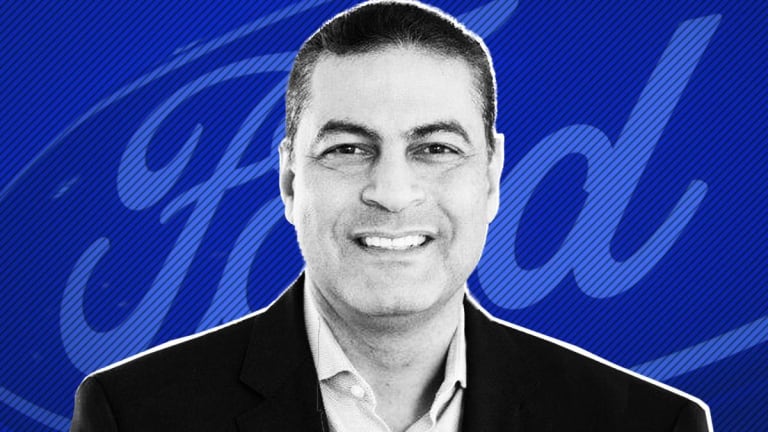 Ford's Self-Driving Unit CEO: Here's Where We're Taking Autonomous
Sherif Marakby discusses what challenges to autonomous vehicles remain, when self-driving cars will arrive and who the auto giant is partnering with these days.
Over the last several years, Ford (F) has gotten serious about investing in autonomous driving.
The auto giant has committed to investing $4 billion through 2023 in an autonomous driving subsidiary, a figure that includes a $1 billion investment in self-driving startup Argo AI. It has been testing out self-driving cars in Miami, and has plans to do the same in Washington D.C.
Ford also recently partnered with Chinese tech giant Baidu (BIDU)  to conduct self-driving tests in China, and has been experimenting with the likes of Walmart (WMT) , Postmates and Domino's Pizza (DPZ) on using driverless cars to deliver goods. The company has a goal of making vehicles supporting Level 4 autonomy (the ability to drive themselves in most, though not all, situations) available for driverless ride-sharing fleets by 2021.
At CES 2019, where Ford (like several other top automakers) has a sizable presence, TheStreet had a chance to talk with Sherif Marakby, the CEO of Ford Autonomous Vehicles LLC. Here are some of Marakby's comments on the current landscape of autonomous driving and Ford's place within it, lightly edited and condensed for clarity.
On When Self-Driving Cars Will Arrive for Ride-Sharing Fleets, and When They'll Be Sold Directly to Consumers
Marakby: Our view is Level 4 service, so not personal ownership. So this is shared mobility, you can hail a ride or you can move something in the vehicle as a business and you would share a vehicle. The vehicle would drive autonomously in a geo-fenced area that's fairly large. Our plan is developing a vehicle, developing a business, developing what cities we're going to be in and what we're going to move.
The personal ownership piece is going to be after that. What's after that, we don't know. It depends on the success of the service and the technology. The ultimate goal of someone getting in a car, owning the car, pushing a button and saying 'I want to go to this place' -- that's far out, because it's way beyond just mapping an area and doing the work. This is going through what's going to happen on the environment, in the streets, in the weather, and I think that's going to be a tall order.
On Which Cities Autonomous Driving Services Will Initially Launch In
Marakby: Because we want to make sure that without the driver, this works in all conditions in the areas where we're going to launch, we believe we're going to see more autonomous vehicles in favorable weather states...avoiding heavy snow and high speeds, because of the range of the LIDAR and things like that. That will be solved over time, but the initial launch is going to be in areas that will avoid those situations. 
On Ford's Recent Progress in Autonomous Systems, and What's Expected Over the Next 12 to 18 Months
Marakby: Twelve months ago, [there were] a lot of things that needed to be resolved. There was basically every condition you can imagine on streets. A lot of the testing was done in Pittsburgh and in Dearborn, Michigan.
Twelve months ago, the vehicles had started to go into autonomous mode and we had started to address those issues. Month after month throughout 2018, these issues -- all the big issues that you would see -- have been resolved. Lane change prior to a turn, complex intersection situations, path planning as it's going into the lanes -- all of those things have been addressed.
Month after month, week after week, we've shown the world in Miami what the vehicle can do in the real world. Moving forward, there are two areas of focus. The first is fine-tuning the remaining smaller issues. You have situations where cars can be blocking half the street. Do you cross the yellow line or not? You have animals on streets -- we've seen some strange things in Miami that we've had to deal with.
The other area that we're focused on is having the human behavior of an autonomous car. So what does that mean? If you're sitting in the back, you have a very different feeling when the car accelerates or decelerates than when you're driving the car. There's path planning and then there's motion planning -- how human is that drive? So that's a big are of focus going into 2019. Clearly we have to get to zero issues. At some point before 2021, we have to have no driver. 
This year is going to be a year of refinement, human driving, getting rid of the [human] interventions, prototyping and testing of the hardware, and then also the user experience aspects of the vehicle.
On What Kind of Processors Will Power Self-Driving Systems
Marakby: Whether it's GPUs or FPGAs or CPUs, ASICs eventually...it's technology that will continue to evolve and the compute power [consumption] is going to continue to reduce. GPUs tend to consume more energy. It's not clear yet which way the whole industry is going to go. We're architecting our compute system to be able to actually go either way.
We wouldn't be able to state a clear 'That's the way to go and nothing else' because there really aren't too many options here. There are a couple of options and we have to be ready for either one."
Editor's Note: Intel (INTC) and Nvidia (NVDA) have emerged as the leading suppliers of processors for powering autonomous driving systems. Ford hasn't yet disclosed who its autonomous driving chip and component partners are.
On Bringing Down the Cost of Self-Driving Systems
Marakby: The success of the [autonomous vehicle] business is going to rely on revenue per mile. The cost is important for the components, but it's more important that we have high utilization of the car, that it can run most of the time.
Now let's talk about the cost of the parts. The cost of the parts are expensive, the cost of the sensors are expensive. Radars and ultrasonics and to an extent cameras are fairly traditional automotive [products], next-generation of parts that the industry knows how to get the cost down and the scale up. The one big challenge in the cost is the LIDARs.
We also have a couple of options that we're pursuing on LIDAR. But regardless, we know that the launch in 2021 is going to [involve] high-cost LIDARs. Now we have to work with the supply base on continuing to reduce that. There's no question in my mind when I look at the LIDAR physicals and what it entails, that the cost will come down drastically over time.
I'm optimistic that the cost [of self-driving systems] is going to come down, because a lot of the things that I see in these components are things that I've seen in automotive for many, many years. And inevitably, the cost comes down pretty quickly.
On the Baidu Partnership
Marakby: With Baidu, our focus is in China. We're on the Apollo platform, working with Baidu on setting the autonomy system on the Ford platform in China. We see Baidu as an important partner for us in China, whether it's Level 1 through 3 or Level 4. I think they've got a lot of great things on the Apollo platform. That's the extent of our work so far, it's mainly in China, and we'll go from there. 
On Whether Ford Would Be Willing to Partner With Alphabet's (GOOGL) Waymo, Which It Reportedly Held Talks With in the Past
Marakby: That's a very hard thing to predict. Our focus is on Argo. We're investing a lot, money-wise and people and integration and work through the vehicle with Argo. We feel very good about where Argo is, and we're very happy with that relationship. So I'm not sure I would see any compelling reason for changing that direction.
On What Ford Has Learned from Delivery Tests with the Likes of Walmart, Postmates and Domino's Pizza
Marakby: Last year with Postmates, we spent a lot of time understanding all the things that we want to deliver, that make sense to deliver. And it certainly is the case that some things make sense, and some things don't make sense. And some things it makes sense to deliver in a vehicle that has seats and people. One ride in the vehicle could be autonomously with people riding in it, the next one could be delivering a small package in the back of the car. We know that there are constraints to that, but we feel that we could deliver a lot of things with the same car.
We also realize that we have to provision the fact that in some cases we have a car that has no seats, mainly to deliver big things. But there's always things that are bigger than the car can handle, so we won't deliver those things. But for the most part, we feel from the discussions with Postmates that we can deliver most things.
Regarding food delivery -- we certainly want the best experience, so if you're delivering food that smells, you don't want to be moving people the next ride. So those are some of the things that we're conscious of because we want the best experience.
Alphabet is a holding in Jim Cramer'sAction Alerts PLUS Charitable Trust Portfolio. Want to be alerted before Cramer buys or sells GOOGL? Learn more now.