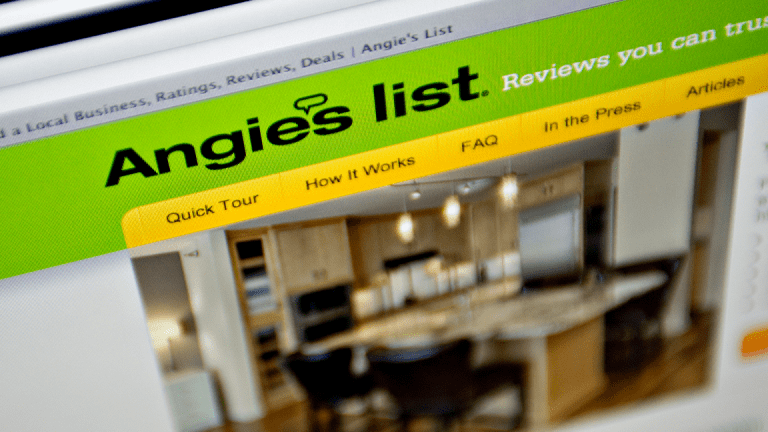 CEO of Angie's List and HomeAdvisor Parent: We're Investing for the Long Haul
ANGI Homeservices CEO Brandon Ridenour tells the TheStreet about his firm's aggressive investment plans for the year, as well as how it's using new insights gleaned about how its marketplaces drive real-world transactions.
ANGI Homeservices (ANGI)  is comfortable making business decisions that weigh on this year's profits if they put the company on better long-term footing and help customers get more value from its platforms, CEO Brandon Ridenour said following his company's latest earnings report.
ANGI is the parent company of top U.S. home services marketplaces HomeAdvisor and Angie's List, and a subsidiary of Barry Diller's InterActiveCorp (IAC) . Its shares have sold off after a mixed Q1 report arrived on Wednesday afternoon. GAAP EPS of $0.02 beat a consensus estimate of negative $0.01, but revenue of $303.4 million (up 22% annually on a pro forma basis) missed a $306 million consensus.
The revenue miss followed a Q1 decision -- explained in IAC's Q1 shareholder letter -- to cut marketing spending that was producing $50 million in annualized revenue via service requests, after ANGI concluded the requests weren't leading to enough jobs for home service providers.
In spite of the revenue miss, ANGI reiterated full-year guidance for 25% revenue growth. At the same time, the company guided for full-year operating income of $105 million to $125 million -- below a consensus of $127 million -- as it pushes ahead with plans to invest aggressively in HomeAdvisor and Angie's List, and to step up investments in house cleaning and handyman services firm Handy and home warranty provider Fixd Repair (both were acquired in the last seven months).
Following ANGI's report, I had a chance to talk with Ridenour, who last October was named ANGI's CEO after previously serving as chief product officer. Recently-appointed CFO Jamie Cohen, whom I interviewed in March, was also present. Here's a look at notable comments made during the talk on various subjects.
HomeAdvisor Priorities and Usage Trends
Ridenour stressed that ANGI, which saw annual growth for the number of paying service professionals on HomeAdvisor and Handy slow to 14% from a Q4 level of 18%, is focused on growing service provider capacity (i.e., the number of jobs that can be collectively fulfilled by service providers on its platforms) rather than its service provider count. To back up his point, he noted that revenue per service provider was up 15%, something said to be a reflection of increased capacity.
Regarding a slowdown in the growth rate for service requests made via HomeAdvisor and Handy to 15% from a Q4 level of 24%, Ridenour says difficult annual comparisons had an effect, as did ANGI's efforts to focus on "higher-value" service categories rather than low-value/high-volume categories such as cleaning and handyman services. He also noted ANGI moderated its marketing spend last year, and that while spending picked up in Q1, it takes time for that spending to translate into greater consumer activity.
Returning Angie's List to Growth
Much as Cohen was in March, Ridenour sounded optimistic that Angie's List, which is monetized via the sale of ads to service providers and premium subscriptions to consumers, will return to revenue growth. He noted Angie's List recently had the best sales month in its history, and is seeing larger service provider accounts spend more than they have historically. ANGI's "Advertising & Other" revenue, which is driven in large part by Angie's List, fell 4% annually in Q1 to $62.1 million, after having dropped 7% in Q4. The number service professionals advertising on Angie's List fell by 5,000 annually to 36,000, but was flat on a sequential basis.
Unmonetized HomeAdvisor Service Requests
On the Q1 earnings call, Ridenour mentioned that ANGI, which monetizes HomeAdvisor by charging service providers a membership fee and a fee for each lead they obtain, still doesn't monetize a "large minority" of the service requests it sees. When asked about this, he said the issue is simply a matter of not having enough service-provider capacity for a particular type of job in a particular market.
"What it comes down to is America is a very large place," he said, while adding that ANGI supports over 600 types of service jobs and covers every U.S. zip code. He also said that HomeAdvisor's 2018 introduction of a platform that lets service providers opt into accepting service requests helped lower the number of unmonetized requests, but only affected a minority of such requests.
Growing Sales and Marketing Investments
In spite of the previously-mentioned cut to marketing spending that was producing leads that weren't resulting in many service jobs, ANGI's sales and marketing spend rose 27% annually in Q1 to $175.3 million, after having dropped slightly in Q4. Ridenour reiterated ANGI's plans to invest heavily in HomeAdvisor marketing this year to drive additional growth -- the company's Marketplace revenue, which is dominated by HomeAdvisor, rose 33% in Q1 to $219.9 million.
He also noted ANGI is making large investments to grow Angie's List's salesforce, and that this spending is likely to have a bigger payoff in 2020. In addition, the company is investing in growing Handy (the other business within its Marketplace segment), and in expanding the reach of Fixd's home warranty services (for now, they're only available in four markets).
When asked about where ANGI plans to direct marketing investments going forward, Ridenour said the spending would happen across many different channels. However, he added ANGI is "most excited" about new channels such as social media and streaming, which can help the company make greater inroads with Millennials. He also said there has been a "lot of innovation" related to the company's search-marketing efforts that will help unlock demand, and that -- without elaborating -- it has "really interesting" marketing partnerships in the pipeline.
Potentially Growing R&D Spend
In Q1, ANGI spent just $15.8 million, or about 5% of its revenue on product development (R&D) expenses. Though not giving any concrete forecasts, Ridenour suggested his company could spend more aggressively on R&D in the future. "We think that...the way people take care of their homes is going to change radically over the coming few years. We plan to be at the forefront of that," he said, while adding ANGI wants to "productize" home services in ways that they haven't been before.
A Shortage of Home Services Workers
"We believe in the American economy there is right now a pretty significant imbalance" between the amount of consumer demand there is for home services and what service providers are able to address, Ridenour said. He asserted that there "aren't enough people coming into the home services industry as a career," while adding this problem began following the housing crisis, with many of the workers who left following the housing bubble's bursting never returning.
At the same time, Ridenour insisted this supply shortage hasn't "terribly constrained" ANGI to date, given its current penetration rates. In March, Cohen estimated that 90% of home services jobs still rely on word-of-mouth rather than online channels.
Driving More On-Demand and Pre-Priced Transactions
In IAC's Q1 letter, it was mentioned that "on-demand" service options such as appointment bookings, the scheduling of same-day and next-day services and the booking of actual transactions now account for over 15% of ANGI's service requests. Ridenour, for his part, thinks on-demand options could account for anywhere from a quarter to a half of service requests in time.
He adds that driving more pre-priced transactions such as the ones Handy provides is "a very big focus" for ANGI, albeit while adding the company still has "a lot to learn" about which services can effectively be pre-priced. As Ridenour observed, there are many home services jobs for which it's tough for a service provider to give a price until it visits and gets a first-hand look at what work needs to be done.
Stock Buybacks
In February, ANGI's board signed off on a 15 million-share stock buyback authorization. In Wednesday's Q1 report, ANGI, which ended March with $345.4 million in cash and $257.8 million in debt, disclosed that no buybacks have yet taken place through the authorization.
When asked whether ANGI could respond to its post-earnings selloff by repurchasing shares, Cohen declined to say that ANGI would do so, but also didn't rule out the possibility. "We'll be watching the stock," she said.
Leveraging New Insights About Service Requests
On the earnings call, Ridenour said that ANGI's Q1 decision to overhaul its marketing spend stemmed from insights delivered by the platform it launched in 2018 for opting in to consumer service requests. This platform, he says, produced a "quantum leap" in ANGI's ability to "precisely understand the intrinsic value of a consumer request." Ridenour also sees opportunities to use this data to revamp how much it charges for different types of leads, and to tap into certain service provider segments in ways that the company hasn't previously.
"Great businesses match up what you charge with what you get from a value standpoint really accurately," he said.