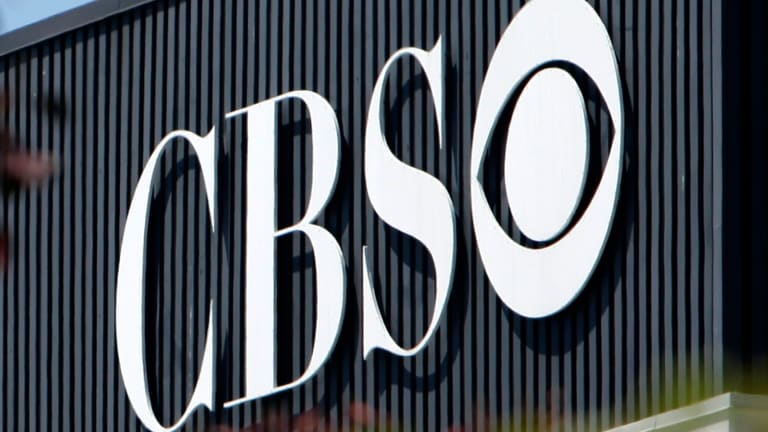 CBS's Tough Stance on Programming Fees May Be Paying Off
CBS has sought to offset declining advertising revenues by aggressively pursuing retransmission fees from pay-TV providers. But will a more muscular AT&T be able to rein in the Tiffany Network?
LOS ANGELES (TheStreet) -- As Americans watch less traditional TV and advertising revenues decline, retransmission fees -- the money that pay-TV providers pay to carry a channel -- have become a silver lining for networks like CBS (CBS) - Get CBS Corporation Class B Report .
But CBS, which has enjoyed increases of retransmission and other similar fees for two consecutive quarters, has had to play tough with pay-TV providers to secure that revenue. CBS channels even went dark for a time on Dish Network (DISH) - Get DISH Network Corporation Class A Report in December and Time Warner Cable (TWC) in 2013 when the two sides were unable to agree on the fees.
CBS is likely to have another challenging negotiation later this year if AT&T (T) - Get AT&T Inc. Report wins approval for its $48 billion acquisition of DirecTV (DTV) . A larger AT&T could press CBS to alter its current retransmission contract to either lower the total cost, or cut back on the number of CBS networks it's required to carry.
AT&T's current agreement with CBS for its U-Verse pay-TV service expires on June 30, and its reasonable to expect that the Dallas-based broadband provider will seek to reduce its programming costs. And at the heart of the renegotiation will be the retransmission fees, which are expected to exceed $9 billion per year by 2020, according to SNL Kagan, an industry research group.
The push by pay-TV operators to cut retransmission fees comes as more viewership moves online and consumers are demanding alternatives to the traditional 150-plus channel bundle. Dish Network, for example, is offering Sling TV, an Internet-based service of 22 channels including Disney's  (DIS) - Get Walt Disney Company Report ESPN for $20 a month. Similarly, Verizon's (VZ) - Get Verizon Communications Inc. Report Custom TV offers a variety of small packages starting at $55 per month.
CBS has said it's asking for fair market value from AT&T, but if the two sides are unable to reach an agreement on the fees before the end-of-the-month deadline, there's a chance CBS could go dark for U-Verse's nearly 6 million subscribers, as it did for Time Warner Cable and Dish Network.
"They're a much more consistent revenue stream," said Craig Huber, an independent media analyst at Huber Research Partners, in reference to retransmission fees. "It's more predictable, and should hold up much, much better in a recession than the volatility of advertising. I would much rather have a retransmission dollar than a dollar of advertising."
CBS, which also owns premium cable network Showtime, now sees a roughly even split between its advertising and non-ad revenue, and CEO Leslie Moonves has said the company expects to surpass its $2 billion goal for retransmission fees by the end of the decade. That figure includes reverse compensation fees CBS affiliates pass along to the network.
"We've exceeded our target every time we've given one, and we have tremendous confidence in our ability to realize the full value of CBS going forward," Moonves said after making his $2 billion prediction last year.
Moonves' estimate was conservative, said Huber, who believes CBS could add another 10% in retransmission revenue by 2020.
The fees, nearly nonexistent 15 years ago, have spurred consolidation among owners of broadcast TV affiliates. In 2013, CBS sought some $500 million in retransmission fees. Today, TV providers pay about $1.50 a month per subscriber for CBS, Huber said. 
CBS is TV's most-watched network, with popular shows like NCIS and The Big Bang Theory, and its slate of NFL football games puts it in a strong bargaining position with any TV provider.
"They [CBS] are going to get pretty good terms," Huber said. "I don't see what the big issue is here. You're not going to have an AT&T package out there and not have CBS with the NFL, otherwise you are going upset a lot of households that likely would go elsewhere for their video service."
This article is commentary by an independent contributor. At the time of publication, the author held no positions in the stocks mentioned.