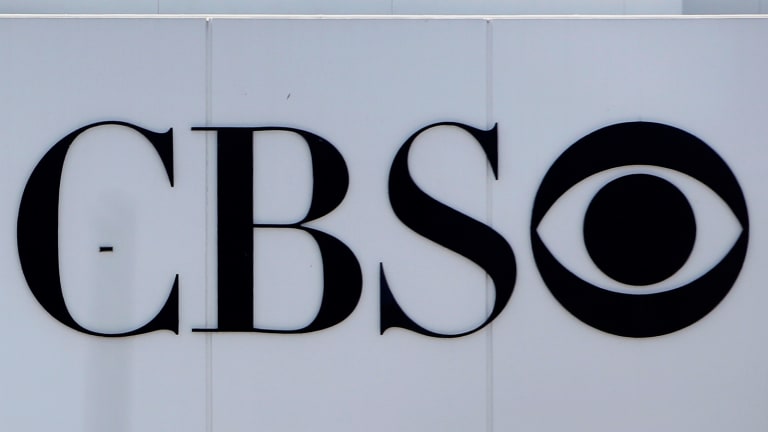 CBS Faces Lower Ad Revenue in Shrinking Upfront Season
CBS is the top-rated television network, but its ad-revenue growth is lagging its rivals for the fall.
CBS is the top-rated television network, but its ad-revenue growth is lagging its rivals for the fall.
NEW YORK (TheStreet) -- Sometimes being No. 1 in the ratings isn't enough.
Top-rated network CBS (CBS) - Get Report, which is scoring the highest prices among its network peers during the current upfront selling season, could end up with less in total upfront volume this year compared with last year, as the upfront market shrinks.
With the annual pre-fall broadcast network selling bonanza heading into the final round, CBS said it expects to end up with more total ad dollars than its rivals after securing the highest prices per viewers.
But the broadcast networks, collectively, are under assault from digital rivals, and even CBS is feeling the heat. Overall, the TV networks are expected to see upfront volume decline in the high single digits this year.
"Obviously, digital is putting pressure on TV advertising," Morningstar analyst Neil Macker said.
At the same time, CBS is lagging behind some of its rivals when it comes to rate increases.
Both Comcast's (CMCSA) - Get Report NBC, which is leveraging its popular cable networks in its negotiations with ad buyers, and Disney's (DIS) - Get Report ABC, which is the only big network whose ratings increased in the coveted 18-to-49 demographic in the most recent broadcast season, are said to be ahead.
"NBC has so many more (cable) networks they are working with," said a media buyer at a major buying firm. "They have so many hot buttons."
In a recent report, Jefferies analyst John Janedis said CBS "is writing business in the +3% to +4% range and NBC is slightly higher, leveraging its cable assets."
CBS could use a catalyst to lift its stock which has lost 12% during the past 12 months. On Wednesday morning, the stock ticked higher to $55.60.
With its upfront volume possibly heading down, the owner of The Big Bang Theory will look to grab share from its rivals in the so-called scatter ad marketplace, advertising time sold during the remainder of the traditional ratings season.
CBS is also banking on its Thursday Night Football, which is not sold during the upfront period to bolster ad revenue. Thursday Night Football provides CBS with the added benefit of serving as a promotional platform for new shows, Nomura analyst Anthony DiClemente wrote in a report.
CBS' late-night is expected to get a boost from David Letterman's replacement, Stephen Colbert, whose show is aimed at attracting younger viewers.
"Looking ahead, Thursday Night Football and our new late night lineup will help us build on our number one position and bode well for us throughout the year," CBS said in a statement
The network also noted that advertisers are increasingly spending "against C7" -- advertising deals based on seven days of ad viewing after a show initially airs.
CBS came into the upfront as the overall ratings leader for the 12th time in 13 years, and as a close No.2 to NBC in the 18 to 49 race.
CBS has maintained much of its lineup for the coming season. New shows include DC Comics adaptation Supergirl and Limitless, which is based on the Bradley Cooper movie.
At the time of publication, the author held no positions in any of the stocks mentioned.