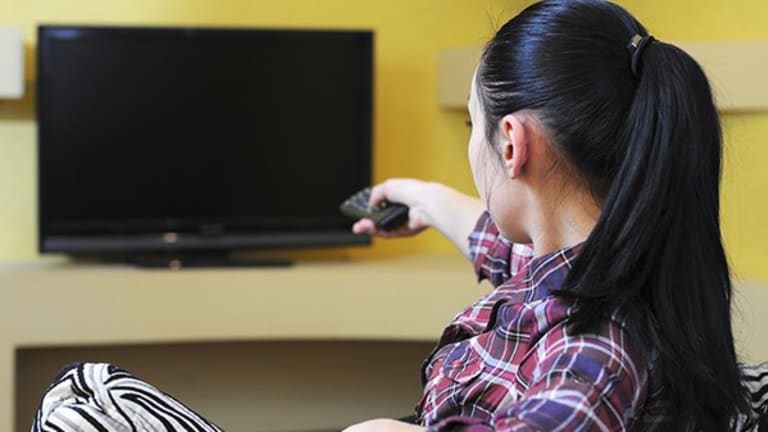 CBS, ABC, NBC Want Much More of That Internet Advertising
Broadcast and cable TV networks will now market themselves to advertisers under one umbrella as the Video Advertising Bureau as more ad dollars are going toward online video streaming.
NEW YORK (TheStreet) -- In a sign of changing television-consumption habits, major U.S. broadcasters are banding together with their cable brethren in an effort to jointly promote themselves and capture more advertising revenue at a time when ad dollars are increasingly flowing to online video streaming.
The Cabletelevision Advertising Bureau, the group devoted to pumping up cable television to advertisers, has changed its name to the Video Advertising Bureau with the addition of CBS's  (CBS)  CBS network, Disney's  (DIS)  ABC and Comcast's (CMCSA)  NBC and the CW, a joint venture of CBS and Time Warner (TWX) . The Fox network is not a member, although the cable networks of its parent company, 21st Century Fox (FOXA) , do belong.
After years of sliding TV ratings as millions of young people ditch linear TV for online streaming, the involvement of broadcast and cable networks in one marketing body marks a major change as these media players no longer see themselves as divided.
"The time has come for the TV industry to be represented holistically with the power of the content superseding the differences in distribution," Rino Scanzoni, the chief investment officer for ad buyer Group M, said in a statement announcing the Video Advertising Bureau.
Traditional cable television, with its reach limited as compared with that broadcast TV, was traditionally thought of as a cheaper option for advertisers; yet advertisers are now considering buys on digital platforms like Hulu. Broadcast TV advertising grew just 2.5% from 2013 to 2014, to $22.7 billion, according to Kantar Media, while cable revenue grew 6.8%, a rate slightly larger than that for all TV revenue together.
But with ratings down and ad revenue rising more slowly, TV networks are trying to leverage targeted buys across platforms, said Steve Kalb, the director of media investment at Mediahub.
"The cable networks are doing it via the various ownership groups," Kalb said. "Broadcast is definitely jumping on board with that. That's one way of making the smaller numbers seem a bit larger."
At broadcasters' upfront pitch to advertisers last week, networks shied away from touting ratings and viewership figures and stuck to presenting the demographics where they figured as No. 1. Although the field of digital video is still nascent, its advertising revenue is expected to grow from $5.8 billion last year to $14 billion in 2019, according to eMarketer. By comparison, TV ad revenues are expected to rise just less than 16% in that stretch.
By grouping themselves together, broadcast and cable TV players are betting that they'll be able to market their digital packages to advertisers, effectively merging linear and online TV.
"There's less concern about how much is going to be linear and how much is going to be digital," Kalb added. "As long as we're getting in front of the right people, the right demo or the right balance, that's the ultimate vision."
This article is commentary by an independent contributor. At the time of publication, the author held no positions in the stocks mentioned.