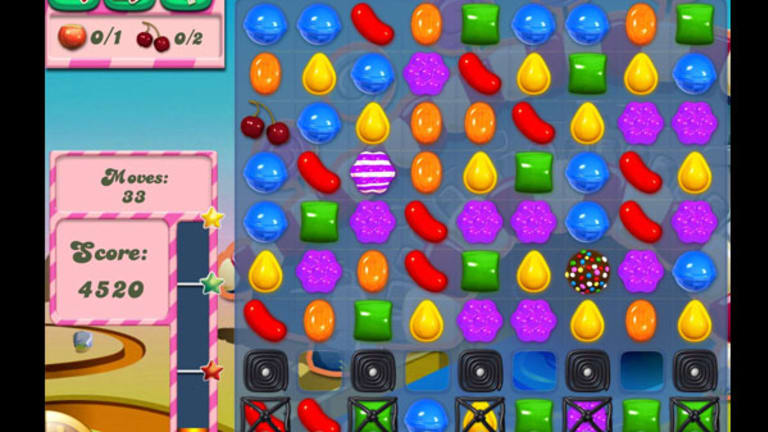 Publish date:
Candy Crush Saga's Future in China a Big Unknown
The China catalyst that King Digital Entertainment investors and watchers have been looking for may never arrive.
The China catalyst that King Digital Entertainment investors and watchers have been looking for may never arrive.
NEW YORK (TheStreet) -- Shares of Candy Crush Saga maker King Digital Entertainment (KING) have skyrocketed more than 17% since June 25 and reached above its IPO price in recent sessions, catalyzed by a series of upbeat sell-side analyst reports as well as end-of-quarter short covering.
Within the past couple of weeks, King Digital has been trading near or even exceeding its $22.50 listing price in late March. Many investors thought such days would never arrive after King became one of the worst-performing IPOs of 2014.
Optimism for the stock has been gathering steam as analysts express confidence of less and less concentration risk for King, with the mobile gaming company showing signs that it can in fact diversify beyond its global, Candy Crush Saga hit. While the game's popularity peaked last year, both Pet Rescue and Farm Heroes have been able to maintain a top 15-grossing iPhone rank globally as a whole over the last six or more months, according to Piper Jaffray analyst Michael Olson. The large and growing mobile gaming market and the company's partnership with Chinese digital entertainment giant Tencent also has added to the enthusiasm. Olson is one of the sell-side analysts who are optimistic that upon its global launch in the second half of 2014, the Candy Crush sequel, Candy Crush Soda,  could stoke the return of tens of millions of former Candy Crush users who were fatigued with the original game.
Boeing 747 Fades Out but Lufthansa Flies a Fresh One to JFK
Why JPMorgan Is Undervalued on Long-Term Earnings Growth Estimates
Bubble Witch 2 has also had a warm reception, quickly rising to become a top 20-grossing iPhone game after launching in early June.
But impending events could pose risks that would throw cold water on this renewed investor confidence and keep King stockholders under water.
Most immediately, King reports second-quarter earnings in August. Any changes to 2014 guidance would undoubtedly have the biggest effect on King's share price. A selloff could of course occur if the company gave any commentary that spooked investors like it did for the first quarter, where fewer bookings were posted for the maturing Candy Crush Saga. Analysts such as Eilers Research's Adam Krejcik are expecting in-line results and don't see the earnings announcement becoming a major, positive catalyst for King stock, especially after the recent run.
The other factor unfolding this year is the second half of 2014 launch of a Chinese version of Candy Crush Saga through Tencent's popular WeChat and Mobile QQ platforms.
With his recent upgrade of King Digital to "overweight" from "neutral," 12-month price target hike to $28 from $19, and 15% and 31% revenue growth projections for 2015 and 2014, Olson also acknowledges that his predictions are based on many unknowns. These unknowns include Candy Crush Soda's performance over time; King's long-term ability to generate hit titles beyond Candy Crush, Pet Rescue, Bubble Witch and Farm Heroes; whether Candy Crush Soda would eventually cannibalize sales of Candy Crush; and finally, if the company collaboration with Tencent will be successful.
King's expansion into Asia is most notably defined by its Candy Crush Saga partnership with Tencent. While it's difficult to quantify just how much of the Tencent-China story is baked into King's share price right now, it has been one of the bullish sentiment boosters risking a selloff with less than stellar results. That being said, of all the top King unknowns, the one that appears to have the most predictable outcome right now is the company's future in Asia. That could be that King could never really take off in the continent the way it has in the U.S. and Europe, even with its Tencent strategy.  Competitor Zynga (ZNGA) - Get Report has failed in China via a Tencent partnership, with a weak footprint in Asia in general, has not boded well for Western social and mobile gaming companies trying to make it there. Currently, Asia accounts for a very small portion of King's overall global revenue.
"They [optimistic investors] think that there's going to be a big, certain move-up in China for King," says Krejcik. "But there's no evidence of that to date."
King's Candy Crush, Farm Heroes, and Pet Rescue, and Zynga's FarmVille have been among the top-grossing games in Europe and the U.S. very recently or at some point in time. In Asia, the biggest market for Candy Crush has been Japan, while Zynga is hardly on the radar there.
But while Candy Crush Saga does a lot better in Japan than it has in China thus far, the game still isn't performing as well in Japan as it has in the U.S. and Europe. Eilers Research data shows that Candy Crush was the 15th top grossing game on iOS in Japan in the second quarter vs. coming in at no. 80 in China and no. 5 in the U.S. and Europe. Meanwhile, being in the distinguished position of having the hefty financial backing of Japan's SoftBank, the Finnish Clash of Clans and Boom Beach maker Supercell has been an exception among Western mobile and social gaming companies trying to climb up the ranks in Asia, with Clash of Clans staying ahead of King Digital in Japan at no. 8.
Overall, the biggest games in Japan still originate from local Japanese companies, even with the availability of other puzzle and card-based mobile games in a country where the puzzle and card genres are well-liked. One of the most popular mobile games in the country has been Puzzle & Dragons from Tokyo-based video game corporation GungHo Online. Mobile messaging service providers like Line, developed by a Naver subsidiary in Japan, have been a dominant force in game downloads. Many of the top-selling games are Japan-based even for the PlayStation and Xbox.
The pattern has been similar in China. The top-grossing games across the web and mobile in China are from local companies, led by Tencent. Both China and Japan have a very long history of gaming and a dedicated and enthusiastic player base; and it's the local game companies that understand most deeply what the players there want to play and what they like. They have the strongest grasp of the preferred themes and genres, and the cultural subtleties involved.
In China, the local games are then followed in popularity by Supercell's Clash of Clans and Boom Beach, both of which have been top-10 grossing apps in China, according to Eilers Research. The crowded social and mobile games market in China however has left King towards the end of the pack. Clash of Clans and Boom Beach continue to have more appeal to Chinese players undoubtedly with the unique support of SoftBank in marketing, distribution and connections across Asia. It also helps that these games are mobile MMO (massively multiplayer online game) strategy games.
According to Krejcik, games in the MMORPG subgenre (massively multiplayer online role-playing games) are still the biggest revenue generators in China, and that there's also a preference for anime, cartoonish-type elements. Therefore, Dungeons & Dragons and World of Warcraft are still big games in China, and favorites also include casual, web-based and mobile-based MMORPG games from Chinese game companies such as Shanda (GAME) - Get Report, NetEase (NTES) - Get Report, Changyou (CYOU) - Get Report, and of course Tencent. "Again, these aren't the King recipe from what we've seen," says the analyst. "We're pretty confident that Candy Crush has not gained the same type of traction in the China market." Easier puzzle games that are relatively less social and collaborative are not as appealing to China's broader gaming population.
Channel checks done by Eilers Research show that the Candy Crush app has dropped down to the top 100-grossing app on iOS in China from the top 50 in the fourth quarter of 2013. In addition to the impact of local preferences, the novelty of the game wearing off for players over time hasn't helped either. 
In trying to deal with the problem of local preferences, pairing up with China digital entertainment giant Tencent at first glance appears to be the best social and mobile gaming strategy that King could have. As a dominant publisher of MMOs, casual games, social games, and mobile games in China, Tencent has great distribution brand equity in the country and a massive user base. Yet, because Tencent already promotes and offers a massive amount of market-leading games including its own, Candy Crush, a third-party game, would unlikely be able to do much to move the needle one way or another for Tencent. With Tencent having a limited vested interest in Candy Crush and King, the partnership will focus on sharing revenues, licensing fees, and royalties, with the possibility of advertising resources, and may even have a competitive aspect to it.
"Typically Tencent's going to push a lot of its internal games first, which all do very well," cautions Krejcik. Tencent also licenses many games, such as combat survival game CrossFire from Korea. Having its pick of the crop, the company in addition works with larger, international game publishers including Electronic Arts (EA) - Get Report, and Activision Blizzard (ATVI) - Get Report on Call of Duty.
Working with Tencent certainly does not guarantee King's success in China and expansion in Asia. King rival Zynga is an example of a Western publisher that partnered with Tencent and failed. In 2011, Zynga began working with Tencent to launch FarmVille on the Tencent QQ web portal. The project was dissolved by 2013.
-- Written by Andrea Tse in New York
>Contact by Email
Tesla Slips, King Flips: Tech Winners & Losers