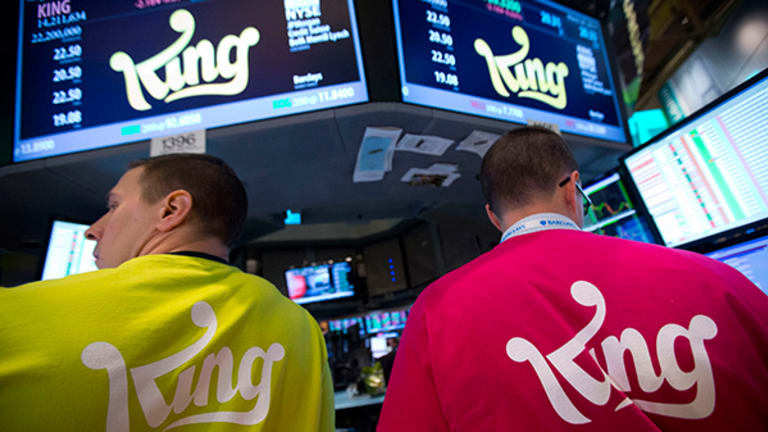 Candy Crush and King Digital Aren't What They Used to Be -- What Wall Street's Saying
King Digital has had a rough time since going public. That's due to the nature of the mobile gaming business, which increasingly relies on hits that are difficult to replicate.
King Digital has had a rough time since going public. That's due to the nature of the mobile gaming business, which increasingly relies on hits that are difficult to replicate.
NEW YORK (TheStreet) -- With apologies to beloved blues legend B.B. King, it appears the king is dead.
King Digital Entertainment (KING) , known for its Candy Crush mobile games, has had a rough go of it since becoming a publicly traded company, with shares down 17% since its initial public offering in March 2014. That's largely due to the nature of the mobile games business, which increasingly relies on hit franchises that are often difficult to replicate.
The company reported first-quarter earnings Thursday of 61 cents a share on $569.5 million in revenue, down 6% year over year. Analysts surveyed by Thomson Reuters were expecting 53 cents a share and $553 million in sales.
Dublin, Ireland-based King said gross bookings, an important metric for gaming companies, rose 3% sequentially to $604 million, though that was down 7% year over year, largely due to foreign currency volatility, most notably the effects of the rising U.S. dollar.
King also noted the company's monthly active users, those who play their games at least once a month, rose to 550 million, up from 481 million in the year ago period. Monthly Unique Payers, or those who actually pay for in-app purchases while playing the games, were 8.523 million at the end of the quarter, up 2% sequentially, but down 28% from the first quarter of 2014.
Candy Crush, which now accounts for around 38% of total bookings (down from 67% in the first quarter of 2014), has become a phenomenon since launching on Facebook (FB) - Get Report and on mobile devices several years ago, but King has had a rough go of it since then. The company has been able to diversify with other games such as Candy Crush Soda Saga, Farm Heroes Saga, Pet Rescue Saga and Bubble Witch 2 Saga, but those did not translate to strong second quarter guidance, leaving investors disappointed.
Competitor Zynga (ZNGA) - Get Report has faced a similar situation, leaning on old franchises and a dwindling number of people paying for the games, leading to upheaval at the company. Zynga founder Marc Pincus recently returned to the CEO spot, replacing Don Mattrick.
King said it expects second quarter gross bookings to be between $490 million and $520 million. Shares were down sharply in early Friday trading, falling 7.9% to $13.80.
Here's what analysts had to say following the quarter:
Barclays Capital analyst Christopher Merwin (Equalweight, $19 PT)
"King reported strong 1Q results on bookings and EBITDA that were offset by a softer- than-expected 2Q guide, the result of FX and seasonal headwinds. In the 1Q, we were encouraged to see further diversification in title mix (Candy Crush is now 38% of total bookings; down from 67% at 1Q14) and ongoing return of capital, both from dividends and buybacks. We believe aftermarket weakness, a response to the 2Q guide, is likely an overreaction. King will still launch 3-6 games this year - some in new genres - except now we expect to see most of those titles come in the back half. We are only slightly lowering our 2015 bookings and EBITDA estimates to account for incremental FX headwinds. We are maintaining our Equal Weight rating and a $19 price target."
Credit Suisse analyst Stephen Ju (Outperform, $20 PT)
"1Q15 results exceeded expectations with most of the KPIs surpassing our estimates due to the continued success of Candy Crush Soda Saga. 2Q15 and 3Q15 guidance for gross bookings and Adj. EBITDA fell short as the company cited FX as well as increased marketing spend - namely TV and other promotional activities toward new game launches. While we expect KING shares to be off today on the disappointing guidance we buy into the weakness, as most of its planned launches for new games should be hitting their stride by 4Q15 and further as 2016 should be seeing franchise refreshes for not only Candy Crush Saga and Soda, but also Farm Heroes and Bubble Witch. Hence, there is likely upward bias to our updated estimates as we have modeled not only that Candy Crush will continue to decay at a steep trajectory but further that 3 out of 5 launches will be commercial failures."
Pacific Crest Securities analyst Evan Wilson (Sector Perform, No PT)
"Candy Crush has carried KING since its release in 2012, and we think the story for growth after Candy is still uncertain. Mobile game developers initially rely on a key franchise or genre, and diversification has been a rare occurrence. We are not sure KING is going to buck the trend. It has plans to launch new games, but the probability that any one will be a big contributor is relatively small. The next two games are AlphaBetty Saga and Paradise Bay, which are both in soft launch and should be released soon."