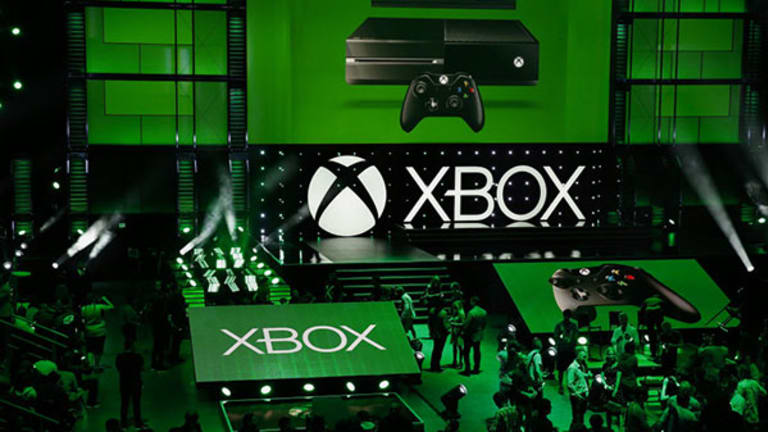 Can Xbox Help to Boost Microsoft's Business?
Microsoft has positioned itself to possibly dominate the North American console market this holiday season with a series of exclusive Xbox One games
NEW YORK (TheStreet) -- Microsoft (MSFT) has positioned itself to possibly take over the North American gaming console market this holiday season and make itself an even more important part of the company's bottom line with the moves it made this week at the E3 Electronic Entertainment Expo gaming show.
Between the slew of upcoming game titles exclusive to the Xbox One Microsoft announced -- led by Halo 5: Guardians -- and allowing certain Xbox 360 games to now play on the newer Xbox One, IDC gaming analyst Lewis Ward believes Microsoft could edge out Sony's undefined PlayStation 4 as the top console this holiday season for the North American market.
"Hardware sales follow software launches and having exclusive Triple A games could move more consoles," Ward said, adding that globally PS4 will continue to dominate over Xbox. AAA is a term used for games that have the highest budgets and levels of promotion and are likely expected to be best sellers.
The importance of the gaming segment can be seen in Microsoft's latest quarterly report. For the first nine months of its 2015 fiscal year, the company's computing and gaming division brought in revenue of $8.25 billion, up from $7.75 billion during the same period in 2014. Overall, Microsoft generated $71.4 billion in revenue during the first nine months.
Ward said backward compatibility could push the current reservoir of Xbox 360 owners who decided against upgrading because they could not bring their Xbox 360 games to the Xbox One to take the plunge. Ward said this could help move over 100,000 Xbox One consoles. As of January 26, when Microsoft reported fiscal second quarter results, it said it sold 6.6 million Xbox consoles in fiscal 2015, though it did not break that down between the Xbox One and Xbox 360.
One reason Xbox will still lag globally, according to Eric Abbruzzese, ABIresearch's research analyst is, "For the core gaming crowd, the PS4 still seems like the better console, with higher specs and a purer gaming focus. Sony's Project Morpheus, if successful, could also help keep Sony ahead."
Microsoft's upcoming Windows 10 operating system launch, expected this summer, will also have an impact in the gaming space as the company reported it will bring Windows 10 to the Xbox One platform. This will give the console a similar look and feel to what will be found on the PC version.
"So gaming remains an important part of Microsoft's bottom line; while Xbox and Windows will continue to exist, and be successful, as separate entities, their upcoming cohesiveness could make gaming an even larger part of Microsoft's business," said Abbruzzese, adding that merging the two platforms means a greater possibility of success through the symbiotic partnership of the platforms.
While bringing new software into the picture will be a key driver, enabling older games to be played on the Xbox One will prove almost as important.
The list of exclusive games that were announced at the show for the Xbox One will help bring Microsoft onto a more even playing field with Sony, noted Abbruzzese.
"The exclusive games lineup is still strong, with Halo 5 and Forza 6 making their expected appearances. A surprise showing for a new Gears of War game, and a Gears of War remaster, also strengthens the exclusive lineup," he said, while pointing out that Sony was not negligent on this front with surprise announcements of much-hyped (and delayed) The Last Guardian, as well as a crowd-favorite Final Fantasy VII remake.