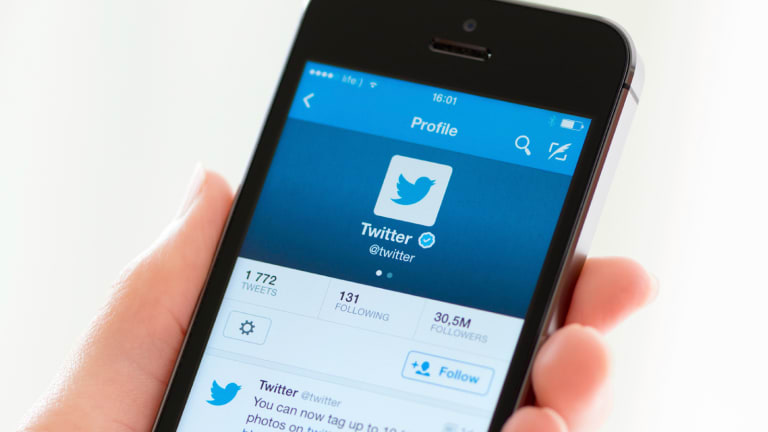 Can Twitter Turn Around Its Story With Buy Buttons?
Twitter is reportedly expanding its buy button program, but will the feature make any meaningful contribution to the company?
NEW YORK (TheStreet) -- Twitter (TWTR) - Get Twitter, Inc. Report has been testing out a buy button on its site that lets users make a purchase without leaving the platform. But it's still too soon to know whether the feature will help turn around the flailing company and its plummeting shares.
San Francisco-based Twitter was losing 2.2% to $27.85 on Thursday to extend its three-month decline to 25%.
Twitter introduced the buy button in September 2014, but according to Re/code's Jason Del Rey, the company is now expanding the early trial to 100,000 retailers. After a soft launch with a small group of artists, brands, sports teams and nonprofit organizations, Twitter is reportedly making the buy button available to 100,000 U.S. retailers that use the e-commerce service Shopify (SHOP) - Get Shopify, Inc. Class A Report .
Shopify and Twitter declined to comment on the report.
"This is an early step in our building functionality into Twitter to make shopping from mobile devices convenient and easy, hopefully even fun," wrote Twitter group product manager Tarun Jain in a blog post when the first trial was rolled out in September.
Twitter is certainly not the only tech company getting into buy buttons -- Pinterest, Facebook (FB) - Get Meta Platforms Inc. Class A Report , Google (GOOG) - Get Alphabet Inc. Class C Report  and Facebook's Instagram have all been testing out their own versions of buy buttons. Unfortunately for Twitter, though, it stands out from its competitors in one important way: tweets have a very short lifespan.
"Tweets are too ephemeral to make a difference to a merchant in sales," wrote Forrester Research analyst Sucharita Mulpuru in a blog post last month. "Even if there was a buy button on any ad unit, few companies would really get much benefit from such an offering."
Mulpuru can see the possible application of hosting a flash sale and selling a limited quantity of a product on Twitter, but she can't see retailers really being able to scale any sales on the social media site.
Facebook, on the other hand, may have a better shot at providing value to retailers through buy buttons. Facebook's ads hold more weight on the platform and are viewed by a much larger audience, so retailers would have access to a much greater scale.
SunTrust analyst Bob Peck estimates that Facebook buy buttons could create a 5% to 10% incremental lift in revenue for the social media giant.
Nonetheless, Mulpuru is fairly confident that buy buttons won't be taking a huge chunk of the e-commerce pie any time soon.
"Given that more and more e-commerce traffic is organic (i.e. shoppers typing a company's URL directly), I don't think we'll see a major shift in how shoppers buy anytime soon, at least not with the executions that have been announced to date," she concluded.