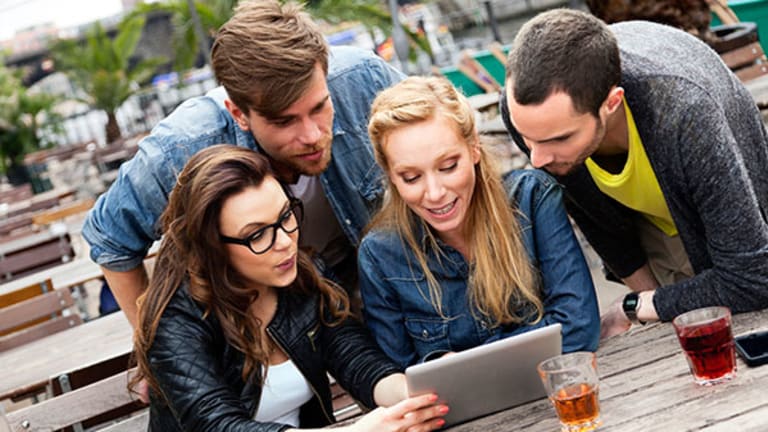 Can Native Advertising Save the Media Industry?
While native advertising may be unsettling to journalism purists, it is driving ad revenue at media companies and may help to save the industry.
When something works, embrace it.
For media companies that have mostly had to endure steady declines in advertising sales over the past 10 years, the advent of native ads is a welcome development.
It's no mystery why. Native ads read like a typical news story but are actually paid ads. They're tagged with a colored headline that informs readers of that fact. While that may be unsettling to journalism purists, it's become common currency in the digital age.
Most importantly for media companies, native ads command a hefty premium over banner ads and other traditional forms of Internet marketing. For brands, they also provide an unusually interactive way of engaging prospective consumers.
Spending on native ads is expected to more than double in 2018 to $8.8 billion, according to eMarketer. For investors, that translates to a fresh source of revenue that makes the companies that employ native ads more attractive investments.
"Native is growing from an incremental part of a few companies' budgets to a large investment by all brand advertisers," said Patrick Keane, president of the native ad platform Sharethrough, in a phone interview. "This isn't a shiny object. This is unequivocally the future of media and advertising."
The Boston Globe became the latest media outlet to enter the world of native ads when it ran an online story last month that was paid for by the Massachusetts bank, Rockland Trust. The story follows the growth of a small business the bank funded.
With the Rockland Trust partnership, the Globe was merely following a slew of print publications -- The New York Times, Chicago Tribune, Washington Post -- as well as trailblazers likeFacebook (FB) and privately held BuzzFeed, that are relying more and more on sponsored content to bolster online ad revenue.
Most importantly, it's working.
"What was once a rapidly declining source of revenue, where magazines and news were outclassed by pay-per-play, now has an entirely new stream of revenue," said Peter Kreisky, a publishing consultant, in a phone interview. "It's allowing media companies to compete in a way that non-media companies can't .... It's the most important new form of advertising in the last five years."
It's also had its fair share of detractors. Critics of native advertising charge that they're meant to confuse readers into thinking that a news story is written by a reporter when in fact its been crafted by a marketer. The use of native ads has sparked heated debates within newsrooms around the country.
Take LinkedIn (LNKD) , which used native ads to help keep users on its job-focused Web site. In the third quarter, the platform generated triple-digit growth in native advertising compared to the same period a year earlier. Native ads represented nearly 50% of the company's total marketing revenue for the quarter, LinkedIn executives said during an investor conference call.
Facebook, which runs "sponsored" ads within the flow of its mobile content, saw ad revenue jump 45% to $4.3 billion in the quarter from $2.96 billion a year earlier. Pandora Media (P) , which has ratcheted up its native ad capabilities with radio stations sponsored by Huggies, Taco Bell, Toyota (TM) and more, saw advertising revenue double over the last two years, and grow 31% in the third quarter, filings show. 
What's more, leaked financials from August show BuzzFeed, a native advertising trailblazer that has relied on sponsored content to support its business model since 2010, has profited heavily from the investment. From 2012 to 2013, Buzzfeed's revenue tripled, and hit $46 million in the first half of 2014 alone, the most recent data available.
For many companies, it's a revenue stream that will continue to increase over the next several years.
This past summer, Condé Nast, the privately held magazine publisher, announced the launch of its native ad studio, 23 Stories, which allows editors to work with advertisers to create sponsored content. The inaugural ad featured an August Bon Appétitcover sponsored by Samsung (SSNLF) . In October, Condé Nast announced that its editors were working on a series of video ads for General Motors'  (GM) Cadillac.
The New York Times, which hit its 100th native ad in November, drew 18% of its digital advertising revenue in the third quarter from that content, up from 10% in the second quarter. In a Nov. 12 column, public editor Margaret Sullivan wrote that the paper wants to double digital revenue within the next five years.
"Realistically, native advertising probably has to be a part of that," Sullivan wrote.
Time (TIME) , which in 2013 announced it would dramatically expand its native ad business, in August launched a native studio called the Foundry. The publisher saw digital advertising revenues rise to $79 million in the third quarter of 2015, a $14 million, 22% increase from the third quarter of 2014, according to earnings documents.
Chris Hercik, vice president of branded content solutions at the Foundry, declined to say exactly how much sponsored content contributed to that growth, but acknowledged in a phone interview that native ads "are an important revenue stream" for Time.
"We see a huge revenue opportunity, and it's going to rise over the next year," he said. ""We have momentum in this category, and it's where we're investing."