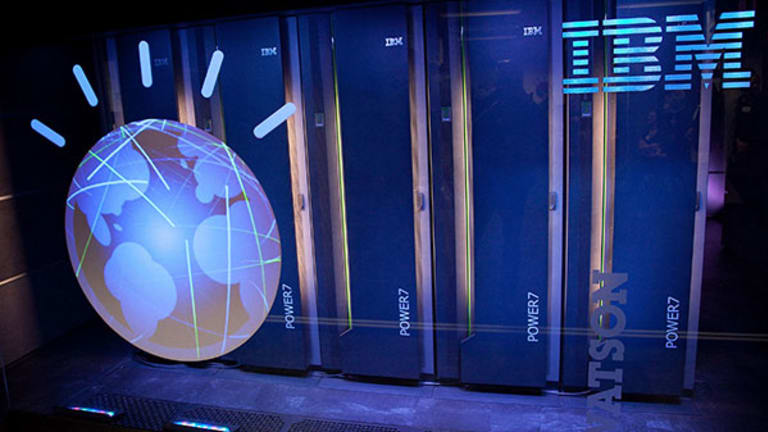 Publish date:
Can IBM's Watson Stop Big Blue's Slump?
For IBM, Watson is about more than just answering a few questions on a game show. It's about transforming the way business uses data.
For IBM, Watson is about more than just answering a few questions on a game show. It's about transforming the way business uses data.
Updated from 9:44 a.m. to include comments from Jim Cramer in the fifth paragraph.
"I, for one, welcome our new robot overlords." -- Ken Jennings, 74-time Jeopardy champion, 2011, in reference to IBM Watson.
NEW YORK (TheStreet) -- When most people think of IBM's (IBM) - Get International Business Machines (IBM) Report artificial intelligence platform, Watson, they think of the famous Jeopardy! episodes where Watson defeated Jennings and another champion while answering questions such as "Who is Voldemort?" In its 2011 run, Watson beat its human opponents, showing off the supercomputer's depth of knowledge and the ability to reach a conclusion at lightening quick speeds.
For Armonk, N.Y.-based IBM, Watson, which is named after legendary former CEO Thomas Watson, is more than a smart game show contestant. It's the centerpiece of IBM's effort to reshape its business for the 21st century. 
"They worked on the system for a couple years and they came up with an approach and then that there was an agreement on how to actually build Watson as a business," said Mike Rhodin, senior vice president at IBM Watson in a June 30 interview. Watson went from being a contestant on Jeopardy to becoming part of IBM's larger transformation, thanks to technological developments from IBM's engineers.
Whether Watson can transform IBM's business fast enough to satisfy investors remains to be seen, however. Since IBM introduced Watson nearly four years ago, the company's shares have lost approximately 6% (excluding dividends), compared to a more than 60% rise in the S&P 500. Indeed, Monday the company reported its 13th straight quarter of revenue declines even as it beat analysts estimates for second quarter earnings. Revenue dropped 13.5% to $20.8 billion from $24.05 billion in last year's second quarter while net income fell 16.6% to $3.45 billion, or $3.84 cents a share. Analysts polled by Thomson Reuters expected per share earnings of $3.78 on revenue of $20.95 billion.
"It's just really difficult to outrun a legacy business and that's what IBM has to do," TheStreet's Jim Cramer said. "The company has set out to make strategic imperatives like the cloud, analytics, cognitive science, to be the biggest part of its business and it is growing incredibly fast,  but not fast enough to offset the declines in software and hardware."
Exclusive Look Inside:
You see Jim Cramer on TV. Now, see where he invests his money in his multi-million dollar portfolio.Learn more now.
The picture above looks at all the data sources Watson has, with the end result and suggestion(s) seen on the iPad.
Delivered as-a-service, meaning IBM helps companies use Watson over the Internet, Watson is part of IBM's $17 billion annual data analytics business. In one application, if given weather information and cupcake sales, Watson will help a business understand the relationship between that data, using a natural language that IBM and its programmers have worked on over the years. 
Other companies also are employing artificial intelligence to offer new services. Google (GOOGL) - Get Alphabet Inc. Class A Report (GOOGL) - Get Alphabet Inc. Class A Report Now, Google's intelligent personal assistant, is designed to answer questions, make recommendations and perform other actions. Apple recently announced a proactive feature for Siri that is similar to Google Now. Yahoo! (YHOO) has hinted that it is looking at entering the intelligent personal assistant space.
So far, IBM has not announced any plans to release its own Watson-branded app for mobile devices. Rhodin said it's important not to compete with IBM's customers. Instead, the company wants Watson to help other companies figure out solutions to their own business problems.
Rhodin left the door open for a consumer-facing Watson app down the line. "I have no plans at this time," he said in a June 30 interview when asked if IBM would develop a consumer-facing application of Watson's intelligence. IBM currently has one consumer-facing app in testing now, having partnered with TED to allow Watson to listen to and create a visual experience based on TED talks. 
IBM launched the Watson Group in January 2014 with an investment of $1 billion, and IBM added a customer a day using Watson in the fourth quarter. It has increased its investment since then, raising $100 million for a venture capital fund to help get start-ups on the platform, using Watson to help power their apps.
Still, the unit isn't large enough to make a dent in IBM's $93 billion in 2014 annual sales. Most businesses delivered as-a-service take around ten years or more to generate $1 billion in annual sales, according to those who are familiar with the business model, but IBM hopes to cut that time considerably. Rhodin declined to state the revenue of the Watson group.
To accelerate Watson's development, IBM has opened up the Watson ecosystem, allowing developers to build off the Watson API, a set of tools used for building applications. Over 260 businesses worldwide are currently building apps with Watson, including using it in toys and modeling the human genome, Rhodin said. One company is even using Watson in the form of a dinosaur to help early childhood development. The dinosaur interacts with the child once the child starts talking and learns what he or she wants.
Watson also is used in a variety of different industries, including banking and retail. But the one area that seems to show the most promise is healthcare, given the vast amounts of data generated by patients, doctors and other healthcare workers.
Welltok CEO Jeff Margolis, whose company has received an investment from the Watson Group, said Watson has helped his business, which makes the CafeWell Health Optimization Platform, by helping consumers better understand health benefits. When combined with Watson, the platform takes structured data, such as those for payments and billing, and combines it with unstructured data, such as patient outcomes, to help consumers get a better idea of what's happening.
"We're applying cognitive computing to the consumers and interactions supporting the goals and objectives of enterprise customers," Margolis said. "We're doing that as a complex platform that's meant to keep people the healthiest they can be -- and reward them for doing that with [our] platform." 
Rhodin said IBM expects more than 700,000 research referrals for Watson to work on in healthcare, looking at a variety of different industry journals, just this year alone. With doctors unable to read and comprehend everything, and still have time to diagnose and treat patients, Watson can help make sense of information, giving the physicians context about what they're seeing.
"We are helping physicians do their job versus just keeping track of records," Rhodin said. "Once we began to understand the health care industry even better, we started to see bigger and bigger opportunities within healthcare." 
Dr. Courtney DiNardo, Clinician Researcher at The University of Texas MD Anderson Cancer Center, relied on Watson in Oct. 2013. Dr. DiNardo, whose team was one of the pilot teams for Watson, had a leukemia patient who developed a potentially life-threatening complication known as tumor lysis syndrome. If not treated proactively, it can cause kidney failure, a heart attack and even death. Watson alerted her to the situation and as a result, potentially helped save the patient's life.
IBM has been
partnering with other companies
 aside from Welltok to expand the use of Watson in health care, following the launch of IBM Watson Health Cloud.
By teaming up with Apple (AAPL) - Get Apple Inc. (AAPL) Report, Johnson & Johnson (JNJ) - Get Johnson & Johnson (JNJ) Report and Medtronic (MDT) - Get Medtronic Plc (MDT) Report, IBM and the Watson Health Cloud can extract better data and feedback from both consumer and professional medical devices. As more fitness-related devices become available, the average person will likely wind up generating more than 1 million gigabytes worth of health-related data, IBM says.
In addition to health care, IBM is targeting the finance industry for Watson use. The platform can help decipher what moves markets or aid in creating a portfolio for someone by understanding data about them. Currently, Watson has access to Morningstar data, a feed from the
Associated Press
, and data from
Twitter
(TWTR) - Get Twitter, Inc. Report
, but the implications go much further than just understanding why a stock might go up or down.
In an example IBM has built to show Watson off to clients, a financial advisor could have a long-term client who wants to teach their child about investing. The client could send over information about their child, like something the child has written, a short biography or other inputs. Watson can then determine what is important to the child and help the advisor craft a portfolio that addresses the client's needs.
Although Watson shows significant promise, like any startup, there have been hiccups.
Welltok's Margolis noted that the company needed to teach Watson the meaning of time as it pertained to healthcare. "We learned that we need to make it so Watson has a knowledge of a consumer and then to reapply that knowledge on a real-time basis," he said. "We're in the process of forging that innovation with IBM since Watson does need to ingest information in a certain way -- it's more art than science."
There has also been some feedback from developers who wanted a much more sophisticated set of tasks they could do with Watson than they were initially given. Instead of just answering questions, developers wanted Watson to understand phrases and concepts and the nuances of spoken communication.
Judging by time, effort and money, IBM is betting heavily on Watson to help transform its business.
"We're in areas where I never expected IBM to be," Rhodin said. "If you think back to the 50's and 60's, the concept of transaction processing has been modernized in a bunch of systems. We think the combination of big data and logistics will revolutionize the health care industry, and we think that we have positioned ourselves very strongly within the realm of that combination of big data and knowledge. And if you look around, a lot of industries are seeing that, and that's why we're seeing such success."