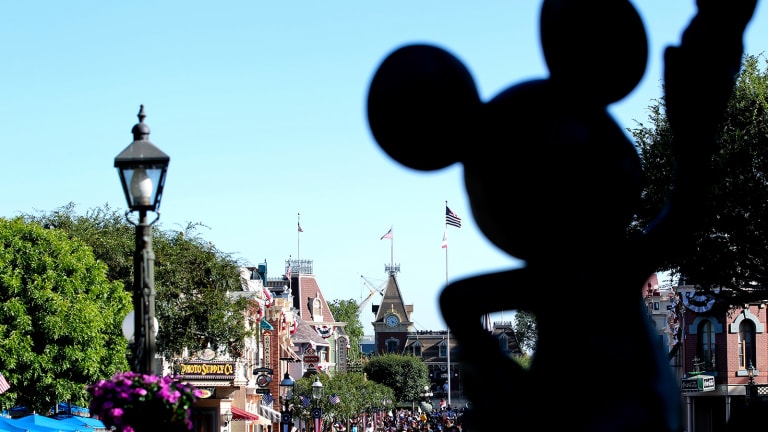 Can Disney Climb Higher on Theme Parks, Consumer Products?
Disney's consumer products and theme parks are poised to propel the stock higher in the months prior to the next installment of Star Wars.
LOS ANGELES (TheStreet) -- -- Blockbusters and TV networks ESPN and ABC may gobble up the spotlight at Walt Disney Co. (DIS) - Get Walt Disney Company Report, but the company's theme parks and consumer products are poised to propel its stock to greater heights in the months prior to the next installment of Star Wars.
While investors wait on the Burbank, Calif.-based company's quarterly results after Tuesday's market close, it's clear that the billions of dollars invested in its soon-to-open Shanghai theme park and Star Wars franchise will help it stave off some of the pressure bearing down on its TV business.
"We expect the Star Wars re-launch this December and spring 2016 opening of the Shanghai Disney Resort to support sustainable growth over the next few years and likely continue to drive upward earnings estimate revisions," RBC Capital Markets analyst David Bank wrote in a research report.
Disney was adding 0.5% on Tuesday to $121.64. Bank revised upwards a price target to $130 for Disney, estimating it will earn $1.39 per share on $13.2 billion revenue for the quarter ended June 30.
Disney has gained 29% so far this year on the back of summer blockbusters Avengers: Age of Ultron and Inside-Out, but it's the opening of its Shanghai theme park next spring that has investors swooning.
Topeka Capital upgraded Disney from hold to buy "not because of Star Wars, which is the most near-term and obvious catalyst, but due solely to the opening of Shanghai Disneyland," analyst David Miller said in a July 24 note. Miller set a price target of $138 for Disney primarily based on the China theme park, and estimates quarterly earnings of $1.43 per share and $13.2 billion revenue. 
The $5.5 billion theme park and resort is a crucial opening for Disney whose traditional profit center of TV networks, led by cable sports network ESPN and broadcaster ABC, battles against higher content costs and fewer young people who advertisers covet watching linear television.
The media networks segment revenue grew 13% last quarter to $5.8 billion -- bigger than the 6% increase in parks and resorts -- but operating income declined 2% to $2.1 billion while parks and resorts grew 24%.
For the 2014 fiscal year, parks and resorts revenue totaled $15.1 billion, a 7% increase, and operating income grew 20% to $687 million.
The "creation of the Shanghai Disney Resort is incurring costs today, but we think it will pay off once the park opens spring 2016," Bank wrote in his report. Disney will own 43% of the park and the remainder by Chinese government-owned companies.
China and its growing middle-class thirst for American goods and entertainment also serves a key link between Disney's parks, film and consumer products segments.
In particular, the Dec. 18 premiere of Star Wars: The Force Awakens, the seventh installment in George Lucas' saga that Disney bought for more than $4 billion in 2012, is expected to ripple into merchandising, especially with the release tied to the Christmas holiday. The film could easily give the company its second $1 billion box office haul of the year after Avengers. Bank estimates Star Wars will sell $1.9 billion in tickets worldwide during its theatrical run, and Disney could reap more than $1 billion in profits from the film over the next few years.
Last quarter's consumer products revenue is a prime example of how a hit film can pump up other segments. Consumer products grew 10% to $971 million last quarter in large part due to the strong performance of merchandise tied to the hit animated film Frozen more than a year after its release. Operating income was up 32% to $362 million.
Although one of Disney's smallest segments, consumer products is working hard on the profit front due to the company's strong slate of franchises, which include Marvel superheroes, Pixar animated films and Star Wars.
Disney has enough franchises in its arsenal to where consumer products can withstand a box office bust like May's Tomorrowland -- Bank estimates Disney could report a $130 million write-down on the film -- and have little noticeable effect on the segment's bottom line.
This article is commentary by an independent contributor. At the time of publication, the author held no position in the stocks mentioned.