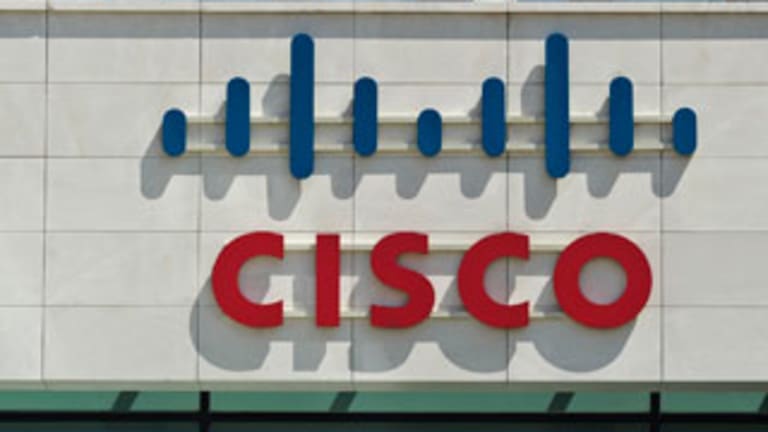 Can Cisco Shrug Off Spending Woes?
Investors want to see whether Cisco can shrug off spending woes that have weighed on other heavyweights when it reports earnings tonight.
NEW YORK (TheStreet) -- Investors will be eager to see whether Cisco (CSCO) - Get Cisco Systems, Inc. Report can shrug off the spending pressures that have weighed on other tech heavyweights when it reports its fiscal first-quarter results after market close. 
IBM (IBM) - Get International Business Machines (IBM) Report, for example, noted weakness in Brazil, Russia, India and China when it reported its fiscal third-quarter results last month. Another bellwether, Intel (INTC) - Get Intel Corporation (INTC) Report, struck a cautious note when delivering its numbers. Further adding to the downbeat tone, storage giant EMC (EMC) pointed to a decline in U.S. federal spending. 
"We expect the tone around IT spending and the macroeconomic environment to mirror the softness in the tech world this earnings season; however, we believe Cisco will continue to execute well and benefit from new products," wrote Brian White, an analyst at Cantor Fitzgerald, in a note released this week. 
White is convinced strength in the datacenter and the U.S. non-public sector market will offset weakness in U.S. Federal spending and China. Cisco has also been aggressively rolling out new products, he noted. 
The last few months have certainly been busy for the gearmaker, which launched a host of new Catalyst switches and Integrated Services Routers at its Cisco Live! event in June. 
In September, the San Jose, Calif.-based firm unveiled its Networking Convergence System (NCS), which it's touting as a way for service providers to cope with exploding quantities of customer data. Part of what Cisco describes as "the Internet of Everything," an ambitious plan to connect new applications and devices to the network, NCS is a mixture of networking hardware such as NCS 2000, 4000 and 6000 routers and Cisco's Quantum and Prime software offerings. Cisco says the technology can transport the entire Netflix (NFLX) - Get Netflix, Inc. (NFLX) Report library in less than a second. 
Last week, Cisco also launched its Application Centric Infrastructure (ACI) technology, which uses the company's Nexus 9000 router to boost business applications across data centers. ACI is also part of Cisco's efforts around Software Defined Networking (SDN), an emerging set of techniques for managing network traffic flows through software. 
While Cisco's slew of product announcements may help it dodge a spending bullet, it's worth noting that not all tech companies have felt the macroeconomic strain. Networking specialist Juniper (JNPR) - Get Juniper Networks, Inc. (JNPR) Report posted robust numbers in its preliminary third-quarter results last month, something which could bode well for its rival Cisco. 
Analysts surveyed by Thomson Reuters are looking for Cisco earnings of 51 cents a share and revenue of $12.36 billion, up from 48 cents a share and $11.9 billion in the prior year's quarter. 
Last quarter Cisco narrowly beat Wall Street's earnings forecast and reported inline revenue, although the company's shares tanked as Cisco announced job cuts affecting 5% of its global workforce. 
Cautious as ever, Cisco CEO John Chambers pointed to a slightly improving macroeconomic environment, but also highlighted inconsistencies in global GDP growth. 
Cantor Fitzgerald's White, however, is confident that Cisco's workforce restructuring efforts will boost the company's first-quarter operating margin, which he predicts will be 28.3%, up slightly from 28.2% last quarter and 27.9% in the same period last year. "Cisco has been executing well on margins, and we believe the new realignment initiative (4,000 employees, 5%) provides some wiggle room." 
At least one analyst, though, thinks that spending pressures could still weigh on Cisco and most of its networking peers, who are set to release their quarterly numbers over the coming weeks. "We continue to see weak near- and medium-term U.S. Federal spending having a negative impact on the companies we cover that are reporting this period (e.g., NTAP, CSCO, HPQ, BRCD)," wrote Brian Marshall, an analyst at ISI Group. 
Nonetheless, Marshall sees some light at the end of the spending tunnel. "It remains our belief that IT spending patterns are in the process of 'bottoming out' currently and more 'normal' trends are likely to emerge in 2014," he wrote. 
Cisco shares, which have gained more than 20% this year, crept up 0.29% to $23.80 in pre-market trading.
--Written by James Rogers in New York.
>Contact by Email.